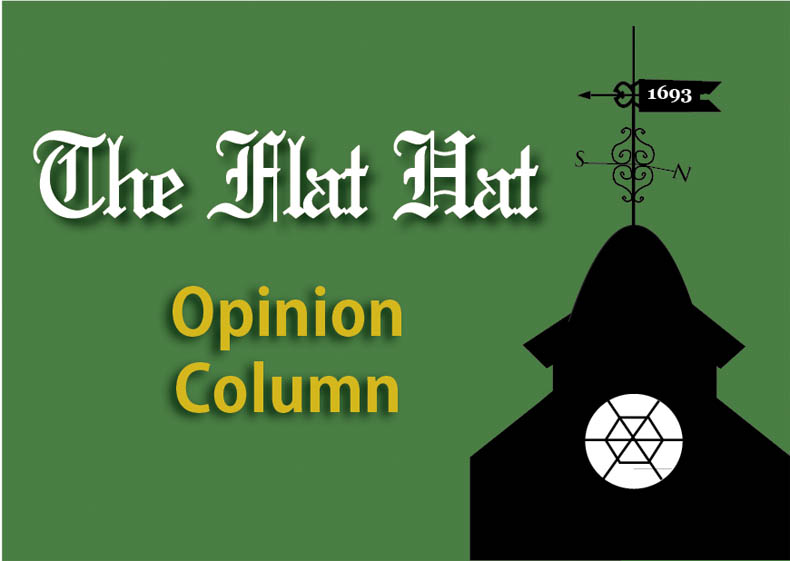 All of the greatest sports movies have one thing in common: They tell the story of an underdog who overcomes the greatest odds and the toughest foes to cap an improbable signature victory. Our love of the underdog is what causes us to empathize with Rudy and Rocky and to derive such great joy from seeing David defeat Goliath.
In spite of the many great sports movies I have watched, I firmly believe that the underdog story of the 2011-12 Flat Hat staff is the best I've ever seen.
This staff has faced and overcome more challenges than any other staff in recent memory. One year ago today, we were very young and very inexperienced. Despite our youth, we were passionate and unafraid to test the norms and push the boundaries of this newspaper's capabilities.
As the year progressed, our staff and newspaper have blossomed, and I am incredibly proud of the work we have produced. In one short year, we have completely transformed multiple aspects of The Flat Hat. In August, our design staff introduced a sleek redesign for our print edition, allowing us to improve the look and feel of our paper. More importantly, with the help of our friends at Smellycat Productions, we dragged our 101-year-old newspaper into the 21st century via a beautiful new website, which debuted in February. In addition to these momentous events, we also managed to produce 52 print issues, upholding the standard of quality and professionalism which has become expected of this newspaper.
None of this would have been possible without the tireless work of our staff members, especially our two seniors, Walter Hickey '12 and Becky Koenig '12.
While his methods may be unconventional, Walter has continually impressed me with his tireless dedication and enthusiasm. Walter's computer science expertise proved invaluable during our lengthy website reclamation project, and he is one of the driving forces behind the beautiful website you see today. Walter also made his mark on the other sections as well, bringing his eye for analysis and unconventional style of humor to each page of the newspaper.
Over the past year, Becky has had an enormous impact on how our News section operates. Becky singlehandedly taught me and the rest of the staff the ins-and-outs of news coverage and is one of the best writers on staff. In addition to Becky's printed work, she also has been an excellent Managing Editor behind the scenes — skillfully diffusing problems and remaining a steady source of good advice.
While we will certainly miss Becky and Walter, I am exceedingly confident in the rest of our returning staff.
After a semester and a half of capably steering the Variety section, News Editor Katherine Chiglinksy '14 stepped up when we needed her most to become News Editor. Katherine made an instant impact, breathing new life into the layouts and design of the News section. Katherine will be joined by Ken Lin '13, a former Associate News Editor, whose dedication and expertise allowed him to rise through the ranks quickly. I am excited to see how Katherine and Ken guide News into the next year.
I normally try to steer clear of making grandiose statements about the history of this newspaper, but I am confident that outgoing Opinions Editor Elizabeth DeBusk '13 is the finest headline writer this newspaper has ever seen. After two years as Opinions Editor, Elizabeth will become the writer behind our unsigned editorials. Ellen Wexler '15 will rise from Associate Opinions Editor to assume the reigns. Ellen has written many insightful columns over the past year, and I know she will continue to do so.
Like Ellen and Ken, Sarah Caspari '15 and Abby Boyle '15 graduated from our intern program and have risen to the rank of section editor. As Variety Editors, they will draw upon the design skills and story-brainstorming processes passed down to them. I know that Sarah and Abby are ready to assume the challenge.
Few staff members have shown as much dedication as Sports Editor Jared Foretek '14, as demonstrated through his thorough coverage of Tribe athletics and his passion for our website. I am excited to see him return for another year at the helm of the sports section.
Always the model of stability, our Copy staff will once again be directed by our two wonderful Copy Chiefs, Kate Hoptay '13 and Stephanie Hubbard '13. Stephanie and Kate carefully comb through the grammar and style of every article to save the paper from potentially embarrassing mistakes, and we all thank them for it.
After a year and a half of dutiful service as Photos Editor, Michelle Gabro '13 will become Chief Photographer. As Photos Editor, Michelle dramatically improved the infrastructure of the Photos section, and the section blossomed under her leadership. John Lee '14 and Anita Jiang '13 will lead Photos for the next year. Both John and Anita have snapped visually appealing photos for us, and I am confident their work will only continue to impress.
Ellie Kaufman '13 will retain her position as Chief Staff Writer for part of the next year. Ellie did a wonderful job training future members of The Flat Hat through her work with the intern program, and she always brightens the mood in the office. Chris McKenna '13 will also serve as Chief Staff Writer this year. Over the past two years, Chris has proven one of the most reliable writers on staff, and he will be able to showcase these talents in his new position.
Zach Hardy '15 will take over as Online Editor. Over the course of the past year, Zach has provided quality video footage and features, and he will continue to build the reputation of the online section.
Nara Yoon '12 served as the paper's business manager this year, and her expert accounting skills helped the newspaper thrive through tough economic times.
I am pleased to announce that a trio of experienced and enthusiastic executive staff members will oversee this talented staff.
Incoming Executive Editor Katie Demeria '13 is one of the most squared away people you will ever meet. During her time as Variety Editor, Katie consistently blew us away with her mastery of InDesign, careful planning and skillful ability to manage others. Katie has done an excellent job of training others, and I am confident that she will be a great asset to the next staff of Opinions and Variety editors.
If you are going to work in a cramped basement for hours on end, it is always good to have a few colorful personalities to break up the monotony. One of ours is incoming Managing Editor Vanessa Remmers. While she wasn't making us laugh, Vanessa consistently made the best out of tough situations and overcame a bevy of obstacles to take News to new heights. Vanessa has a great eye for news and is one of the hardest working people I know. She will do an excellent job overseeing News and Sports.
I have always considered being the Editor-in-Chief of The Flat Hat a great honor and can think of no one more deserving of such an honor than Jill Found '13. During her time as Executive Editor, Jill was my right hand man, and she never hesitated to do whatever it took to help ensure the success of the paper. Jill took a leading role in transforming The Flat Hat this year, as she was at the center of many of our biggest projects. I know Jill will be successful, and I wish her and her staff the best of luck as they guide the 102nd volume of the Flat Hat to even greater heights.