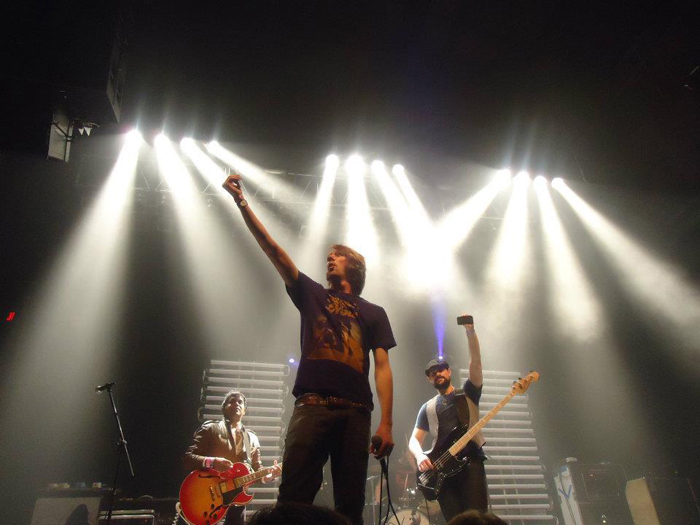 Many young musicians dream of touring the country, playing in front of thousands of people and developing a large fan base. For the band Aduro, however, featuring Jason Durso '12, these dreams have become reality.
Aduro consists of Travis Heath (vocals), Mujtaba Habib (guitar), Shannon Farrell (keys), Bill Manley (drums) and Durso (bass). Friday morning, Aduro took the stage on the Hampton Roads Morning Show.
"It's our first televised appearance, and it's obviously great exposure," Durso said. "Most importantly, though, it shows us just how much the Hampton Roads community believes in our music and performances."
Aduro features wide diversity in its band, with Durso as the only Virginia local. The diversity is apparent in the group's musical influences.
"When you really break it down and look at each of our pasts, there's not a single genre without representation in our collective repertoire," Durso said.
Habib claims that he brought his own personal influences into his work with Aduro.
"I was born in Bangladesh; I come from listening to all types of world music," Habib said. "When I joined Aduro, I had a strong love for Indie rock and a strong love for world music, so when I write music, I try to add in all those influences."
Manley explained that the group's diversity and various musical experiences are a large part of their success.
"We're just from all different areas of music, and that's one of the reasons we've been able to do so much – because there's so many ideas," Manley said.
Several groups have been particularly influential to Aduro, especially U2 and Radiohead. With this wide diversity and past musical projects under their belts, the members of Aduro took to the studio in September 2011. Being an unsigned band, it fell on Aduro to cover studio fees and other expenses in making their new EP.
"The biggest obstacle is, quite simply, being unsigned," Durso said. "Touring, producing albums, equipment, promoting … It all costs significant amounts of time and money."
Manley added that although the lack of money can be an issue, Aduro remains a tight-knit group.
"We have arguments in the band sometimes – money gets short, all sorts of things," he said. "But the bottom line is that we all love what we do, and we all love each other, and we've been doing this together now, so there's not a whole lot of arguments that won't get solved or fixed or anything like that."
Manley explained that he views the band as a family.
"This is one of the first bands I've played with that actually has the idea of being a family," Manley said. "We'll get together once a month and just have dinner as a band. All of us will bring our girlfriends and wives and kids together and we'll just have a big dinner. We don't talk about music or anything; we just try to have that family aspect to it. That was really refreshing, seeing that."
Habib believes the family aspect of the band will allow them to find even more success.
"I think we need to be good bandmates to take it to the next level," he said. "At the end of the day, I know that we're a family."
Aduro has developed a fan base in the thousands.  NPR named them one of the best indie rock groups in the region.  The group managed to raise $3,000 from fans in order to subsidize the studio costs.
"They've been incredible in their support of our musical careers," Durso said. "Whatever obstacles we've faced up to now, whatever frustrations and difficulties, they all seem minor when we're receiving such amazing support from our fans."
Aduro has entitled their new EP "Hearts on Fire."  This project began as a musical passion, taking voice after many months of work.  The title indicates the band's deep love of music.
"We all had a desire to be a part of something new, something that came from the heart," Durso said. "We tend to start with a feeling, something we want to express, and just see where the music takes us. 'Hearts on Fire' is a song about following a passion."
Aduro's appearance on the Hampton Roads Morning Show marked its television debut, and it hopes it is a sign of things to come.  They will perform for the first time in Williamsburg April 6 for the Unite for Humanity benefit concert.  The concert will take place on the Sadler Center Terrace.