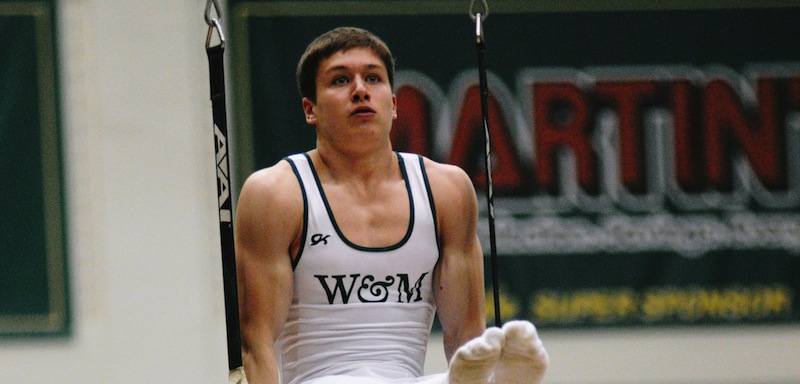 William and Mary has enjoyed a long line of successful, standout men's gymnasts. Head coach Cliff Gauthier's office in the basement of Kaplan Arena is littered with 39 years worth of awards, accolades and trophies. And after a successful outing at the season ending NCAA Championships in Norman, Okla., the Tribe added to its collection of awards, and more importantly, found its next break-out star.
Sophomore Daniel Potemski led the way for the College, finishing 17th in individual all-around finals with an 82.55. Potemski was the only Tribe athlete to qualify for Friday's individual finals.
Potemski notched a 14.2 on the floor, a 13.55 on pommel horse, a 13.0 on rings, 13.7 on parallel bars and a 13.35 on the high bar. His best event of the day was vault, as he skillfully recorded a 14.75, nearly matching a career high.
"Friday was probably the most exciting competition I have ever been involved in," Potemski said. "There was so much energy, being on the floor with the top six teams that made it and all the individuals, it was really something."
While Potemski was the only Tribe athlete to advance to Friday's individual finals, eight other College gymnasts qualified for Thursday's first session, most of them underclassmen.
Freshman J.J. Jindra performed well in his first action on collegiate gymnastics's biggest stage. Also competing in the all around, Jindra finished in 10th with an overall score of 78. Jindra notched a 13.45 on the floor, a 12.20 on the pommel horse, a 12.9 on the rings, a 13.85 on the vault and a 12.3 on the high bar. Jindra's best score of the day came on the vault, where he recorded a 13.85.
In addition to Jindra and Potemski's performances in the all around, the College had a large contingent competing in the pommel horse and high bar events. Junior Kris Yeager and sophomore Sam Patterson both attempted the high bar. Yeager finished in 42nd with a 12.1 while Patterson finished in 43rd with a 10.3. On the pommel horse, freshman Peter Ten Eyck finished in 28th with a 13.4 while fellow freshman Jason Wang notched a 13.1 to land in a tie for 30th.
The College also had individual competitors in floor, rings and parallel bars. Sophomore Landon Funiciello recorded a tie for 39th with a 13.25 on the  floor. Senior Steve Deutsch concluded his career at the College with a 12.65 on rings, tying for 35th. Junior Futa Ikeda rounded out the day by registering a 12.15 on parallel bars.
Potemski led the College Thursday, posting a sixth place finish in the all around to advance to Friday's individual finals.
"It was nice to know that I had improved enough to make the cut, it was a gratifying feeling," Potemski said. "Hopefully we can get the team a little healthier and have a little more depth and we will have a shot to make it as a team and not just individually."
With the 2011-12 campaign concluded, the Tribe will look to continue its success next season. With 11 of its 14 athletes returning, the College appears poised for success when they resume action in December.
"We have a fairly young team," Potemski said. "I think 21 of our 36 total routines were put up by freshmen and sophomore this year, so next year those routines will move up to being sophomores and juniors and our team won't be quite so young next year."