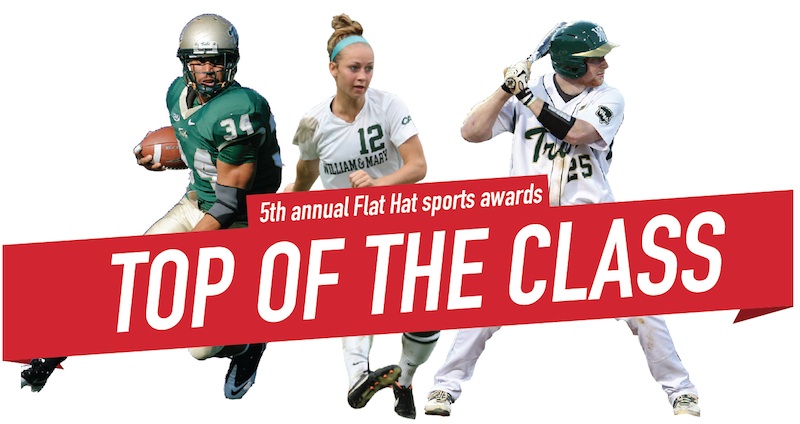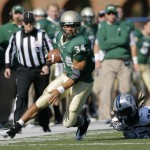 MALE ATHLETE OF THE YEAR: JONATHAN GRIMES,  SR.
After being a strong supporting cog in the Tribe's offense for three years, senior running back Jonathan Grimes was the Tribe offense this year. Grimes was the model of stability, singlehandedly powering the offense in the midst of the Tribe's rotaing quarterback carousel. The senior will leave the College with nearly every significant rushing record in the school's record book. His final season in the green and gold saw him run for 1465 yards and 10 touchdowns in 11 games and rack up an incredible 2510 all-purpose yards.
FEMALE ATHLETE OF THE YEAR: MALLORY SCHAFFER,  JR.
There isn't enough space here to list the amount of accolades Schaffer claimed over the past year.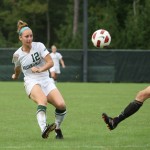 During the College's thrilling CAA championship run, Schaffer was the team's top scoring theat, recording 17 goals and six assists. And during the conference tournament, she turned it up even more, scoring all three of the Tribe's goals in the team's two tournament games, including the championship-winner over VCU in overtime. She went on to be named a NSCAA first team All-American and CAA Player of the Year.
ROOKIE OF THE YEAR: MICHAEL KATZ, FR.
While Katz's career at the College has just begun, its not too soon to say that he has made an immediate impact on the Tribe. Katz leads the squad in home runs with eight, and has notched 35 runs to date. Katz also boasts a .304 batting average in just over 160 at bats. Katz's bat has gotten the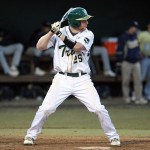 College out of countless troublesome situations and he has been awarded with CAA Rookie of the Week honors for his efforts. Head coach Frank Leoni and the Tribe look to benefit from Katz's steady play for years to come.
ALL TRIBE MEN'S FIRST TEAM
NICHOLAS ABRIGO, SR., SOCCER
Abrigo led a talented men's soccer squad, garnering first team All-CAA honors and  scoring nine goals. Perhaps Abrigo's most impressive statistic is his five game winning goals, which allowed the College to eek out close victories.
JAMIE WHITEFORD, JR., TENNIS
A first team All-CAA selection, Whiteford finished the season as the conference's top ranked player. The junior from Surrey, England amassed a 12-7 record on the year and was ranked as high as No. 34 nationally.
MARCUS HYDE, SR., FOOTBALL
Hyde led the Tribe defense this season. From his post on the defensive line, Hyde recorded 6.5 sacks, which ranked third in the conference. He was named second team All-CAA for a second straight season.
QUINN McDOWELL, SR., BASKETBALL
While McDowell may not have had his best statistical season, he battled through injury to lead a young team. In addition to his legendary ability to score in tough situations, McDowell's also displayed a deft knack for leadership.
RYAN LINDEMUTH, SOPH., BASEBALL
43 games into the season, Lindemuth — a sophomore — leads the Tribe in batting average (.354), RBIs (34) and runs (tied with 44). Lindemuth should be the guy opposing pitchers key in on for years to come, but so far he's been impossible to slow down.
DANIEL POTEMSKI, SOPH. GYMNASTICS
Potemski was the only Tribe gymnast to advance through the NCAA second round, earning an 82.6 all-around score during the Session 1 Qualfier. He already made his mark on the Tribe record books.
MATT DAVENPORT, SR., BASEBALL
All season long Davenport's been simply lights-out. With a 1.89 ERA and an incredible 0.85 WHIP, the senior has played the role of ace to one of the best pitching staff's in the CAA through ten starts and an impressive 81 innings.
RAD GUNZENHAUSER, R.FR., CROSS COUNTRY
After finishing fifth in the conference championships, Gunzenhauser was honored as the CAA's Rookie of the Year. His 25:17 time was an impressive 1:17 better than the next freshman in the race. The redshirt freshman also placed third at Lehigh's Paul Short Invitational.
ALL TRIBE WOMEN'S FIRST TEAM
EMILY CORREAL, JR., BASKETBALL
Correal was second to only Pye in total scoring and scoring average this year. Her steady presence in the middle allowed the Tribe to gain an advantage  underneath the basket as evidenced by her team leading 259 rebounds.
TAELOR SALMON, SOPH., LACROSSE
Salmon broke out in her sophomore season, leading the team in points with 42, and finishing second on the team in goals with 31. It was a down year for the team as a whole, but Salmon's play could indicate a bright future.
MARIA BELAYA, SOPH., TENNIS
Belaya, one half of the Tribe's most succesful doubles tandem, had a great first season for the Tribe. A transfer from Clemson, Belaya transitioned well to Williamsburg, and eventually claimed the No. 1 position.
TAYSHA PYE , SR., BASKETBALL
After four years of igniting the Tribe offense, Pye's bruising ability to penetrate and score in traffic will certainly be missed. Pye's senior year was not her most statistically successful, but she thrived even as her role changed.
HAILEY HEWITT, SR., SWIMMING
Hewitt had an outstanding season, collecting the gold medal in the 200 yard backstroke at the CAA championships and the silver in the 100 yard backstroke. In March, Hewitt qualified for the June Olympic Trials.
DIANA WEIGEL, SR., SOCCER
Wiegel was the leader of the Tribe's stingy defense — a unit that allowed just 17 goals and pitched 11 shutouts. For her efforts, Wiegel was named to the All-CAA first team and first team All-Region.
JELTJE LOOMANS, SOPH., TENNIS
Loomans, who teamed with Belaya in doubles play, earned an All-CAA selection for her doubles play. Loomans, with Belaya, also was named CAA Doubles Team of the Week five times this season.
LEAH ZAMESNIK, R. JR., FIELD HOCKEY
Zamesnik, an All-CAA selection, led the College with seven goals and an assist. She also led the Tribe with 64 shots last season, averaging 3.76 per match. Zemesnik was recently named a captain for next season's squad.