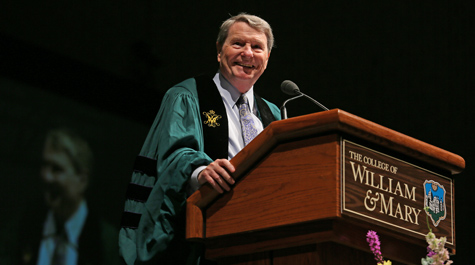 In a day dedicated to celebrating accomplishments, College of William and Mary President Taylor Reveley reminded the class of 2012 of a significant accomplishment during their College years: the selection of the Griffin as the new mascot.
Addressing a packed William and Mary Hall for the graduation ceremony May 13, Reveley supported his choice in selecting the griffin as the mascot, but not without embedding a message for recent graduates.
"Like the Griffin, each of you has a wonderful blend of talents," Reveley said. "I look forward to seeing you make a difference in the world. Remember your ties to William and Mary are for life."
Reveley recognized the Griffin as a member of the class of 2012. Andrew Gardner '12, the original mascot, sat amongst the graduating students wearing his trademark green and gold sneakers.
Both Chancellor Robert Gates '65 and commencement speaker Jim Lehrer addressed the current climate in the United States while delivering their own advice to the graduates.
Gates spoke to the political discord in the United States, stating that the country is in need of nation building in order to work together.
"Nation building is a term often heard these days," Gates said. "Much of the challenge involves finding ways to overcome differences in helping people realize how strong they can be when they stand together. The United States today is a country in need of nation building."
Gates accompanied his somber statements with hope that the graduates standing before him will shape a different future.
"This community of learning, listening, and working through issues, rooted in the original soil and the basic principles of American liberty, has a special role and a special obligation to be part of the solution as leaders, as public servants and as citizens," Gates said.
Lehrer emphasized the importance of taking risks and serving your community in your own life by staying informed and involved in public discourse.
"One way to serve is to stay informed by expressing and forming opinions," Lehrer said. "Complain about things you do not like, praise those you do, ask questions about things you don't understand, be part of the dialogue, the debate, the democratic process in our country."
Lehrer's advice reflected his work in journalism. Lehrer served as the lead anchor for the Public Broadcasting System's NewsHour for 36 years, moderating 11 presidential debates in his time. Lehrer received an honorary degree from the College during the graduation ceremony.
"I know that this honor is not so much for me personally as it is for the kind of journalism I have had the opportunity to practice at PBS," Lehrer said.
Jonathan Jarvis '75, director of the National Park Service, and Carolyn Martin '73, president of Amherst College, also received honorary degrees during the ceremony in acknowledgment of their respective career accomplishments.
Rebecca Koenig '12 was honored with the Lord Botetourt Medal, which recognizes a graduating senior who embodies the highest excellence in scholarship as an undergraduate.
"She brings to the classroom not only a brilliant mind, but also, in the words of another professor, 'strong convictions, a deep moral sense, and a flair with words that is extremely rare,'" Reveley said.
Ksenija Kapetanovic '12 received the James Frederic Carr Memorial Cup. This award is dedicated to a student who has demonstrated impressive conviction to a cause during her time at the College.
Gardner and Jennifer Quigley '12 received the Algernon Sydney Sullivan Awards for their contributions to the College. Gardner's spirit and commitment as the Griffin earned him the award, and Quigley's award reflects her dedication to service as a humanitarian from volunteering at a free public health clinic in Ecuador while abroad and participating in Alpha Phi Omega, a service fraternity, on campus.
While four individual undergraduates were recognized for their accomplishments over the past four years, student speaker Danny Greene '12 focused on the collective accomplishments of her class and how they can continue to band together in their separate futures.
"The great wizard Albus Dumbledore once said, 'Differences of habit and language are nothing at all if our aims are identical and our hearts are open,'" Greene said. "Our aims and prosperity and happiness are the same despite those differences, therefore we are one tribe."
Greene spoke to the unity of the graduating class, even after they leave campus.
"We may be leaving, but I trust that while our physical bodies travel the world, our hearts will never leave," Greene said.