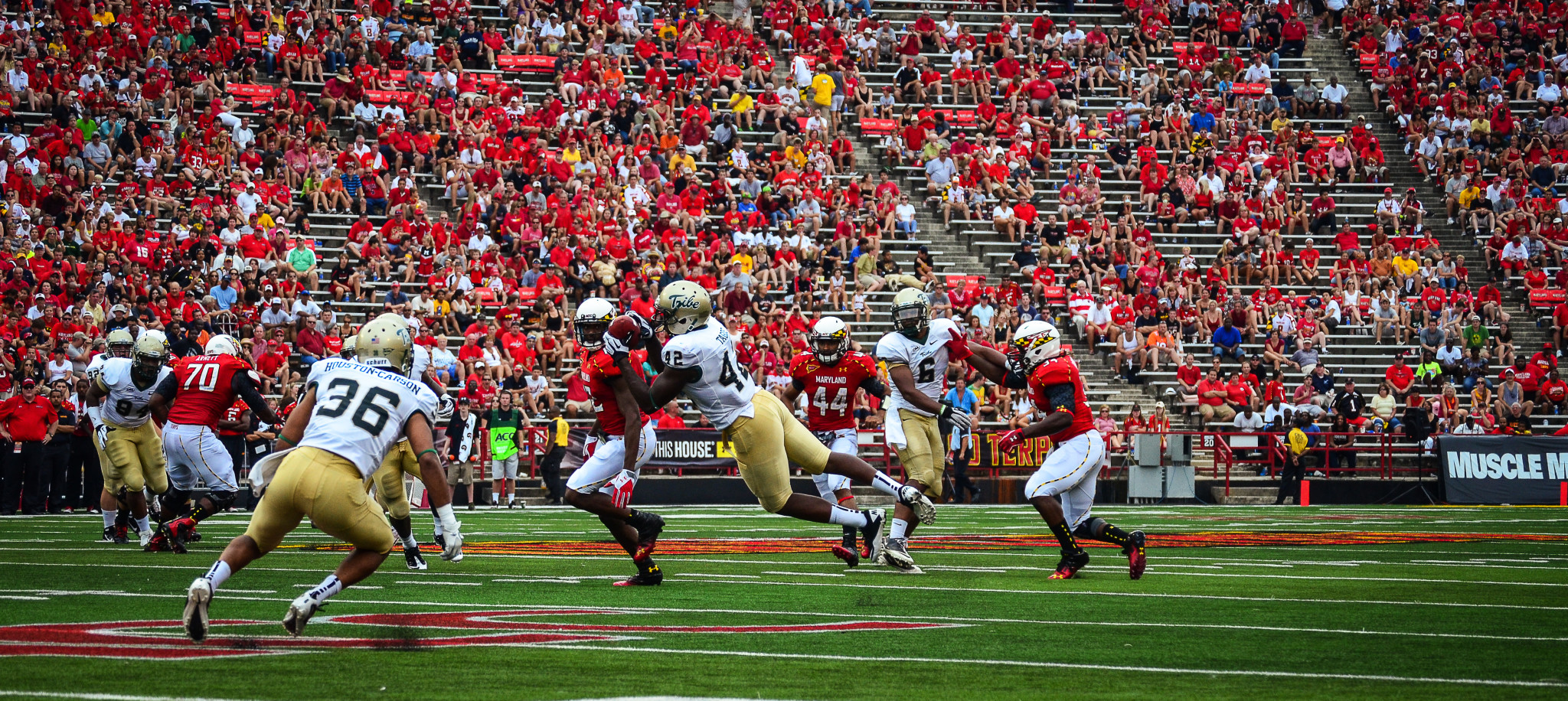 With William and Mary clinging to a 6-0 lead against Maryland midway through the fourth quarter, several questions quietly arose.
It was no longer a question of whether the Tribe could pull off a monumental upset over Maryland. Instead, the main question was if the College pull off a monumental upset in such an unconventional fashion. Could the College defeat an ACC opponent by pitching a shutout? Could the Tribe prevail by thoroughly dominating the Terrapins' young and inexperienced offense?
After three and a half spectacular quarters, the College defense finally surrendered points to the Terrapins offense. Maryland tailback Justus Pickett scampered for a six yard touchdown run, capping off a 10- play, 69-yard drive that allowed the Terps to squeak past the Tribe by a 7-6 margin Saturday in College Park, Md.
"I thought we fought extremely, extremely hard," head coach Jimmye Laycock said. "It came down to a couple things here or there. We had a big holding penalty late, a missed tackle. … We knew it was going to be a game like that, low scoring game. Field position was so important. It was close, very close. … I thought our guys competed and competed like crazy."
The College, like Maryland, had its chances. Junior kicker Drake Kuhn narrowly missed a 47-yard field goal in the fourth quarter that would have put the College up 9-0, and a would-be touchdown pass from sophomore quarterback Raphael Ortiz slipped through senior wideout Ryan Moody's outstretched hands in the end zone.
Neither team had much success moving the ball, as the game featured 10 punts and a handful of stalled drives for both teams.
The College defense kept the team in the game by forcing four turnovers and keeping an inexperienced Maryland offense from scoring at will. Maryland quarterback Perry Hills, a true freshman, appeared rattled for the majority of the game, but stabilized himself when it counted most, leading the Terps down the field for the clinching score. Hills finished with 16 completions on 24 attempts for 145 yards.
"We were stopping everything they were doing, it was just a few little hiccups that changed the game," junior safety Ivan Tagoe said.
While the College was able to keep Hills and the Maryland offense in check for the majority of the game, it experienced offensive troubles of its own and failed to score any offensive points.
Junior quarterback Brent Caprio, who was named the starter last week, left midway through the second quarter with a shoulder injury and did not return. Sophomore quarterback Raphael Ortiz took over and played admirably in his first glimpse of extensive game action.
Ortiz, who went 7 for 16 for 100 yards, showed a few flashes of brilliance, including a 31 yard completion to sophomore wideout Tre McBride near the end of the fourth quarter.
"I think we could have executed a little better on offense," Ortiz said. "I thought the line was playing really well; the backs were running really hard. I feel like I, myself could have done a little better. It was my first real action in gametime. I think a couple plays here and there, it's a different game."
Laycock was unsure about the College's quarterback situation for next week, as the injury status of Caprio and junior quarterback Mike Graham is unclear.
The College defense started off the game with a bang and set up two early field goals.
On his second collegiate pass attempt, Hills was heavily pressured by the Tribe defense and released a wobbly pass, allowing redshirt freshman cornerback DeAndre Houston-Carson to capitalize and record an interception. The Tribe, aided by a 15-yard pass interference penalty against Maryland, kicked a field goal to take an early 3-0 lead with 11 minutes, 35 seconds left in the first quarter.
"Jabrel just made a great play," Houston-Carson said. "I guess I was just in the right place at the right time. It was exciting to get my first college pick."
After a pair of short and unsuccessful drives, the College defense struck again. On 3rd and 13, Hills was facing pressure and unleashed a pass right into the arms of senior safety Brian Thompson. Thompson returned the ball 32 yards and nearly scored before being forced out at the 9 yard line. The Tribe offense drove down to the five but Caprio overthrew senior tight end Nolan Kearney in the end zone, setting up another Kuhn field goal with 2:56 left in the first quarter.
"I thought defensively, we did everything we need to do," Laycock said. "We gang tackled, we got to the quarterback, made a couple of interceptions — nice plays. We got a lot of guys experienced defensively and we knew that was going to be our strong suit. … They all played great. You start naming guys on defense who played great well and you have to be careful about who you leave out. They all looked pretty good to me."
In the second and third quarters, neither team was able to notch any points. Maryland came close in the second quarter, as Maryland defensive lineman Joe Vellano intercepted Caprio in the second quarter. The College was driving deep in Terrapins territory when Caprio attempted to dump the ball off to junior tailback Keith McBride. McBride lost his footing, bobbled the ball, and it fell into Vellano's outstretched arms.
Vellano's interception gave Maryland's offense its first spark of the day. Hills and company put together a successful offensive drive with a string of 15-yard pass plays to set up a 24-yard field goal attempt. Maryland kicker Brad Craddock pulled the kick wide left, allowing the College to take a 6-0 halftime lead.
Despite the loss, the College took solace in the fact that it hung with an ACC team for the majority of the game and was only a few plays away from a landmark victory.
"You never want to lose a game, especially a close game like that. It proves a lot to this team," Houston-Carson said. "We can come out here with anybody. Everyone said they were too big, too fast for us, but we came out here … and went toe-to-toe with them."