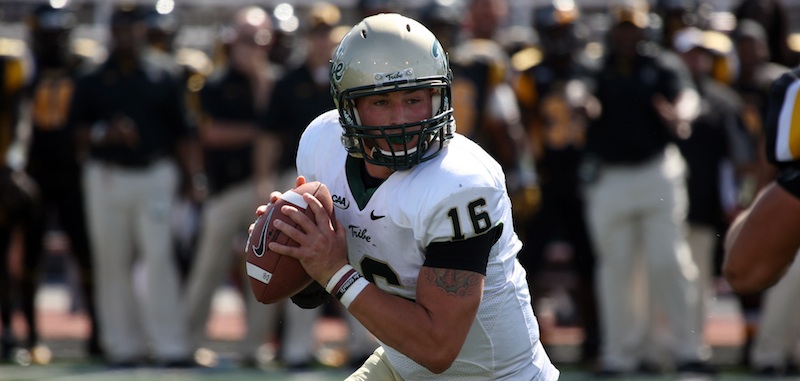 With 34 seconds left in William and Mary's matchup with Towson Saturday, the Tribe faced a 3rd-and-5 at Towson's 28-yard line. The score was 20-17 in favor of the Tigers.
Redshirt sophomore quarterback Raphael Ortiz — at the tail end of his first career college start — took the snap and dropped back. Pressure came, forcing Ortiz to step up in the pocket and run with the ball. He escaped the pressure and rolled right, toeing the line of scrimmage until he looked up and saw redshirt sophomore wideout Tre McBride uncovered in the endzone. Ortiz cocked back and launched the ball downfield, into McBride's waiting arms. The offense celebrated, and for a split second, it seemed like the Tribe was finally on its way to an elusive first win of 2012.
It didn't take long for the flags to fly in, though. When he let go of the pass, Ortiz was about a yard in front of the line of scrimmage. Illegal forward pass was called, the College lost five yards and the down, and couldn't convert on the ensuing 4th-and-10.
"I guess I was over the line. I just gave [McBride] a chance to make the play," Ortiz said. "I honestly didn't think I was over the line."
Towson took a knee to finish the game.
The Tribe lost its third straight close game, falling on the road to defending CAA-champion Towson, 20-17. The loss dropped the Tribe to 0-3 (0-1, CAA) after having lost its first three by a combined seven points.
"Both teams executed pretty well, and I thought we gave a very, very good effort," head coach Jimmye Laycock said. "One play here, one play there. I got no problem with the way we competed. I thought we stepped in here and played pretty darn well."
Ortiz completed 10 of 17 passes for 101 yards and a touchdown in his first college start. He also ran eight times for 35 yards.
"I was a little nervous before the game; that just comes with the territory," Ortiz said of his first start. "I thought I handled it well. … I made good decisions sometimes and made some bad decisions, but it was definitely a learning experience."
Senior halfback Meltoya Jones led the way for the College's offense, though, carrying 14 times for 90 yards and one touchdown.
On defense, junior Jerome Couplin led the Tribe with 10 tackles.  Redshirt sophomore linebacker Airek Green had a sack and seven tackles. Towson was effective on third down, converting four of its eight opportunities, and limited the Tribe's offensive chances with long, methodical drives. The Tigers racked up 422 yards on 71 plays while the Tribe finished with 258 yards on 52 plays. Time of possession favored Towson by almost 12 minutes.
"We've gotten better," Laycock said. "We got better offensively. Now the numbers aren't there, but we just didn't have that many plays."
The Tigers opened the scoring with a 15-play, 65-yard drive that ended in a 27-yard field goal, putting the Tigers up 3-0. But the College took the lead on its first possession of the game when Jones ran through a big hole opened by the offensive line for a 16-yard touchdown.
After the Tigers failed on 4th-and-1 at the College's 9-yard line, Ortiz and company drove back down the field and set junior Drake Kuhn up for a 41-yard field goal that gave the Tribe a 10-3 lead in the second quarter. Towson wasn't done for the half, though, going on a long touchdown drive of its own to tie things up by halftime.
The Tribe's offense slowed down in the second half, going three and out on three consecutive possessions. Towson took advantage, opening a 13-10 lead in the third before an 8-play, 84-yard touchdown drive gave the Tigers a commanding 20-10 lead with 8 minutes, 9 seconds left in the fourth quarter.
The Tigers' tandem of quarterback Grant Enders and running back Terrance West were hard to stop for the second year in a row. In 2011, West carried 23 times for 144 yards and three touchdowns while Enders went 15 of 21 for 203 yards and two touchdowns. On Saturday, West gained 157 yards on 27 carries and Enders ran for 66 yards on 13 carries, also going 16 of 21 for 175 yards and a touchdown.
"Nothing they did we didn't prepare for," senior linebacker Jabrel Mines said. "They run a lot of outside zone pitches and things, and it's all about leverage. A few times we lost leverage on the ball. … That's all it takes for their offense."
Finally, the Tribe's offense regained what had been working in the first half, going on a 7-play, 64-yard touchdown drive capped by a 2-yard touchdown pass to senior tight end Nolan Kearney with 5:44 left in the game. On the drive, Jones rattled off runs of 4, 11 and 17 yards. He also had a catch for 13 yards.
Trailing 20-17, the College's defense stopped the Tigers at the Tribe's 39-yard line, forcing Towson to punt and giving the offense one last shot to complete the comeback.
Starting at the 20-yard line with no timeouts and 1:34 left, the Tribe quickly got into its hurry-up offense, effectively moving down the field. Ortiz hit senior wide receiver Ryan Moody twice in a row for gains of 17 and 8 before finding McBride for a gain of 19 down to the Towson 33. After a 5-yard run by Jones, Towson took a timeout with :39 left and the ball on the Tigers' 28-yard line before Ortiz was flagged for the illegal forward pass.
"Our guys are competitors, and our guys are working at it and they'll bounce back," Laycock said. "We'll keep working to get better. Raphael will be a good quarterback, and he'll learn from this experience, too, and we all will."
The College returns to action next Saturday when it takes on conference-opponent Delaware at Zable Stadium.