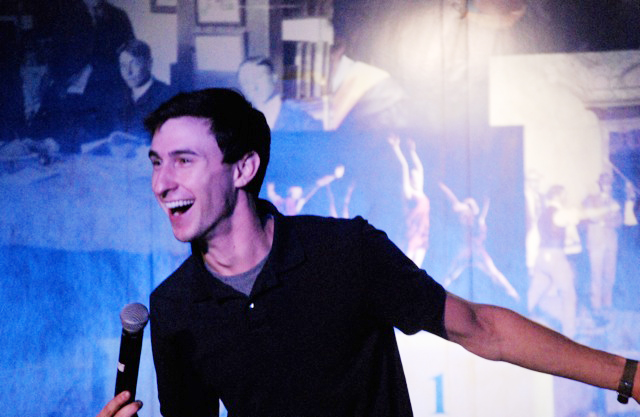 In a routine in which he compared station wagons to fanny packs, made fun of freshman halls and told stories of one student's stuffed-cat care package, Rob Gleeson inspired laughs from the audience during his performance at Lodge 1 last Saturday evening.
Gleeson, brought to campus by AMP, stars as the character Keith in the final season of Nickelodeon's "iCarly" and has a role on Fox's new show "Ben and Kate." Gleeson, who tours colleges when he is not acting, is a Midwestern native and a graduate of the University of Denver, where he studied economics and Chinese. He is a current Los Angeles resident.
"He was really funny because he didn't do only bits," Karthik Ilakkuvan '13 said. "He was interacting with us. I've never seen a comedian that has been so audience interactive."
Indeed, Gleeson did tailor specific comments to the student audience. He joked that the Dalai Lama was a tough act to follow and referenced the College of William and Mary's rivalry with the University of Virginia.
"What, did Thomas Jefferson decide he was going to found a school for kids who aren't as smart?" Gleeson said.
Gleeson also told stories about awkward interactions with children, talked about his annoyance with people who claimed to be addicts just by adding "holic" to the end of words and questioned pumpernickel bread and the necessity of twelve grains. Several jokes pertained specifically to his life.
"Turns out, I'm a real sucker for cougars," he said. "You could call me a poacher. Last week, I had a cougar ask me, 'Young man, do you have any money?' Sweetheart, if I had money, I'd be talking to women my own age. If you're a cougar and you're broke, in my book, you're a coyote."
At one point, Gleeson asked about freshman halls on campus. From the roar of the audience, he picked out the name Gooch Hall, which he deemed a terrible name for a dorm.
"Gooch? Maybe I could transfer to Sac," Gleeson said.
Other bits involved Gleeson playfully making fun of himself.
"Puberty is like a tunnel, and my car broke down in the middle," Gleeson said. "My nipples are like a Venn diagram. You could play checkers on my chest. Is that sexy? No. Practical? Yes."
He also asked the audience about the craziest care package item they had ever received. Answers ranged from tequila in an Easter basket to chicken in a can, but Gleeson's story of a student at a different school topped both. The student's cat had recently died, so his mother had had it stuffed and shipped it to him at school.
"I try to be disciplined about [writing jokes], but if something happens, I'll make a story about it," Gleeson said. "There are jokes I want to get to and make sure I tell."
Gleeson is one of several comedians AMP is bringing to campus for free over the course of this semester. Comedian Adam Mamawala will be performing at Lodge 1 Nov. 17 at 9 p.m. Mamawala has performed in New York, Broadway and Gotham Comedy Clubs and was the winner of the 2007 New Jersey Comedy Festival.
"It can be hard, especially in Williamsburg, to find things to do on a Friday or Saturday night when we are working on a college student budget," AMP Comedy Chair Gabriela DeCuir said. "Bringing this free entertainment right to campus is something that students, I think, are appreciative of, and it is an integral part of the campus community."
DeCuir saw Gleeson perform last spring at a conference and thought his comedy style was compatible with humor styles at the College.
"He had a really great delivery, but most of all he interacted with the crowd," Charlie Miller '16 said. "The bits about Gooch were great. And self-deprecation is always the best kind of humor."
Gleeson added that comedy keeps him from taking anything too seriously. He said his advice to students is that nothing is too big of a deal. For aspiring comedians, he said they should keep the punch line short and try not to spend too long on the setup when telling jokes.
"Brevity is the soul of wit," he said, quoting Shakespeare.