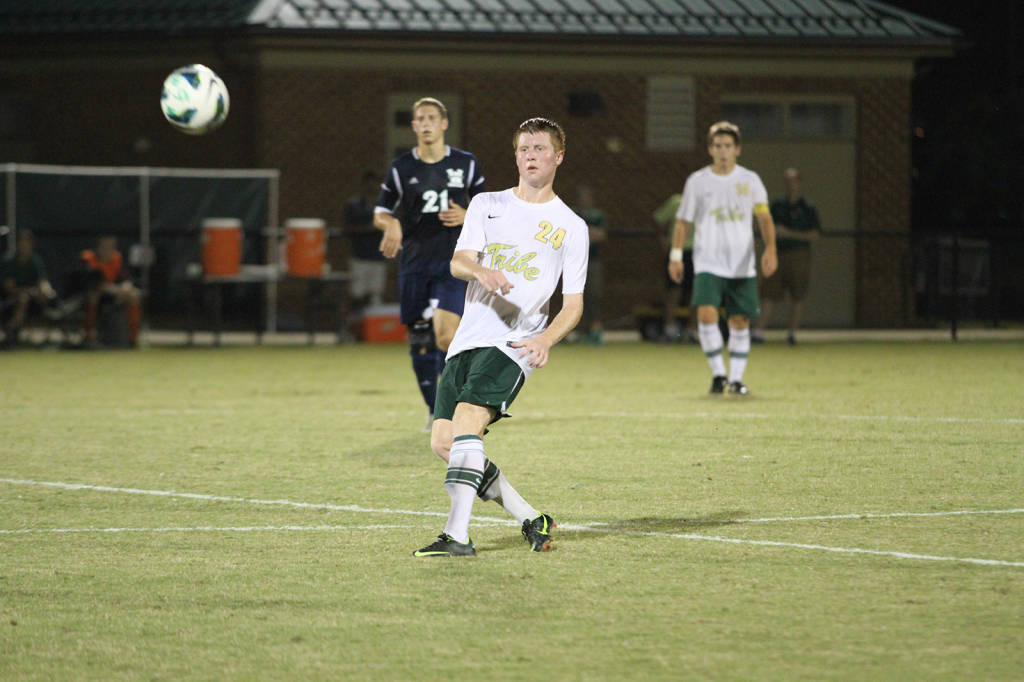 With just two games remaining in the season, William and Mary entered Saturday's matchup against Delaware desperately seeking to end the season on a high note. The storm clouds held off long enough Saturday for the College to claim a thrilling 3-2 comeback victory over Delaware on Senior Night at Martin Family Stadium.
Midfielder Ben Anderson and Edward Barr, the Tribe's two seniors, were honored before the game. The Tribe rallied around Anderson and Barr, coming back from a two goal deficit to grab an inspiring and sorely needed, win.
"Even though this was an important night for Ben and Eddy — being their last home game — I know that what they most appreciate is getting the result we all wanted," head coach Chris Norris said.
The College was plagued by a sluggish start and Delaware took advantage of the Tribe's timidity, scoring two quick and largely unmarked, goals in the 6th and 18th minutes. The first goal came off a poorly defended corner kick that UD's Tobias Miller headed past sophomore goalkeeper Alex Harrington.  In the 18th minute, Delaware struck once again as Vincent Mediate capitalized on a poor Tribe turnover by putting it into the net to gain a 2-0 lead.
"Initially, we put our heads down a little bit, but we've been in that position a lot of times,"  Anderson said. "We had that game against Old Dominion where we went down and fought back, so having that under our belt helped us come back and win like we did today."
At that point, a Tribe comeback seemed unlikely, as the Tribe offense had failed to score more than two goals in a single game since September 14th. The turning point in the game came with five minutes left in the first half when freshman forward Jackson Eskay received the ball in the box, swung past his defender, and rocketed it into the corner of the net for his first collegiate goal.
"To be honest, I'm used to scoring more goals than I have — not to sound conceited in any way," Eskay said. "I had almost forgotten what it feels like to score, so scoring that really gave me a lot of confidence. It was definitely the best feeling I've had all season. I think scoring that definitely got our legs moving into the second half."
Building off the momentum established by Eskay's moment of inspiration before halftime, the Tribe offense put in an admirably aggressive and fluid performance in the second half, notching nine shots through the final 45. In the 59th minute, Eskay struck again with a punishing header goal off a Chris Perez free kick assist.
"We had a breakout performance from Jackson Eskay," Norris said. "He's an immensely talented kid who's shown flashes at times this year, so it was great for him to get some goals tonight, and I think it's a sign of things to come."
Delaware's early two-goal lead was finally eclipsed in the 75th minute with Anderson's corner kick assist to junior midfielder Will Smith, who pounded it through the net for a 3-2 Tribe advantage.
"We've been pretty lethal on corners all season," Anderson said. "It's certainly one of our specialties, and we were able to use it well tonight."
The Tribe did what Delaware wasn't able to by holding on to its lead until the final whistle, giving them the victory in heroic fashion After the game, Anderson was visibly proud of the team he's led all year.
"It's sad to see it come to an end and all that, but it's nice to get a win. I wouldn't want it to end any other way," Anderson said.
The College will close out the regular season Wednesday in Hempstead, N.Y. against Hofstra.