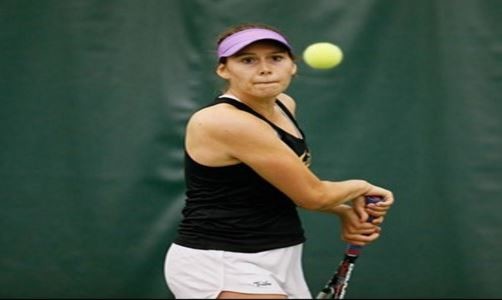 William and Mary women's tennis played two tough matches in two days at the ITA Kick-Off Weekend held in Atlanta. Saturday, the No. 46 Tribe fell 4-1 to No. 24 Georgia Tech. On Sunday, the College (3-1) rebounded to defeat No. 35 DePaul 4-2 by winning four singles matches.
Against the Yellow Jackets (2-1), senior Leeza Nemchinov provided a strong start, winning at No. 1 singles in straight sets, 6-3, 6-4 against Paige Hourigan. This was Nemchinov's sixth straight win, and it came against a 2015 All-Atlantic Coast Conference performer in Hourigan. In the No. 3 and No. 4 singles matches, the Tribe struggled as junior Marie Faure fell 6-7, 2-6 against Rasheeda McAdoo and sophomore Maria Groener fell 3-6, 4-6 against Kendal Woodard. The No. 2, No. 5, and No. 6 singles matches all went to a third set, but the College fell in the No. 6 singles match to ensure a loss before the other matches finished. The Tribe could not find a way to win any doubles matches against Georgia Tech, falling at both No. 1 and No. 3.
The highlight of the day against DePaul was two come-from-behind victories for the College at the No. 2 and No. 3 singles spots.
The next day against DePaul (0-2), the Tribe stormed back to win against a tough team. The highlight of the day was two come-from-behind victories for the College at the No. 2 and No. 3 singles spots. At No. 2, freshman Lauren Goodman stormed back to defeat Marina Cozac, 3-6, 6-4, 6-3. At No. 3, Faure came back strong to win against Patricia Lancranjan, 1-6, 6-1, 7-5.  Groener won at the No. 4 singles spot and sophomore Olivia Thaler won at the No. 6 singles spot to fill out the strong performance from William and Mary. Despite the singles success, the College still struggled in doubles matches Sunday, failing to win any. Nonetheless, the four wins in singles gave the Tribe a 4-2 victory over the Blue Demons.
Looking ahead, William and Mary will travel to Raleigh, N.C. to face Elon for the first time in school history. That will take place on Friday, Jan. 29 at 1 p.m. In the final game of the season-opening six-game road trip, the Tribe will remain in Raleigh to face North Carolina State Saturday, Jan. 30 at 11 a.m.