Meet the Staff!
Jump to a section: Executive • News • Sports • Opinions • Variety • Social Media • Blogs • Online • Graphics • Copy • Photos • Chief Writers • Associate Editors
Executive
Editor-in-Chief: Nia Kitchin '20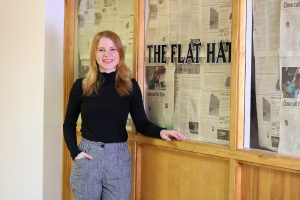 Nia Kitchin '20 is the 109th Editor-in-Chief of The Flat Hat and a double major in Government and Art from Charlottesville, Virginia. Nia enjoys covering politics, student life, breaking news, features and human interest stories. During her time at the Flat Hat she has reported on local House, Senate and Gubernatorial races, investigated the impact of higher education policy changes, braved the freezing cold to interview students walking out for gun control, followed a high-stakes Cezanne painting discovery and attended more candlelight vigils and underground protests than she can count. She has had the privilege of speaking with insurgent political candidates, beloved College Presidents, passionate students and fascinating community leaders, to name just a few.
Prior to being elected Editor-in-Chief, Nia served as the News Editor and then the Managing Editor at the Flat Hat. She also currently serves as the chair of the College's Media Council where she enjoys working with all the publications on campus. A fun fact is that she likes telling people she interned in Washington, D.C. In her free time, Nia enjoys darkroom photography, hiking, baking lemon squares, visiting museums, exploring new places and pestering people to return her emails. After she graduates, Nia intends to pursue a career in journalism and move to a big city where she will never run out of stories to tell.
Managing Editor: Ethan Brown '21
Flat Hat Managing Editor Ethan Brown '21 is an Economics and Government double major from Manassas, VA. Prior to serving as Managing Editor, Ethan was an editor in the Opinions section. Outside of The Flat Hat, Ethan works in the Charles Center as a peer scholarship adviser, participates in the College's International Relations Club and is a co-teacher with the American-Bosnian Collaboration Project. In his free time, he enjoys baking, running and traveling.
Executive Editor: Brendan Doyle '20
Brendan Doyle '20 is the Executive Editor of The Flat Hat. Doyle is a government major and music minor. He hails from Centreville, VA.
Digital Media Editor: Maggie More '20
Maggie More '20 is an English major and Data Science minor, and the Digital Media Editor of the Flat Hat. She currently lives in Chesapeake, VA, though she considers Frederick, MD her hometown and has also lived in Rockville, MD and Jacksonville, FL. Her time at the Flat Hat only began in Fall of 2017, but since then she has interviewed U.S. senatorial candidates, seen Laverne Cox speak on stage, tried coffee from every coffee shop on campus, and contributed to almost every section at the paper. She is also a member of the William and Mary Club Quidditch Team and WCWM 90.9.
When not doing schoolwork or her extracurriculars, she enjoys drawing, reading, drinking coffee, dramatically singing along to swing and '80s music, and theorizing about Marvel movies with her friends. She aims to begin a career in journalism after graduation, and aspires to becoming a New York City native like both of her parents.
Business Manager: Amelia Sandhovel '22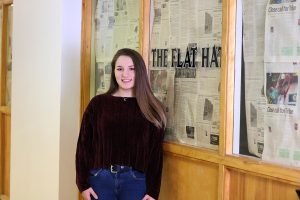 Amelia Sandhovel, '22, is a Government major and Sociology minor from Midlothian, Virginia (right outside of Richmond). She began with the Flat Hat in Fall 2018 as an intern, and is currently the Internal Operations Manager for the Business Department alongside co-manager Maddie Douglas.
After graduation, she hopes to live in Northern Virginia and work for the federal government. She's also a self-declared astrological guru and the best/most characteristic Gemini you'll ever meet.
Business Manager: Maddie Douglas '22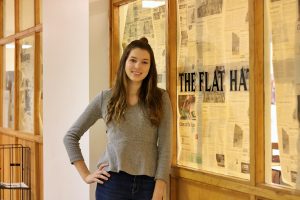 Maddie is a sophomore studying business at William & Mary. She started as a Business Intern in the fall and was promoted to External Business Manager at the end of the semester. Maddie hopes to run her own business one day. When she isn't selling advertisements, she spends time baking, playing volleyball, and trying not to fail out of college.
Operations Coordinator: Kevin Richeson '20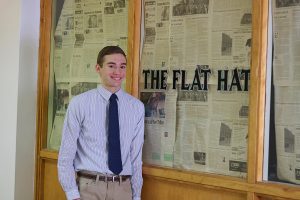 Kevin is a senior from Henrico, Virginia. He is the Operations Coordinator for The Flat Hat and has previously served as an Associate Sports Editor. He is a Government major and Sociology minor at the College. Some of his favorite things are puns, dogs, listening to music, and the oxford comma.
Webmaster: Adam An '20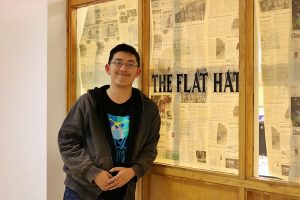 Adam An '20 is a computer science and linguistics major. He does full-stack web development, motion graphics, and radio broadcasting. As webmaster, he makes sure the Flat Hat's online presence stays, you know, online. This sentence is here because Gavin asked for four sentences.
News
News Editor: Heather Baier '20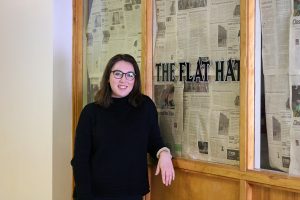 Heather Baier '20 is a Data Science major and Computer Science minor from Warrenton, VA. Currently, she is serving as News Editor after having previously served as Variety Editor, and earlier as an associate and intern. She hopes to pursue a career in development research or data driven journalism.
News Editor: Leslie Davis '21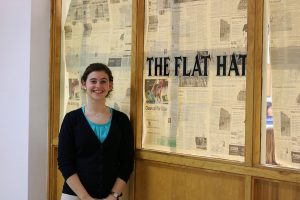 Leslie Davis '21 is a Government and Data Science major from Burke, Virginia. She previously served as Social Media Editor and as a News and Online Intern. She has covered the intersection of social and political issues, including civil rights, women's rights and more. Leslie aspires to become a data journalist, working to tell enterprise stories with a quantitative focus.
News Editor: Emma Ford '22
Emma Ford '22 is a current News editor for the Flat Hat. She is undecided in her major but considering a double major in government and English. Formerly, Ford was both a news and opinions associate the fall of her freshman year. With news writer Kimberly Lores, Ford writes the weekly Student Assembly Beat. In addition to the Flat Hat, Ford swims for the College's club team.
Sports
Sports Editor: Gavin Aquin-Hernández '22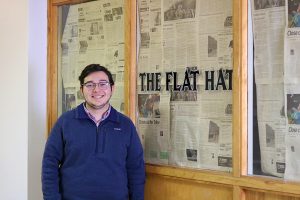 Gavin Aquin-Hernández '22 is a Sports Editor for The Flat Hat newspaper and a proud member of the Editorial Board. He has contributed to the paper since 2018. Gavin originally hails from Las Vegas, Nevada and Los Angeles, California. He is a Business Analytics and European Studies double-major, with a particular interest in Spanish and French cultural issues and the history of the Jewish Diaspora. Gavin hopes to eventually become a lawyer when he graduates. When he isn't watching Tribe Athletics, Gavin follows the Vegas Golden Knights, the LA Dodgers, Tottenham Hotspur and C.D. Guadalajara. Visit www.gavinaquin.com to learn more about him.
En castellano: Gavin Aquin Hernández '22 es un editor de deportes para el periódico « The Flat Hat » y es miembro de la Junta Editorial. Él ha sido miembro del periódico desde 2018. Originalmente, él viene de Las Vegas, Nevada y de Los Ángeles, California. Él está estudiando la analítica de negocios y los estudios europeos. En particular, le interesan los temas culturales españoles y franceses, y también le interesa la historia de la diáspora judía. Gavin desea trabajar como abogado después de graduarse. Además de seguir Tribe Athletics, Gavin sigue a los Golden Knights, los Doyers, Tottenham Hotspur y las Chivas. Visiten a es.gavinaquin.com para aprender más sobre él.
Sports Editor: Avery Lackner '22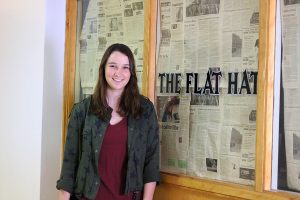 Avery Lackner '22 is a Psychology and History double major from Dallas, TX. She is also  cripplingly indecisive and loves being able to complain about having to walk from ISC to James Blair all the time. In her time at The Flat Hat, Avery has covered everything from scholarships to aid DACA students, to non-denominational race talks, to a historical reenactment of a 1918 women's basketball game. Currently, she is serving as The Flat Hat's sports editor, a position she loves for its unique challenges and opportunities, but mostly she adores her job because sometimes Tribe Athletics puts out chicken fingers in the media room before games. When she isn't trapped in the basement office of The Flat Hat, Avery enjoys talking about her amazing home state of Texas, re-reading Harry Potter, going to the gym, quoting the Office, working summers as a camp counselor, and bragging about the Red Sox (World Series Champs, baby!) to the great annoyance of her friends.
Avery hopes to become a children's and family therapist, and she plans on residing in Boston post-graduation to immerse herself in the city's history and fulfill her lifelong goal of meeting David Ortiz. However, as it physically pains her to imagine leaving Texas permanently, she figures eventually she'll end up back in the greatest state in the union, mostly because she's tired of being heckled for sporting an Ezekiel Elliot jersey.
Opinions
Opinions Editor: Anna Boustany '21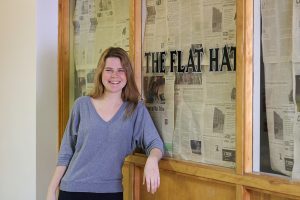 Anna Boustany is studying International Relations and Religious Studies at the College. She is also involved in the Review Board, giving tours, working at the Wellness Center, various theater productions at the College and of course, serving as an Opinions Editor here at the Flat Hat! She is somewhat infamous in the office for saying nonsensical things on production night. P.S. Anna loves Gavin
Opinions Editor: Chloe Folmar '22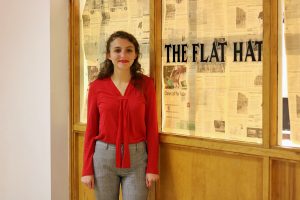 Chloe Folmar is a Philosophy major and Arabic minor from Dubai, United Arab Emirates. She enjoys writing about her own controversial opinions and publishing the "hot takes" of people she recruits from Swampy Memes.
Chloe looks forward to working in the political sphere after she graduates where she plans to advocate for human rights and those who cannot speak for themselves. Most importantly, Chloe seems to be the only person in the Flat Hat Office who is anti-oxford comma.
Variety
Variety Editor: Zoë Beardsley '22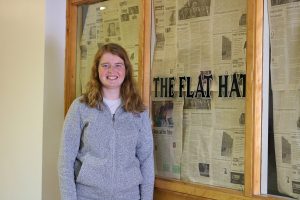 Zoë Beardsley is a Variety Editor for The Flat Hat, who also occasionally contributes to the Sports section. She is still undecided on her major, but is leaning towards Film and Media studies or History. Hailing from Arlington, Virginia, Zoë is a huge Capitals and Nationals fan, even though both teams (especially the Nationals) constantly disappoint her in the playoffs. When she isn't cheering for D.C. sports, you can find her watching college basketball or keeping up with the latest pop culture news. A big movie fan, some of her favorites include Mad Max: Fury Road, Singin' in the Rain, Moonlight, and Easy A. Zoë intends to pursue Journalism when she graduates, though her dream job of writing for Saturday Night Live is still not completely off the table.
Variety Editor: Adithi Ramakrishnan '22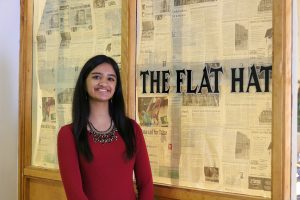 Adithi Ramakrishnan is a Neuroscience major and Creative Writing minor from Northern Virginia. She loves storytelling and currently serves as the Flat Hat's variety editor. 
Adithi enjoys reading, writing, singing, and dancing in her spare time; her favorite animal is the red panda and she loves binge-watching sitcoms including (but not limited to) The Good Place, Parks and Rec, and Brooklyn Nine-Nine.  She believes firmly in the Oxford comma and is committed to defending it until her dying breath.
Social Media
Social Media Editor: Olivia Koenig '22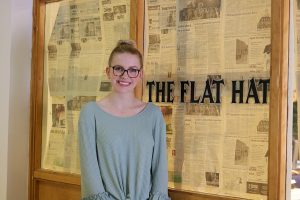 Olivia Koenig is a member of the class of 2022 and a proud Atlanta native. She started as an opinions and online intern for the Flat Hat, following her love for writing and digital media. The Flat Hat is full of passionate, well-spoken superstars and she is thrilled to be a part of a group so incredible here at the College.
Blogs
Blogs Editor: Kate Lucas '21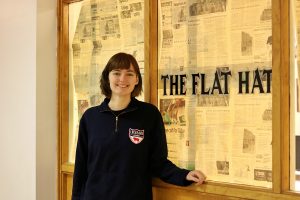 Kate Lucas '21 is an English major and Japanese minor from Orlando, Florida. She started her career at the Flat Hat has an online contributor for the Blogs section, and after a year and a half of writing movie reviews for Reel Talk, became Blogs editor. Her dream project for the Blogs section would be rating and reviewing every cat cafe in Tokyo. In her spare time, she plays the mandolin, sews her own costumes, and wrestles alligators, as is the custom in her homeland.
Blogs Editor: Katherine Yenzer '21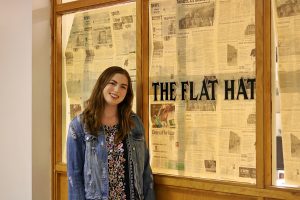 Katherine Yenzer is from Saint Louis, Missouri and is double-majoring in Philosophy and Government. Katherine is currently one of The Flat Hat's Blogs editors and was previously one of the Opinions editors. Katherine is a volunteer for the Haven, a member of Someone You Know, a Tribe Ambassador, a member of a social sorority, and a member of the Undergraduate Honor Council.
Online
Online Editor: Naomi Gruber '20
Naomi Gruber '20 is a Film and Media Studies major and Creative Writing minor from Oakton, Virginia. After completing the Flat Hat internship program, she worked as a Variety associate editor. During the fall of her junior year, Naomi spent a semester wandering and occasionally studying in Cardiff, Wales before returning to campus and the Flat Hat as an Online editor.
Naomi isn't quite sure what she'll be doing after graduation, but getting an MFA in writing, working in DC or LA, or staying home with her two cats are all likely possibilities.
Online Editor: Claire Hogan '22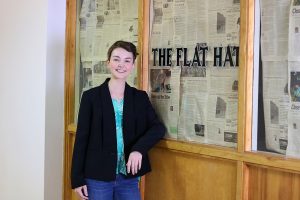 Claire Hogan '22 is an Applied Mathematics major from Vienna, Virginia. In her time with the Flat Hat, she's written political articles, made blog posts, and produced videos, and she hopes to do much more. She is passionate about digital and data journalism, which is why she loves the online section. She also loves to discredit conspiracy theorists and is always arguing with someone online. Visit her website here.
Graphics
Graphics Editor: Kayla Payne '20
Kayla Payne '20 is an Art/Art History major with a concentration in 2D studio art. She is the Flat Hat's Graphics editor. Prior to that, she has drawn graphics as an artist for the Flat Hat since her freshman year. Personality-wise, she is an INFJ-A.
Copywriters
Copy Editor: Jae Chung '21
Jae Chung '21 is an Applied Mathematics major who has been working for the Flat Hat since the fall semester of her sophomore year. She is from McLean, Virginia and has also lived in Maryland and South Korea. She loves dogs, and because her own dog is currently residing in McLean, regularly gets her dog fix from the Dogspotting page on Facebook. She also enjoys reading and making art in the spare time she doesn't have.
Copy Editor: Zoë Connell '21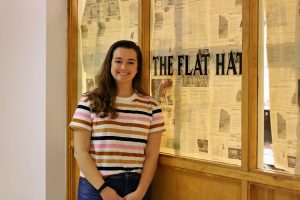 Zoë Connell '21 is a history and economics double major from New Jersey. As a member of the Flat Hat she has edited an innumerable amount of articles. She is currently serving as one of the Flat Hat's Copy Chiefs, as she is a stickler for grammar. Her major goal in life is to rid the world of Oxford commas, one article at a time.
Photos
Photos Editor: Jamie Holt '22
Jamie Holt is from Rustburg, VA. She has been with The Flat Hat for while now and she loves it! She self-designed a major in Photojournalism with a minor in French and Francophone Studies. She is a Sagittarius if that actually means anything, a member of Delta Gamma, and an obsessed dog-lover!
Photos Editor: Rebecca Klinger '22
Rebecca Klinger is a sock enthusiast who happens to dabble in photography. She is from Virginia Beach where she loves to take long walks on the beach and explore Walmart at 3am. You can typically find her rocking hot pink crocs and the same three ski jackets of different shades of blue.
Chief Writers
Chief Staff Writer: Charles Coleman '22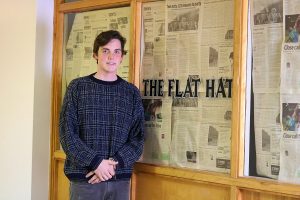 Charles Coleman is a chief staff writer who plans on majoring in Public Health, and is on a Pre-Med track. This is Charles' first year on the Flat Hat staff and he is currently work as the Co-Chief Staff Writer. Charles typically writes articles found in the news section and helps assist the News editors. Charles would like to emphasize the influence and legacy of the Big Chungus.
Chief Staff Writer: Averill Meininger '22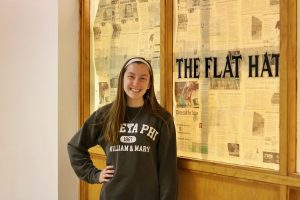 Averill Meininger has been writing for the Flat Hat since her fall semester of freshman year. She started as an intern and now works closely with the paper's news section editors, primarily writing news articles. Currently undecided in major, Averill is interested in government, English, and economics. Outside of the Flat Hat she enjoys playing with the club field hockey team and mentoring with the Greater Arc of Williamsburg in their literacy program. She hopes to continue to develop as a writer in whatever career path she pursues.
Chief Features Writer: Alyssa Grzesiak '20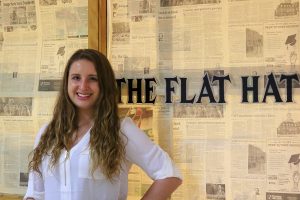 Alyssa Grzesiak '20 is a double major in Linguistics and Psychology from Chantilly, VA. During her time at the Flat Hat, Alyssa has served as sports editor and executive editor, and is now the paper's chief features writer. She aspires to go on to work in counterterrorism and national security.
When she isn't writing and editing (or stuck in the swamp) Alyssa spends her days surfing and jet skiing in the ocean with the dolphins. She is also an avid runner and enthusiastic supporter of the Oxford comma.
Associate Editors
Associate News Editors: Karina Vizzoni, Sarah Greenberg, Fernando Castro
Associate Opinions Editors: Anthony Madalone, Lauren Cohen, Alyssa Slovin, Caroline Wall
Associate Variety Editors: Suzanne Cole, Isabella Miranda
Associate Sports Editors: Nathan Seidel, Collin Anderson
Copy Editors: Christian Borio, Lizzie Brown
Associate Business Manager: Griffin Dunn
Photos taken by Jamie Holt, The Flat Hat ❤️