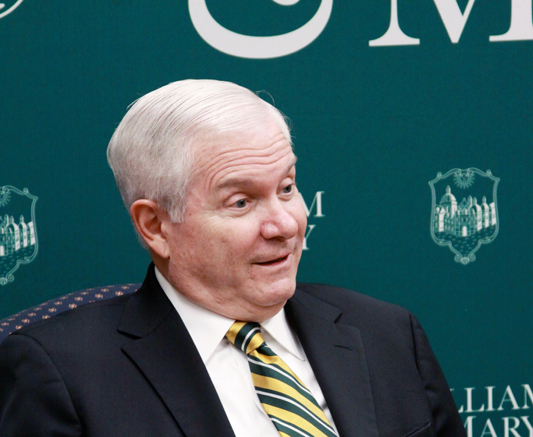 Before his investiture at the Charter Day ceremony Friday, former Secretary of Defense Robert Gates '65 held a question-and-answer session with the members of professors Katherine Rahman's and Dennis Smith's International Politics and International Security classes.
McGlothlin-Street Hall was filled to the brim, with video cameras and photographers lining the edges.
"It's very William and Mary on a Friday morning to want to crash a class," Smith said to the waiting students.
The discussion included both light-hearted jesting and serious topics important to the international community. Gates recalled the time he spent at the College — he lived in the attic of Old Dominion Hall his freshman year — and how different the College was then.
"All of 1961, out-of-state tuition [was] $316," Gates said. "I think one of the great things about William and Mary is the emphasis here on teaching. I think that the give and take and having classes small enough where there's actually a dialogue … that experience, I think, is hugely important. … I think here at the College there's an emphasis on [the idea] that you don't have to agree with what others say."
Following the course of the student questions, Gates also discussed his numerous experiences serving a variety of U.S. presidents.
"I worked for a total of eight presidents. … Each of them has been very different," Gates said.  "The one thing they all had in common is how much they cared about the country. … I never met a president I didn't respect, as someone who was trying to do his best for his country. It bothered me to see how they, Republican or Democrat, were trashed in the media."
Jokingly, Gates recounted his involvement with Congress as the hardest part of his political career.
"The worst part of my job was dealing with Congress," Gates said. "As a completely nonpartisan statement, I didn't like any of them. The red light goes on on top of a video camera, and it's like a full moon goes on a werewolf."
Gates answered many questions about international issues, including questions regarding relations with Israel, China and the Middle East. While explaining his views with many personal opinions, Gates also conveyed the ambiguity of the world of international relations.
"I think the key is starting with understanding how little you know and how unpredictable things are," Gates said. "Most of the time, the crystal ball is blurry, and you're just trying to make it through as best you can."
Gates discussed policies in the Middle East, drawing attention to the superposition of many of the countries' boundaries over pre-existing tribal delineations.
"The problem I see is that nobody knows where [the Middle East] is going," Gates said. "Democracy is not about having one free election. Democracy is about building a free institution. … We're going to have to be, I think, pretty agile. … There are more problems ahead in the Middle East."
Gates also described the hardest decision he ever witnessed a president make, citing the decision by President Barack Obama to pursue the killing of Osama Bin Laden.
"The truth is, we did not have a single hard piece of evidence that Bin Laden was in that compound," Gates said. "The entire force was circumstantial. … My biggest worry was the consequences of him not being there. Until we had the code word, we had no idea what went down in that compound."