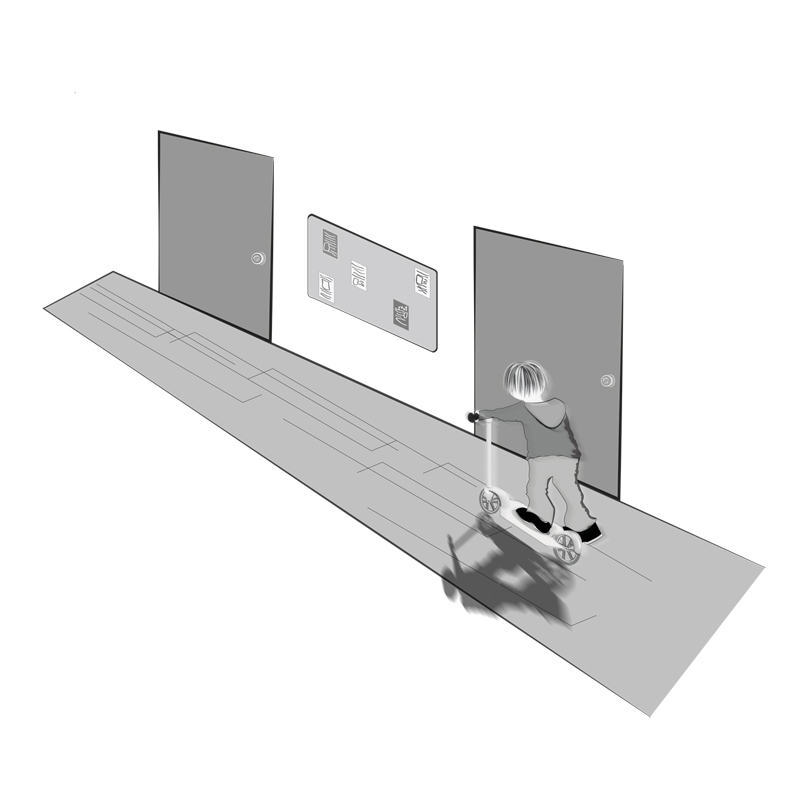 For high school seniors, the prospect of transitioning from home to a college dorm is often both terrifying and exciting.
For Alexandra Schofield, age nine, and Kyle Schofield, age six, home and a college dorm are the same.
Alexandra and Kyle traveled directly from the hospital where they were born to a college dormitory, and they currently reside in the College of William and Mary's Landrum Hall. Area Director Rich Schofield and his wife both worked in residence life as students, and — excluding their first three months of marriage — they have continued to live in residence halls together ever since. Rich Schofield includes Alexandra and Kyle in his work wherever possible.
"I call them my little '[Resident Assistants] in training,'" Rich Schofield said. "They know all about the campus policies."
As Landrum residents, Alexandra and Kyle have developed many of the same likes and dislikes as their college-aged neighbors. Alexandra echoed an oft-cited complaint about the Landrum elevator.
"It's extremely scary to hit the stop button," Alexandra said. "My mom won't even ride the elevator."
When Kyle's friends hear that he lives in a college dorm, their first question is: What is it like to live with so many crazy, loud people?
"Their bedroom is near the main door in the [Landrum] lobby," Rich Schofield said. "In some ways, they can now sleep through almost anything, unlike my sister-in-law's kids."
Life at the College offers an abundance of opportunities — opportunities that are not limited to college-aged students. Such activities include sampling the dining options at the Sadler Center Dining Hall, enjoying fireworks in Colonial Williamsburg, attending basketball games, bonding with RAs and hanging out in the Sunken Garden — although Rich Schofield concedes that they make a point of avoiding the Sunken Garden during events like Campus Golf. While Kyle and Alexandra are too young to go to the Student Recreation Center, they do enjoy running up and down the spiral staircase in Sadler for exercise. When eating in Sadler, Kyle, like many students at the College, loves cereal for dessert.
"I like to put Coco Puffs with the marshmallows from Lucky Charms," Kyle said.
Alexandra and Kyle also take part in special events at the College. Alexandra has helped out as a cheerleader in the football games and as a judge in the Mr. Barrett contest. Kyle won a fish at the Sadler Center Carnival almost two years ago, and it still lives in his room in Landrum. The kids have taken part in the Homecoming Parade with Barrett Hall, attended movie nights on the Sunken Gardens and danced at the Barrett Cotillion.
"We try to take advantage of everything we can while we're living here," Rich Schofield said. "We go to programs — in buildings and on campus — that other kids don't get to do."
As children of an Area Director, Kyle and Alexandra have also had experiences entirely different from those of many undergraduate students at the College. Over winter and summer breaks, Alexandra and Kyle enjoy some of the perks of living in an empty dorm.
"We get to ride scooters up and down the hallways when no one is around," Alexandra said.
Alexandra also plays an active role in icebreaker games and check-in during RA training at the beginning of the school year, and Kyle has made friends with the Campus Police officers. The school bus even picks up Alexandra and Kyle outside of Barrett in the mornings.
"Substitute drivers often run into difficulties, though, because they don't think to look for a dormitory," Rich Schofield said.
Despite occasional challenges, raising children on a college campus also offers quite a few advantages from a parental perspective. For example, Kyle and Alexandra are picked up and dropped off each day for school at their parent's place of work, allowing for greater job flexibility in the event that the kids get sick.
Alexandra and Kyle have developed strong communication skills through constant contact with students and their parents' co-workers. At the very least, Rich Schofield and his wife have avoided one issue that many parents struggle with: where on Earth to find a babysitter.