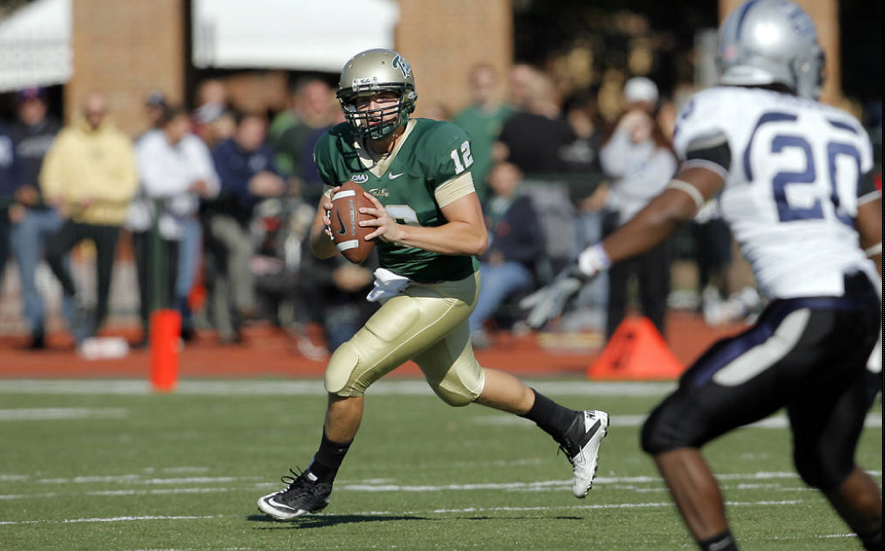 The quarterback carousel of William and Mary's 2011 season has finally come to an end — at least for now.
Tribe head coach Jimmye Laycock pegged junior Brent Caprio to lead the offense into College Park for its season-opener with Maryland Monday. But as last year showed, nothing is set in stone.
"It's like any position — we continue to evaluate it," Laycock said.  "If he goes in there, does well, he will stay at quarterback, and if he struggles and doesn't play well and we feel like we need to do something different, we will."
For the junior from Somers Point, N.J., it's been a winding road back to the top spot that he held at points last season. Caprio — who entered the season as the No. 2 — had his chances to seize the starting job when Michael Paulus struggled early but proved just as ineffective in the team's season-opening loss to Virginia.
Instead, it was junior quarterback Michael Graham, a sophomore at the time, who played comeback-leading hero when the Tribe struggled against Division II New Haven. From there, it was Graham's job to lose and Caprio was only called upon when Graham was sidelined with illness and injury.
Caprio got his first start in week seven against New Hampshire, and the junior delivered with a win, going an efficient 7 of 11 for 167 yards, two touchdowns and one interception. But Graham would return next game before being sidelined for the rest of the year.
With three games left in a lost season, it was Caprio's chance to make his case for 2012, and he performed well, going a combined 51 of 76 for 534 yards, four touchdowns and four picks over the last three games of the year.
In the final game of the year at Richmond, the Jersey-native led a comeback drive and capped it with a game-winning touchdown with just seconds remaining.
But Caprio seems less interested in rehashing last season than he does looking to Maryland and beyond.
"I was very excited when I found out I'd be starting at Maryland," he said. "I've worked hard all spring and summer."
For the two quarterbacks he beat out — Graham, who was out of the running after hurting his ankle in a pre-season scrimmage, and sophomore Raphael Ortiz — they'll have to wait to see if their numbers are eventually called. But Caprio said the competition helped everyone.
"All the quarterbacks get along very well and we never root for someone to do poorly," Caprio said. "I try and control what I can control and worry about myself while also being supportive of my teammates. The competition … brought out the best in everyone."
But the biggest change on offense from 2011 to 2012 will not be at quarterback, but at tailback, where the College will look to fill the void left by Jonathan Grimes, perhaps the best back in school history.
Grimes, who signed with the NFL's Houston Texans this offseason, owns much of the school's rushing records, including career rushing yards and all-purpose yards. His final season was also his best, as the senior racked up 1,431 yards on the ground (averaging 5.0 yards per carry) while scoring 10 rushing touchdowns. He also caught 23 balls for 262 yards.
Replacing him will be a stable of backs, including sophomore Keith McBride — who was the change of pace back last season and notched 281 yards on 56 carries — as well as senior Meltoya Jones, who ran for just 35 yards on 14 carries in 2011. Laycock jokingly tried to downplay the challenge of replacing one of the school's all-time greats, explaining that the task won't fall on just one player.
"Old 'what's his name' isn't there anymore, I think he's down there playing in Texas or something," he said. "We aren't going to have a back carrying the ball 30 to 35 times anymore."
The coach also threw in the name of redshirt freshman Mikal Abdul-Saboor, a converted quarterback.  That said, all indications are that McBride will play the feature role, as his speed and quickness have set himself apart in his first two years at the College since transferring from Navy.
"You really don't replace Jonathan," McBride told the Richmond Times-Dispatch. "He was a great guy, great player, great individual. We're just going to come out and try to set our own mark and try to help this team win."
But if the tailback position was a spot of stability and excellence in 2011, the wide receiving corps was just the opposite.  The team hopes that senior wideout Ryan Moody, who was sidelined for most of last season following a standout 2010 campaign, will provide the downfield threat that the College sorely lacked last year.
When he played in 2011, he showed flashes of his sophomore brilliance, exhibiting his ability to go up over defensive backs to make acrobatic grabs. After him, Caprio and company will probably turn to sophomore receiver Tre McBride, who in 2011 was the first Tribe receiver to see action as a true freshman since 2005. He finished with just 14 catches for 156 yards in 11 games, but Laycock says he's made strides in the offseason.
"[He] had an excellent preseason. … He has grown up a lot as far as knowing how to practice, knowing how to prepare and how to react when things go this way," Laycock said.
If the offensive line holds up to Laycock's expectation that it will "probably [be] the best conditioned offensive line we've seen," the College could have the weapons needed to outperform a lackluster 2011 in which it averaged just 334.8 yards of total offense a game and just 18.4 points per game. If not, the College will once again be a team reliant on defense.
But through all the turnover and change, one aspect remains consistent — that's Laycock himself, who is entering his 33rd season at the helm. The rollouts, the slants and the draws often remain unchanged, but it's the jersey numbers and level of execution that can look so different.
POSITION PREVIEWS
QUARTERBACK: 
Junior Brent Caprio enters the year as the starter, and it would be hard to believe his improvement over the last part of 2011 didn't play a role in head coach Jimmye Laycock's decision. Caprio played well down the stretch and threw a game winning touchdown in the season finale. The signal-caller led a comeback drive late in the game at Richmond in the last week of the season, and generally showed himself to be a capable field general. Still, he needs to cut down on the turnovers and become more consistent. Caprio passed for 795 yards in 2011, completing 63.6 percent of his passes while throwing six touchdowns and seven interceptions.
RUNNING BACKS: 
Sophomore Keith McBride will most likely be the feature back as the College looks to replace one of the school's best ever, Jonathan Grimes. McBride rushed for 296 yards on 56 carries (5.0 yards per carry) and two touchdowns last season. He also fumbed twice, once in an extremely costly moment against James Madison, so ball security is potentially something he'll need to work on. Still, Laycock has made it clear that the College will rely on a number of backs, not just McBride. Expect to see senior Meltoya Jones, an experienced tailback, as well as sophomore Darnell Laws taking a number of carries in the backfield this season.
WIDE RECEIVERS/TIGHT END:
At the tight end spot, the Tribe has another big hole to fill as it looks to replace Alex Gottlieb, who signed an undrafted free agent contract with the NFL's Detroit Lions. Senior Nolan Kearney, who caught seven passes for 77 yards and two touchdowns last season, should be called upon to fill Gottlieb's shoes. At 6'4", 250 lbs., Kearney's a big target. At receiver, senior Ryan Moody will team up with sophomore Tre McBride to open the year. Moody was hurt for most of 2011, but had an excellent sophomore season, leading the team with 47 catches for 731 yards. McBride, the first true freshman to see action at wideout since 2005, will look to improve on a lackluster 2011 in which he caught 14 balls for 146 yards. Tight ends are often a focal point of the Laycock's passing offense, but if Moody is completely healthy and plays to plays like a bigger, more experienced version of his sophomore self, it could be the receivers that make the biggest impact.
OFFENSIVE LINE: 
Laycock believes that this season's offensive line is one of the most solid groups in years. Featuring two seniors and three juniors, the group is undoubtedly experienced. Senior Mike Salazar will return at left tackle, where he's started every game for two seasons. At left guard, junior James Johnson III won the starting role this spring after 15 starts the past two seasons. After splitting time at left guard and right tackle last season, junior Matt Crisafi will move to center. Crisafi, billed as the Tribe's most versatile offensive lineman, must replace All-CAA center James Pagliaro '12 as a force along the line. Junior Trevor Springman returns at right guard and will be expected to create space for the running game. Springman was honored as the team's Winter Warrior for his dedication to the squad's offseason program, and has drawn positive reviews this summer. Rounding out the offensive line is senior Robert Gumbita at right tackle. Gumbita has appeared in at least five games in each of his three years.