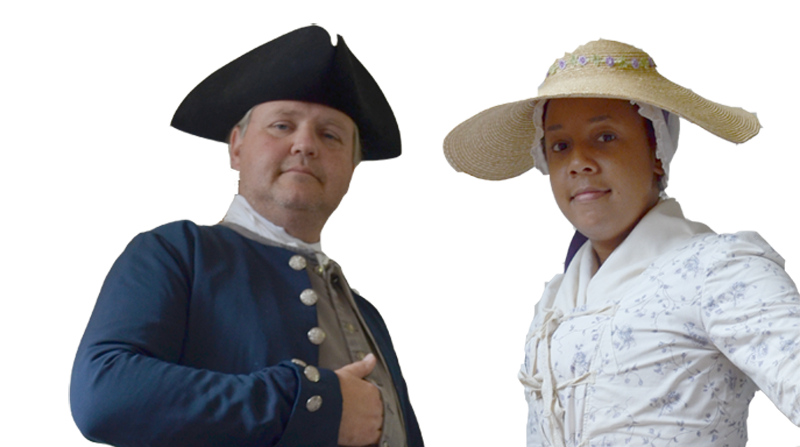 This historic town is not filled with colonists — it is filled with actors. While they teach visitors about a Revolutionary War-era history, they have histories of their own to share as well.
Bill Rose
As a child growing up in Chesterfield, Va., Bill Rose and his friends fought in World War II. From their PT boat, they battled the Nazis and the Japanese — at least until their mothers called them in to dinner. Suddenly the jungle gym was no longer a war boat, just swings and a slide. Rose played these games and dreamed of becoming a fighter pilot for the Navy — he loved World War II games, but he hated history.
"I wasn't a good student — hated history, didn't care a thing for it," Rose said. "But that's changed."
Despite his apathy toward his education, Rose became the first in his family to graduate from high school. While working as a houseman at an inn, he met a woman at a Star Trek fan club who checked tickets in Colonial Williamsburg. She convinced him that it was an easy job and he decided to join her. The woman became his first wife, and Rose has been working in Colonial Williamsburg ever since.
Rose did not simply forsake his former goals and dive immediately into life as a historical interpreter. Soon after arriving in Williamsburg, Rose joined the Navy Reserves, as he had always planned to do as a child. After spending several months in Okinawa, Rose returned and began to juggle his weekends with the Reserves and his job as an orientation interpreter.
"I did that for three years," Rose said. "I transferred over to Military Programs and did that for seven. Then I was a character interpreter for a couple of years before Revolutionary City was created, and I've been doing that ever since."
In Military Programs, Rose had the opportunity to satisfy the child inside him who missed fighting Nazis in the backyard by studying military history. Later on in Revolutionary City — a two-day tour that brings guests through the years leading up to, during and following the Revolutionary War — Rose faced a challenge: The interpretation was scripted, and Rose did not count memorizing lines among his strengths.
"I have a mind like a steel trap, and unfortunately, it's a mouse trap because I cannot memorize a line to save me," Rose said. "These poor people get out there working with me and have no idea what's coming out of my mouth. Hopefully, usually, I've got the idea."
Deirdre Jones '08, a coworker of Rose's, acknowledged that Rose has a tendency to stray from the script.
"It keeps us in the moment, that's for sure," Jones said.
Ironically, it is history — the subject that Rose despised growing up — that saves Rose in these times of crisis.
"My default button is the history," he said. "For example, for a brief time I portrayed Peyton Randolph and … I was standing on the steps of the Raleigh [Tavern] doing 'Gale from the North,' when we get word of the British attacking from Lexington. … My greatest fear is to stand there and just gape like a fish: 'I don't know what I'm supposed to say!' So the default button hit, and I started — hopefully — dramatically interpreting until I could get my brain to click back onto the script. That's an ongoing challenge for me."
It is with this greater appreciation of history that Rose has raised his two children. His second wife, fellow actor-interpreter Lee Ann Rose, portrays Martha Washington. The stories of revolutionary America that Rose has surrounded himself with have had as strong an impact on his perspective as the events that he has actually lived through.
"It's kind of made me what I am, as much as anything else in my past," Rose said. "The big surprise is I never saw it coming."
Deirdre Jones
When many students at the College of William and Mary imagine their lives four years after graduation, they usually don't picture themselves still walking down Duke of Gloucester Street every day, stopping to give directions to tourists or even still taking classes about all things colonial. However, these things are all aspects of the job Deirdre Jones '08 has been doing since graduation.
Jones, an actor-interpreter who majored in theater, began working on a project in Colonial Williamsburg during her final year at the College.
"I was having a rough year with getting cast and getting older … and classes, all the fun college stuff," she said. "My friend Louis, who was also a theater major, was like, 'Do you have a headshot and resume?' and he took it somewhere, apparently here. I got an email a few weeks later from Abigail Schumann, who wanted to invite me to a private audition for Freedom Bound, an electronic field trip. It was great, it was exciting, it was scary and it was something that I had never done before."
A few months later, Jones received an offer for a more permanent job as an actor-interpreter in Colonial Williamsburg, which she accepted.
"It started out about theater and trying to find work, trying to find an acting job," she said. "I didn't expect to find an acting job so quickly, so it was very much a blessing to find a job as an actor."
However, Jones explained that quickly jumping into colonial life was no easy task.
"I started out by coming here and sort of came and walked around, and I thought, 'There's no way I can do this,'" she said. "I was very much intimidated."
Jones started work in June, which presented an added difficulty, since training sessions for actor-interpreters take place in the winter.
"It was very overwhelming," she said. "I would go out with somebody else who had been there longer and listen to the interpretations and try to be a sponge."
To get in character, Jones took advantage of being able to pick up knowledge and skills from those around her. For instance, to gain the necessary skills for her portrayal of a cook, she spent time at Colonial Foodways, learning how exactly food was prepared during the colonial era.
"I was able to go over to spend time with Foodways to get some hands-on cooking," she explained. "I have butchered two pigs. And I mean, that's not really something we do nowadays. You go to the supermarket and pick out the meat you want … but once you've butchered one animal, you can butcher anything."
In addition to learning new skills, Jones said that one of the best parts of the job is being able to relate to the tourists through her character.
"There are some things that don't change," she explained. "There's different life things, like life, death, birth, marriage, love, that are things our guests can relate to, that have been around and are going to be around. I have loved trying to create personal stories for these people."
She added that working as a colonial actor-interpreter has also influenced the way she views her own life.
"The job affects me in a way that has really opened my eyes," she said. "I'm humbled by the experience of portraying the people I portray here. There's a lot of weight to it … it's affected how I look at everything, even how I look at what's going on today."
Some of this weight comes from Jones' portrayal of slaves in the colonial era. When she's not working, Jones likes to take a break from Colonial Williamsburg and spend time with family and friends, just to get some space from the issues that sometimes accompany her job.
"When I do have time to myself, I try to get away if I can," she said. "I don't live in the historic area. I like to go and think about something else because there are still issues, and the ripples of American slavery are still being felt today. We're still dealing with it, or in some cases, choosing not to deal with it. It's good for me to decompress."