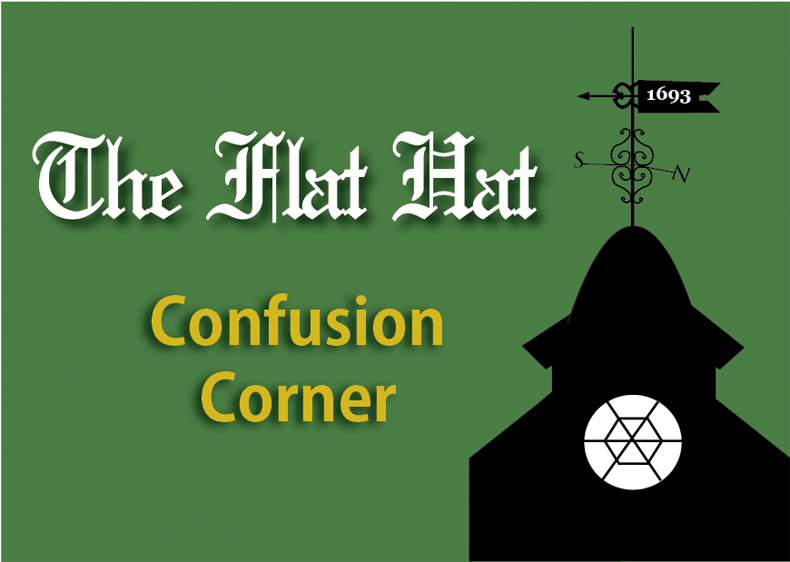 The Sunday evening blues begin to settle over the student body of the College of William and Mary just as the sun sets behind the Campus Center. Students sitting at the green terrace tables watch the sun fade while they stretch out their Sunday night dinner from the Marketplace as long as possible. One Zoca quesadilla is only an excuse to hold an hour-long conversation while both parties avoid the inevitable: a Sunday evening spent in Swem.
Standing in front of the Campus Center, the expanse of red brick forms a path leading directly towards what will surely break a student's sanity in a matter of hours. The path winds around until it reaches the foreboding destination. After taking one more gasp of fresh air, students pull down the hoods of their sweatshirts, averting their eyes from the terrifying scene in front of them. Swarms of students huddled around computers, study tables, solitary kiosks, are all attempting to accomplish the same thing: endless amounts of homework.
An eight o clock arrival time at Swem will grant students six straight hours of absolutely uninterrupted study time. For seniors, cut that study time in half. No, cut it into thirds. No, wait, don't even go to Swem. What are you doing? You're a senior. Head straight for the Green Leafe, oversized mug in hand, and don't look back.
I know it's hard to adopt the senior mentality when graduation is looming in the near — what is it, eight months now? — future, but just close the 34 tabs open on your laptop, put away the job applications, stop writing to-do lists, and have a drink. In real life, they may call this alcoholism — or happy hour depending on what city you end up working in —but for now, it's still called college, and you should try and enjoy every drop of reduced-price beer.
Sunday mug night at the Leafe is the perfect cure to any Swem-induced ailment. Eyes dry from trying to read too many lines of tiny font? Hands cramped from jotting down endless notes? Fingers frozen in place from hovering over a keyboard too long? There is only one prescription for these problems: a half-liter of beer in a mug inscribed with the sweet name of an establishment friendly enough to provide such a treat.
For seniors, the brick path usually paving the way to endless study stacks after Sunday night Marketplace dinner now winds its way in the opposite direction — towards the bar triangle on the other side of campus. Over-eager juniors attempting to follow seniors to the Leafe, hold back. You probably still have a lot of studying to do, and the Career Center does recommend you start applying for internships in the fall. Seniors attempting to savor every moment of their last year walk into a mahogany-paneled room oozing with collegiate coziness, where they will inevitably run into at least three people they know while looking for their own group of friends already huddled around an oversized booth. The pencil is replaced by a half-liter mug, and the night continues in complacent happiness. Seniors, you've earned it. Now go enjoy it.
Ellie Kaufman is a Confusion Corner columnist and on Sundays she can always be found with an oversized mug in hand.