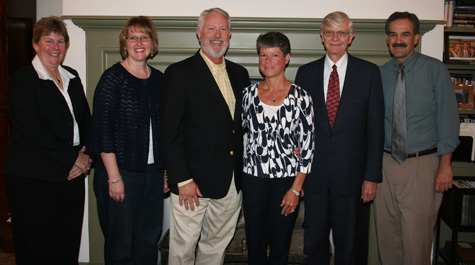 The directorship of the College of William and Mary Student Activities department lies vacant following the abrupt and unannounced departure of former Executive Director of Student Activities and Unions Mark Constantine.
According to Vice President for Student Affairs Ginger Ambler '88 Ph.D. '06, Constantine left after working at the College since 1997.
"For personal reasons, Mark Constantine has recently resigned from the College," Ambler said in an email.  "In his absence, I am grateful that Bob Knowlton has agreed to provide leadership as Interim Executive Director of Student Activities and Unions. Mr. Knowlton, together with Drew Stelljes, Assistant Vice President for Student Engagement and Leadership and Trici Fredrick, Assistant Director of Students Activities, is prepared to work closely with students and student organizations during this time of transition."
Department employees learned of Constantine's resignation Wednesday and were not informed of the reason for his departure.
"All I know is he resigned," student activities office manager Ann Repeta said. "We were told yesterday he has resigned."
Knowlton, who served previously as director of the Sadler and Campus centers, was not available for comment due to scheduled time off but will return to campus by Monday, according to Repeta.
According to Madam Chair of the Student Assembly senate Kendall Lorenzen '15, Constantine did not attend Publications Council meeting at the end of September due to a personal leave of absence. Student leaders and campus organizations did not receive responses by email from Constantine after fall break and instead heard back from Stelljes on routine matters.
Stelljes, who has been assisting in the transition, clarified his participation in the changes.
"I am not taking an interim role. Bob Knowlton has assumed that role," Stelljes said in an email.
Many student leaders were surprised to hear of Constantine's sudden resignation, as Constantine served on the Executive Appropriations Committee at the College and played a major role in organizing and securing administrative resources for student events such as the King and Queen Ball and Busch Gardens Day.
"He was really the person to know if you were involved with anything in student activities," Lorenzen said. "He was a really great resource on campus. He will be sorely missed."