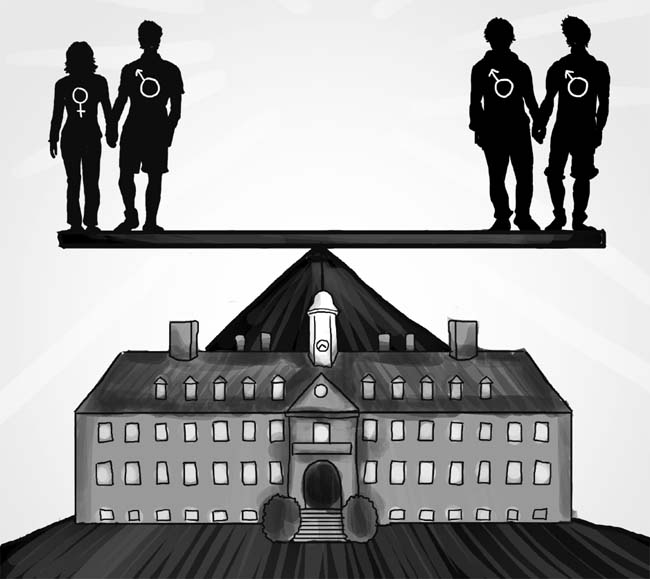 In 1945, Marilyn Kaemmerle '45 wrote a heavily publicized editorial in The Flat Hat urging the College of William and Mary to integrate. Although Kaemmerle was removed from her position as editor-in-chief of the paper and nearly expelled, students at the College rallied in support of integration. While our historical campus has a long tradition in celebrating the past, we must continue to move forward and be progressive in our actions. The struggle for social equality has not been won. Today, we are faced with issues of discrimination based on sexual orientation. We encourage the student body to work together to ensure all members of the College community are given equal rights and protection.
On this campus, we pride ourselves on our acceptance of others; however, the Campus Climate Index last spring showed that equal health benefits are not being extended to homosexual members of the faculty and staff at the College. Furthermore, the Index reported that the Campus Police have not been trained to handle gender identity issues. If we are truly accepting of all our peers, then we should demand the College resolve these injustices. As students at the College, we should not settle for nearly equal or slightly better than other universities. We must hold ourselves to our own standards, for the benefit of both the College and its community.
As support for social justice for the LGBTQ community continues to grow, our outdated policies will discourage faculty and students from coming to the College. The College already does not pay professors as much as many other higher education institutions do. By enforcing these discriminatory policies, the school runs the risk of appearing even less appealing to many prestigious members of academia. By setting a strong example of social equality, the College can distinguish itself among other universities and prove it is home to a diverse and forward-thinking faculty and student body.
This editorial is being run after an election season that resulted in two states — Maine and Maryland — approving same-sex marriage. While such legislation may be a long way off for the commonwealth of Virginia — one of two states in the United States to have amended its constitution to define marriage in terms of one man and one woman  — we should not lose sight of our goals. The College has a duty to protect all members of its community without regard to race, gender, ethnicity or sexual orientation.
The divide on this issue is largely generational, so we as students need to let the College's administration know we want social reform. We are proud of the strong LGBTQ voice on campus, but this voice alone is not enough to enact social change. A united movement from all corners of campus will resonate more strongly with members of the administration and encourage them to change these discriminatory policies. Students at the College must do their part to remain at the forefront of social reform and pressure the administration to do the same.