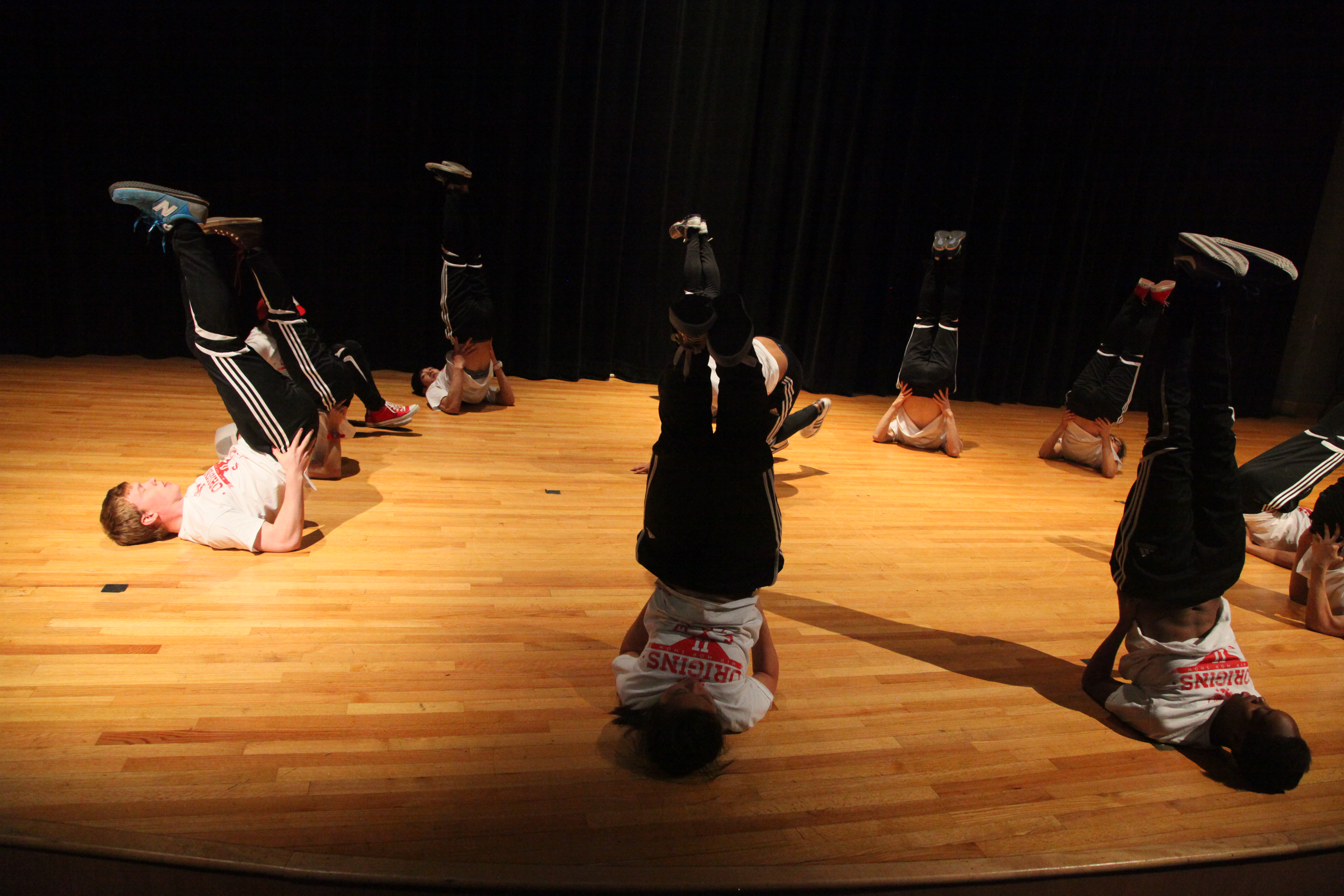 "If you see something you like, clap. If you see something you don't like, clap, and if you see something you can't do, clap."
Guerilla Will, an emcee hired from Cruz Productions, opened the second annual Origins Hip Hop Show on Nov. 17 with a welcoming attitude that many performers echoed.
"When you perform in front of regular people, they usually think they have to just sit and watch," Simon Bledsoe, a member of Until Further Notice, a hip hop group based in Prince George's County, said. "But dancers are alive. It's loud screaming, cheering. The energy is amazing here."
The show opened with SMILES Crew, the Bboy club from the College of William and Mary, which hosted the event. When the performance began, the lights were dimmed and a performer stomped onto the stage in a Pikachu costume. Other crowd-pleasing performances included a sexy chair dance by the boys of the crew to the Pussycat Dolls' "Buttons," and a group routine to a dance remix of "The Circle of Life."
Audience members in The Sadler Center's Commonwealth Auditorium became increasingly rowdy as they cheered on their favorite groups. Crews and their supporters came from local schools including Virginia Commonwealth University, the University of Virginia and Virginia Tech. The applause reached a fever pitch for professional crews Havikoro, from Houston, TX, and MF Kidz, from Orlando, FL.
"It's amazing that they came, and it still kind of blows my mind that they were there," Nicole Brown '13 said. "They're so well known, and they compete nationally. In the breaking world, they are the shit. Vicious Victor in MF Kidz, he competed in Red Bull BC One, which is the biggest one versus one Bboy competition. The fact that he's here, in Williamsburg, at William and Mary — it's amazing."
The event also presented groups from other places with opportunities to perform and to meet other dancers. For Academix, a group from U.Va, it was their first performance outside of their own campus. Urban Individuals, which also performed, is a group originally from Guam that moved to Virginia Beach. The majority of its members are high school students.
"Origins offers me an opportunity to gain experience and meet people," Jayton Gray, a member of Urban Individuals, said.
Bledsoe sees events like Origins as an opportunity for the dance community to come together.
"The communication with other dancers — you just get to sit down and talk to other people that dance — I think that's the best thing," he said. "I don't think other people realize it, but no matter where you're from, or what group you dance with, when everyone comes together, it's like a giant dance family. And I think it's the best part about it."
Origins  expanded from last year's showcase into a weekend-long event that included a cypher on Saturday night and open workshops on Sunday led by Havikoro and MF Kidz.
"Second time around, we wanted it to be even bigger and better than the first time," Brown said. "I heard it went really well and we wanted to progress, and do as much as we could, especially because a bunch of us are graduating this year. The group of seniors this year have been involved with the club since the founders were in it, and they led the charge."
SMILES Crew is a relatively new crew at the College and was founded in 2008.
"Our skill level is still improving," Tigist Tamir '12 said. "Most of the group members, including me, just started here. Yes, we have people who come with experience in the Bboy culture, but we also have 95 percent of our group members who are just like, 'Yeah, I like that thing, it's cool, I'm going to start this.' Usually they'll be freshmen, and they'll just start here."
However, the group has rapidly expanded from its original four members.
"We're really big about spreading our philosophy and foundations, and giving that to the freshmen," Brown said. "Luckily, we have a lot of really great freshmen that came in this year — essentially our club doubled in numbers with the freshmen that we got. Some have danced before, and some haven't, but they're all really passionate about dancing."
The next event the club will host will be in the spring and will be a reprisal of an event from two years ago, called Tribal Breaks. Tribal Breaks is a Bboy jam, and crews will compete for a prize.
"People think Bboying has died, but it hasn't died, it's flourished," Tamir said.