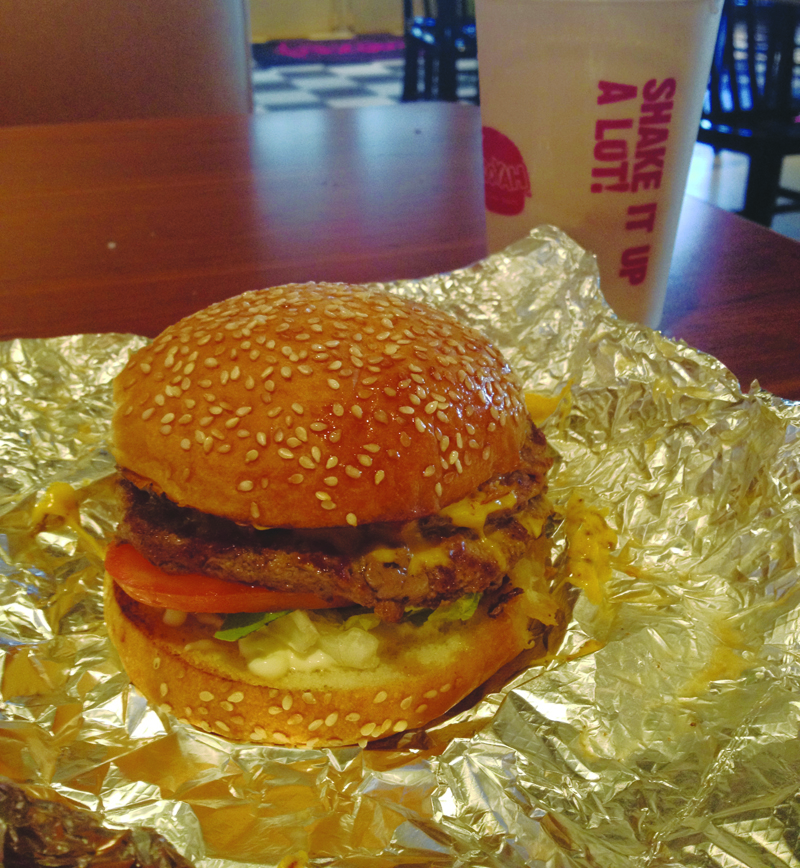 Old-fashioned, red-seated, silver-bottomed barstools line the front of the grill to the left, while black, leather loveseats, booths, tables, flat-screen televisions and hungry patrons fill the lounge to the right. And hungry they should be. Mooyah's burgers, fries and shakes combine to make the classic burger joint that the College of William and Mary has been craving. The first Mooyah to land in Virginia, this new addition to Tribe Square has not only expanded students' eating options but has done so while also remaining reasonably priced. With huge burgers (even a burger with lettuce for a bun), all-you-can-eat seasoned fries and thick, refreshing milkshakes, Mooyah is destined to be a College hotspot for after-class and weekend munchies.
Hidden within Tribe Square  just behind Pita Pit, Mooyah has become a popular new destination for students, Williamsburg patrons and organizations wishing to fundraise and host events. Unlike most burger places, which tend to have limited menus, Mooyah does a great job of appealing to those who may not want the "average" burger. Options include the classic Mooyah burger, turkey burger and veggie burger, along with your choice of a white bun, wheat bun or lettuce bun to create your very own "Iceburger." Also on the menu is a wide assortment of milkshake flavors waiting to be explored. Although I choose to stick with vanilla, customers can choose from classic flavors like chocolate and strawberry, or more unconventional options like Butterfinger and mint chocolate chip. The personal menus filled out by each customer are an added bonus — they save you from having to explain all the condiments you want — or don't want — on your burger, and get you in and out of line quickly and efficiently.
I first heard about Mooyah not long after it opened this past summer. A coworker of mine was raving about it before our lunch break, and we decided to go. We entered the restaurant greeted by Gotye's hit summer song, "Somebody That I Used to Know," playing over the speakers and proceeded to fill out our menus. After we placed our orders, the friendly staff cooked our food and made conversation with us while we sat on the barstools and enjoyed the aroma of our cooked-to-order burgers and fries. While we were waiting, we received our milkshakes — which I soon realized were much too thick to slurp through a straw — and picked out a small booth in which to enjoy our lunch. The staff delivered our order directly to the table, and it is safe to say that the food made the long, hot walk back to work well worth it.
Mooyah is comparable to Five Guys with the added bonus of more reasonable prices and greater proximity to campus, as it is an easy walk from most buildings. Open until one a.m. every night, Mooyah is a fantastic addition to the College's dining options, sure to keep students' hunger in check.