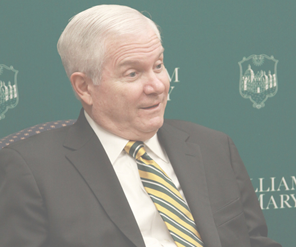 Chancellor Robert Gates '65 will return to the College of William and Mary Feb. 8 to give remarks at the annual Charter Day ceremony celebrating the 320th anniversary of the College receiving its royal charter.
"It is a delight to be able to celebrate the university's birthday with some of its greatest friends," College President Taylor Reveley said in a press release. "There is no better person to reflect about William [and] Mary than our distinguished chancellor and alumnus, Secretary Gates."
Gates was inducted as Chancellor of the College during last year's Charter Day ceremony and is the first alumnus in the modern era to fill that role. After graduating from the College, Gates began a career in public service, becoming the only person in American history to serve as Secretary of Defense for presidents from different political parties. At the end of his government career, Gates had worked for a total of eight presidents.
Gates is the first person to serve as the Charter Day speaker two years in a row. As part of the effort to revitalize Charter Day, the College has sought dynamic speakers for the Friday ceremony.
"We are very fortunate to have a Chancellor who is a great speaker and who agreed to serve in this role two years in a row," Director of University Relations Brian Whitson said in an email. "Sec. Gates was so well received last year that the president welcomed another opportunity for the community to hear from one of America's greatest statesmen."
Student Assembly President Curt Mills '13 noted that the chancellor's ability to connect to students as an alumnus of the College made him a great speaker for Charter Day.
"The last five have included a prime minister of England and a Supreme Court justice," Mills said. "It's pretty big, steep company for the chancellor, but he's very impressive."
Additionally, Lois Critchfield, former CIA employee and dedicated volunteer at the Wendy and Emery Reves Center for International Studies, will be awarded an honorary degree at the event. She received the College's Lord Botetourt Award, presented to non-alumni friends of the College, in 2005, and was named an honorary alumna of the university the following year. Working closely with the Reves Center, she created the James H. Critchfield Memorial endowment for Middle East Studies in 2003 and helped establish the Critchfield Conference on Middle Eastern Studies, which is held every two years at the College.