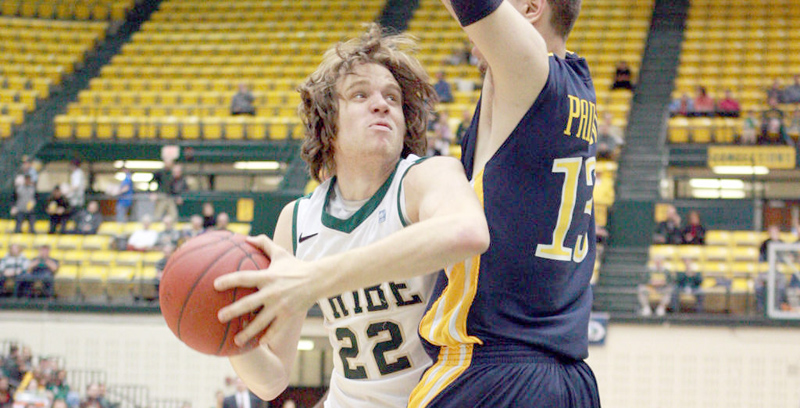 Failing to connect on open layups, open jumpshots, and missing on second and third chance opportunities, William and Mary finished its home matchup with Drexel Saturday at an abysmal 32.7 percent from the field.
Press as it did, the team simply could not get shots to fall. And pressing as it is, the team simply can't win games right now.
The College's losing streak sits at seven after it (7-10, 1-5 CAA) fell to Drexel (6-11, 2-3 CAA) 59-48 at Kaplan Arena. Junior forward Tim Rusthoven led the team with 19 points on 6 of 12 shooting and six rebounds, but the box score bore the story of the Tribe's worst offensive game all year.
"[The losing streak] is frustrating," Rusthoven said. "But I think the reason it's frustrating is we know we can be so good. Everybody in that locker room believes we can play with anybody in the country so I think that's where the frustration sets in."
The College's 48 points marks a new season-low (previously it was 50 in a loss at Vanderbilt), and aside from three players (Rusthoven, sophomore guard Marcus Thornton, who finished with 14, and junior guard Brandon Britt, who scored 13), the remaining six players who saw action for the Tribe combined for just two points, both on free throws from junior forward Kyle Gaillard.
"The better team won," head coach Tony Shaver said. "The tougher team won. I felt like they controlled most phases of the game."
Once again, production from the bench was severely lacking. In a combined 48 minutes, the College's substitutes attempted just four shots and missed them all.
On the other end, the College defended admirably, holding Drexel to just 42.9 percent shooting from the field. But too often the deliberate, methodical offensive sets Drexel employed would drain the clock and result in open looks, keeping the Tribe from threatening the Dragons' lead late.
"We just weren't executing like we should've," Thornton said. "Credit to Drexel, they played good defense … but we still didn't run our offense like we would've liked to. And on the other end we just didn't guard as well as we would've liked to."
While spotting Drexel a quick four points to start, the College missed each of its first five shots over the opening three and a half minutes. Thornton gave the Tribe its first five points, first knocking down a three-pointer and then working off a nice screen from freshman center Sean Sheldon for a layup to make it 6-5 Drexel.
As a side note, Sheldon spelled Rusthoven in the paint for most of the game while junior Fred Heldring — previously Rusthoven's backup — saw no action for performance reasons.
Things stayed close for most of the first half. Almost midway through the period the College tied it at 12 with a free throw from Britt. With 6:19 left in the half, another three from Thornton, who scored 11 of his 14 in the first, made it a 20-18 Drexel lead.
But then the Dragons began to create some separation, ultimately using a three pointer from Damion Lee near the end of the period to take a 32-24 advantage into halftime.
Lee, who edged out Thornton last season for CAA Rookie of the Year, came off the bench because of injury and still scored 10 points. The two sophomores know each other from high school ball in Maryland and have maintained a friendship, according to Thornton.
Out of halftime the Dragons continued to grow their lead, pushing it into double-figures — where it would stay until there was under a minute to go — at the 12:06 mark and stretching it to as high as 16 with 6:59 left.
A late flurry from the College cut the deficit to nine with 32 seconds left, but the Tribe was never able to threaten the outcome in earnest, shooting an abysmal 29.6 percent in the second half.
"I thought our shot selection wasn't very good," Shave said of the second half. "They're a great defensive team … but we hurt ourselves a little bit there with our shot selection."
Shaver was bereft of explanations for the team's losing streak after the game.
"If I knew, we'd correct it, we'd stop it," he said. "One common theme is we're not a balanced basketball team right now … first third of the year we were very balanced and three guys scored all but two points today."
The College will travel to Boston to face Northeastern Wednesday.