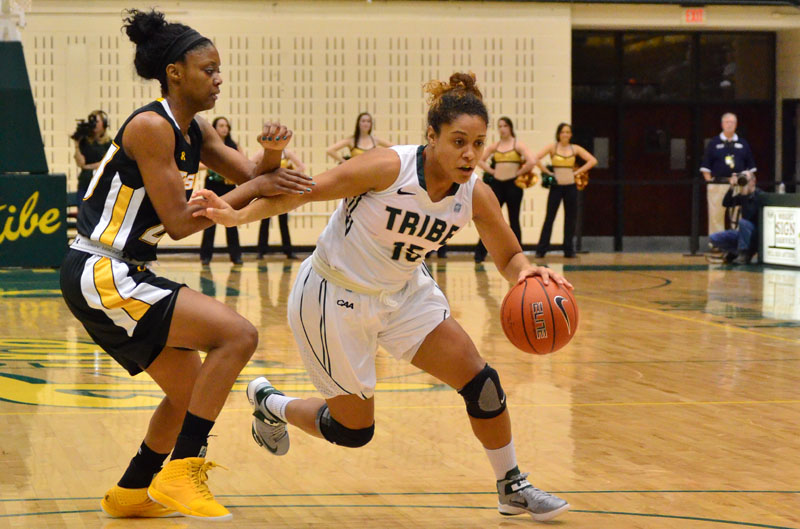 Overcoming a sluggish start, the Tribe used a big mid-game run to to pull away from Towson and stop an 11-game losing streak, 59-50 at home Thursday night.
The team's 35 second-half points and an incredible 16 steals turned into the Tribe's first conference win of the season.
"It feels awesome," sophomore guard Anna Kestler said. "I think we're really going to keep it up too. Everyone has the tempo up, everyone is just feeling great tonight."
From the beginning, things were very different for the Tribe (3-14, 1-5 CAA) as senior center Jaclyn McKenna and senior guard Chanel Murchison — usual starters — sat in place of Kestler and junior forward Kaitlyn Mathieu.
Kestler — who entered the game shooting just 15.6 percent on the season — would deliver, following an 0 for 3 first half to finish with a career-high 11 points.
"Anna has been in the gym with me for four days in a row, taking 500 shots a day," head coach Debbie Taylor said. "She was a rockstar … her shots in the end were gigantic. Anna is a really solid offensive player, she's just kind of gotten into this little funk."
Both teams started the night off in sloppy fashion with loose balls, missed shots and turnovers abundant. But the College was particularly cold, hitting just 2 of its first 11 attempts and digging itself into a 10-4 hole.
But at around the midway point of the half, things turned around as the College began to find its shooting touch. Senior guard Janine Aldridge hit a mid-range jumper before using two off-ball screens to hit a three-pointer and cut Towson's lead to one with 9:20 left in the first. Sophomore guard Kyla Kerstetter then got into the action, coming up with a steal and taking it the other way for layup to give the Tribe it's first lead, 14-13.
As the half wore down, Aldridge followed her shot to make a diving save, keeping the ball in play where it would soon find senior guard Taylor Hilton open under the basket for a layup. Hilton would then hit a baseline jumper to give the College a 24-20 lead going into halftime.
The College kept up the good play to start the second. Murchison intercepted an errant pass and took it the other way for two, Mathieu hit a three, Kestler hit two jumpers in a row and Aldridge knocked down two consecutive threes. After a 17-6 run to open the half, the Tribe was in control leading 41-26, a lead it would nurse to the finish line.
Aldridge would finish with a team-high 15 points on 5 of 15 shooting. She and Murchison would also lead the team with four steals.
"We wanted this win really badly," Aldridge said. "We saw our opportunity tonight so we just played as hard as we could, played defense and we got it."
Taylor seemed more relieved to finally snap the skid than anything.
"Winning's nice, isn't it?" she said. "It feels great."