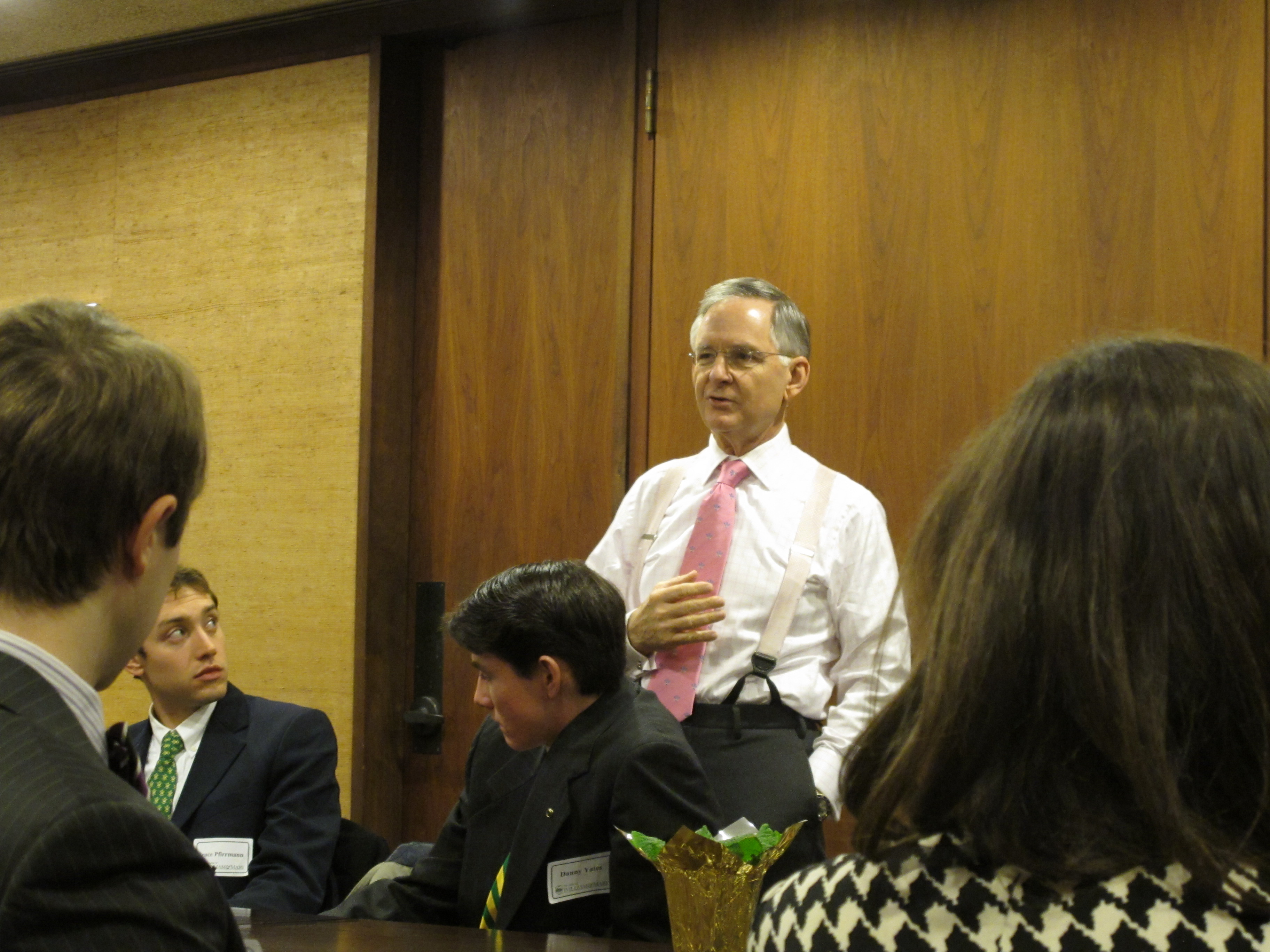 At 6 a.m. Thursday, Jan. 24, a group of students boarded a bus to go to Richmond and speak to members of the Virginia General Assembly about higher education.
Road to Richmond is a long-standing tradition at the College of William and Mary during which students, faculty and alumni lobby and encourage legislators to invest in the College's professors, infrastructure projects and the general funds in order to minimize tuition hikes.
Students attended a breakfast ceremony in the Virginia State Library where they had the opportunity to meet legislators in a more relaxed environment. Here, College President Taylor Reveley made a speech addressing the importance of Road to Richmond for students and Virginia lawmakers.
"[Road to Richmond] is important for two scores in particular: it gives students the opportunity to see the Virginia legislative body in full cry, and second, it gives some legislatures and staff the opportunity to see some wonderful William and Mary students in full cry," Reveley said. "It allows everyone to emerge with a really powerful, renewed sense of just how pleasant the College is."
Reveley also remarked on a less attainable "third score."
"The state doesn't have any money right now. The state support of our operating budget is now below 13 percent in itself," Reveley said. "But we do have one capital project — the renovation of Tyler Hall. That's a $16 million item."
Once renovated, Tyler will house the departments of government, economics, and public policy. Other priorities include a 2 percent base salary increase for faculty and staff, funding for the renovation of residence facilities, including Barrett, Chandler and Landrum Halls, and support for the construction of an addition to the Marshall-Wythe School of Law.
Students then headed over to the Virginia General Assembly building where they met the current Republican Majority Leader of the Virginia Senate, Tommy Norment J.D. '73, R-3. Norment reiterated the importance of Road to Richmond for the College and advised students on how to address legislators in the upcoming meetings.
This year's group of students brought a diverse mix of volunteers, including freshman Eliza Schiebe '16, Marshall-Wythe School of Law Student Danny Yates '12 J.D. '14, French exchange student Victor Garnier '14, member of the Williamsburg City Planning Commission Chris Connolly '15 and various members of the Student Assembly.
Garnier talked about how Road to Richmond contributed to his year abroad in the United States.
"I found [Road to Richmond] to be a nice opportunity to look at American politics, especially by doing something like lobbying," Garnier said. "We don't do this in France, so this is all very unusual and exciting for me."
For Daniel Peyton '13, being part of Road to Richmond for the first time meant an opportunity to finally give back and advocate for the College before he graduates in May. Though Peyton is a marketing major with no lobbying experience, he found the trip invaluable.
"I think what I'll really remember is seeing the General Assembly in action and how I was able to witness a vote when I stood in on a session," Peyton said. "It was truly once in a lifetime for someone who doesn't plan on pursuing this sort of career, to be able to see the political world up close."
Student Assembly director for Road to Richmond Keenan Kelly '14 talked about the shortcomings of the program.
"I'm really glad for the people who showed up today, but it's hard to get people to be here at 5:45 in the morning," Kelly said. "I think there are still levels of improvement especially with participation, but for a program that happens in the middle of the week, people have shown that they're proactive and that they want to use their ability as advocates to do some good for [the College]."