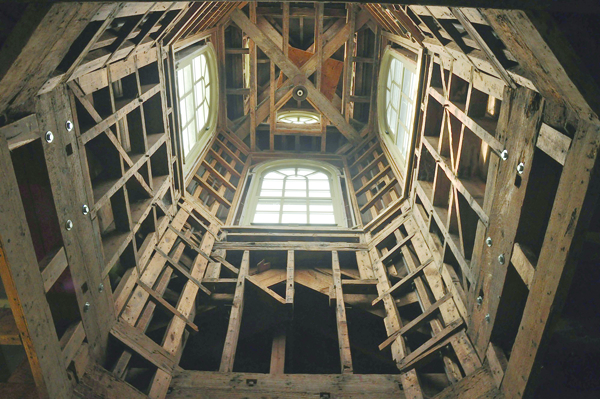 Tucker Hall, the former home of the English department, is currently under renovation in order to correct idiosyncratic additions made to the building during previous renovations.
The building, originally a in a T shape, was renovated to build a back hallway making Tucker in the shape of an H.  Later, the extra space was filled in to create the current shape of the building. It is these renovations that resulted in the strange shape of the interior.
The three-story building actually has six separate levels. The current renovations will connect these floors in order to give the building a more open feel. The construction will result in more navigable and logical corridors and classrooms. It will also add two stairways and an elevator shaft and double the number of faculty offices. The renovations will also bring Tucker up to date on safety codes.
"This building is going to be much more open, it's going to be modernized and finally updated to be more accessible to the disabled," Wayne Boy, Director of Facilities Planning Design and Construction, said. "But we have still preserved the shell of this beautiful building as well as the old entrance with the front stairway and all the marble fixings that give it that old charm."
In addition to these improvements,  stadium seating has been added in the open area on the second floor to give students a place to hang out or professors a place to teach if they want to escape the classroom. The cupola, which used to shine straight down into a faculty office, is now above this open forum area and will shed natural light throughout the third and second floors. The existing 'Wren' windows on the third floor and large storefront windows added to the side of the building will add natural light to the seminar rooms and accent that of the cupola.
In order to accomplish these large structural changes, the construction crew had to completely reframe the interior of Tucker to allow it to hold the new fixtures and new floors. Some of the old framing still exists in the main areas, but workers are in the process of outlining new classrooms, stairwells and elevators with steel frames that will later become floors and walls. While creating these new walls, workers are also updating the ductwork, plumbing and heating in the building to modernize the interior entirely.