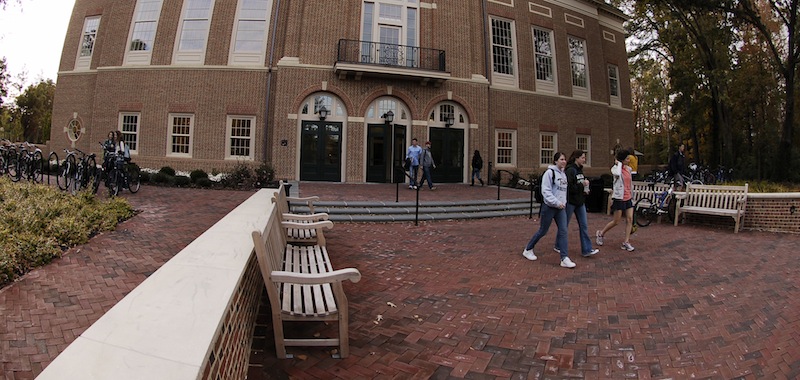 The College of William and Mary's Mason School of Business struggles to find financial resources to match the quality of experience they attempt to provide, according to Business School Dean Lawrence Pulley.
Due to this lack of funding, all incoming undergraduate business majors will have to pay an extra fee to take advantage of opportunities in Alan B. Miller Hall. The Board of Visitors passed the motion during their meetings prior to Charter Day and will implement the fee beginning next semester.
"While an undergraduate business school fee is new to William and Mary, we are not alone." Business School Dean Lawrence Pulley said in a press release. "The gap between the necessary funding to remain a top business school and the funds available are simply too great to be left unattended. This investment will sustain our status as a recognized innovator and leader in undergraduate business education and strengthen the personalized academic experience we offer with world-class faculty."
The plan will be implemented over two years. Starting next year, all incoming business majors will pay an extra $750 per semester and all business minors will pay an extra $375 per semester. Starting in the 2014-15 school year, those who declare business a major will pay an additional $1,500 a semester and declared minors will pay $750 a semester. Once fully implemented, the fee would provide a 4-percent increase in the business school's budget.
Members of the Class of 2014 who are already in the business school will not have to pay the fee.
"Right off the bat, 25 percent of the revenue will go back to financial aid," Vice President of Financial Affairs Sam Jones said. "We don't want a student who wants to be a business major not to pursue it just because of finances."
In addition to financial aid, the tuition increase would help attract and maintain top faculty as well as fund internships and international opportunities for business students.
"No one likes an increase in cost, but everyone likes high quality," Pulley said. "It's unfortunate that we had to raise prices, but we thought long and hard about this. We understand the financial challenges for the students but we think this is necessary to continue providing the undergraduate business experience our students want and so deserve."
Jones emphasized that the additional business school cost would be a fee and not a tuition increase, so as to avoid causing confusion within the Virginia legislature's prepaid tuition plan.
"We have an invaluable faculty, and we want to make sure we always have the resources to give them the tools to create a top curriculum," Director of the undergraduate program of the Mason School of Business Christopher Adkins said. "I think one of the things people don't realize is how many other undergraduate programs have similar fees."