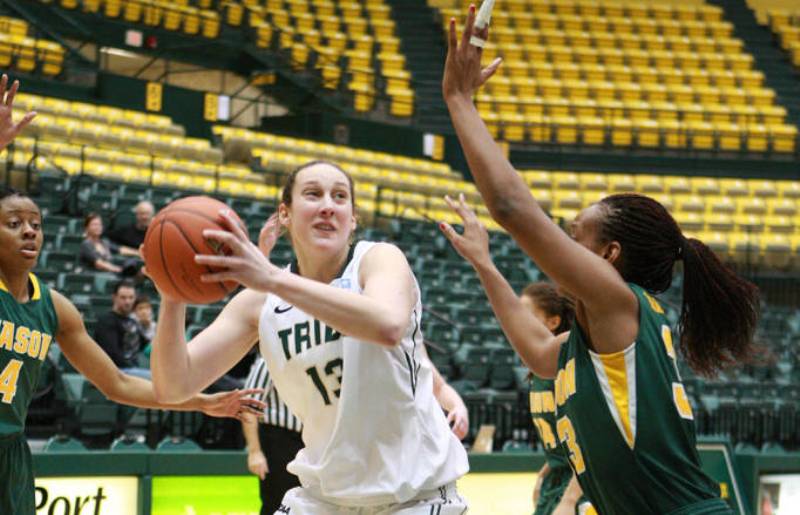 After being honored prior to the game, William and Mary's five seniors made the difference late in the game, capping off their careers at Kaplan Arena and closing the Tribe's regular season with a 63-53 win over George Mason.
Senior guard Janine Aldridge, the school's all-time leader in three-pointers, poured in three more en route to a 15-point performance. Meanwhile, senior forward Emily Correal battled illness to dominate the interior all night, finishing with 21 points and 12 rebounds.
With the win, the College ends its regular season with a record of 8-21 and 6-12 in the Colonial Athletic Association, good for the sixth-seed in the upcoming conference tournament, where the team will take on third-seeded Drexel March 15.
"Emily doesn't feel well tonight, but she played a great game," head coach Debbie Taylor said. "It was tough for her. But all the seniors played well tonight. They all contributed something … a great way for them to go out, they deserved to win this game."
The Tribe came out sluggish, missing open looks, turning over the ball and consistently leaving space at the top of the key for straight-on three pointers from Mason's sharpshooters.
Down 29-20 with less than four minutes to play in the first, though, the College turned it on with back-to-back-to-back three pointers from Aldridge, sophomore guard Kyla Kerstetter, and Aldridge again to tie it at 29-29. After going 0 for 6 from beyond the arc in the first 16 minutes, 30 seconds of the contest, the Tribe hit 4 of 4 in the last 3:30. Combined with Correal's 12 first-half points, the Tribe had done enough to take a 34-31 lead into halftime.
The Tribe went right back inside in the second half as Mason scrambled to find an answer for Correal. Janaa Pickard, who covered the 6'3 Correal for much of the first half, gave way to Mason's Rachel McNair. It took one Correal back down-turnaround to see that that wouldn't work, so on came Talisha Watts, who had an equally tough time trying to stop Correal. When Mason collapsed on Correal, she was quick to pick up her dribble and distribute.
"We worked on it all practice, just kicking the ball back out, stuff like that," Correal said. "Working on not taking too many dribbles so I had to keep that in mind."
With the Patriots hanging around, the rest of the College's seniors stepped up.  Guard and defensive specialist Chanel Murchison blocked a three-point attempt and took a crucial charge with 9:11 to play with  the Tribe clinging to a four-point advantage.
Senior forward Taylor Hilton then got into the action, coming up with a steal and knocking down three important jump shots in the last 10 minutes of the contest.
Senior center Jaclyn McKenna went inside for two tough layups in the last 5:27 to extend the Tribe's lead to three and then five, and, finally, Aldridge hit the back-breaker: a contested, fadeaway three to put the College up 59-51 with two minutes to play.
"It was a big win, we all played really well," Aldridge said. "We all contributed when we had to. Jackie had two awesome up-and-unders, Emily with her 21 points and her boards was all over the place, Chanel coming up big. We did not want to lose on our last game [in Kaplan Arena], so we wanted this really badly and I think our underclassmen wanted it too, for us, so it was just an all-around team effort."
As Mason extended the game with fouls and the College clinched it with free throws, Taylor got the chance to pull her seniors, one-by-one, for their final rounds of applause from the Kaplan faithful.
"It's great to win our last game ever in Kaplan," Correal said. "And not to mention this puts us in a great place going into the tournament. So now we're in the better bracket and we won't have to play-in to play Delaware in the first round so I feel really good about that side of the bracket. Hopefully we'll have a good run in the tournament."
Even after the win, the team was unsure of which CAA opponent, exactly, it would face in the first round. Only after James Madison beat Drexel did it become clear that the Tribe would open against the Dragons. It's a matchup that has been unfavorable to Taylor's squad so far, as Drexel handed the College a 58-46 defeat in Williamsburg before again winning 62-47 in Philadelphia.
But after Wednesday's win, Taylor was more focused on her seniors than the conference tournament in Maryland.
"As people, they're just the funnest group of kids I've had," she said. "Travelling with them is just awesome, each one of them is different but they all bring a different element to the game and they all bring a different element to the team. They're fun, they're resilient — they've been through a lot and they just bounce back and go — and obviously each has a different strength… We're just going to miss them all, they've been such a part of my life for so long and they've defined this team for five years, so it's a big deal."