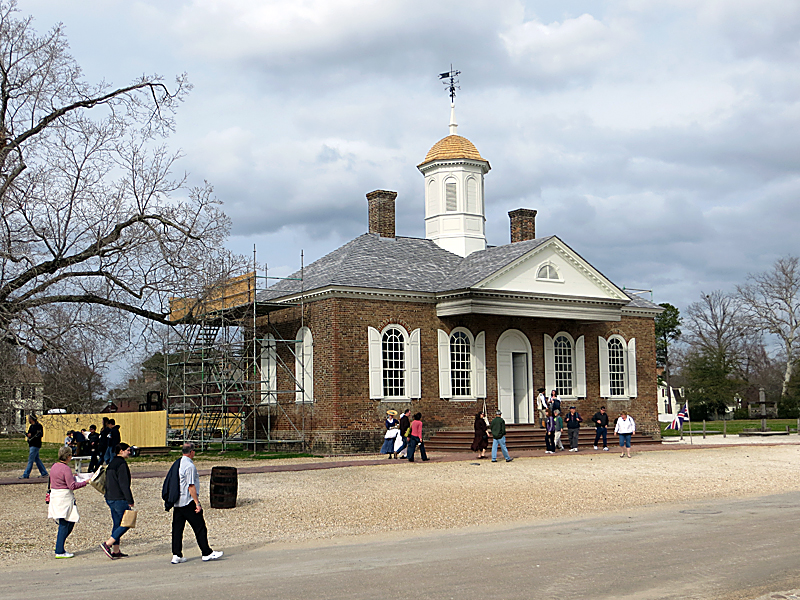 Colonial Williamsburg construction workers completed their work on the Courthouse over spring break. The construction left the building fenced-off and covered in scaffolding for two months and resulted in a new roof and flashing, which helps to seal the seams of the roof to the rest of the building. The Courthouse is open to visitors and holds an interactive show, "Order in the Court," several times a day.
In 1928, Colonial Williamsburg secured rights to the building, which the government continued to use until 1932. The building then closed for a year for restoration, and the existing roof was installed. After many years of wear, the building began to suffer leaks due to heavy rain and wind, and plans to replace the roof were made. Although the roof appears to be made of wooden shingles, the shingles are actually comprised of a concrete composite – a more cost-effective and durable repair option.
"We do that so we can get a look that mimics wooden shingles after they age, and they last for 80 years," Matthew Webster, director of Historic Architectural Resources for the Colonial Williamsburg Foundation, said. "We have around 618 structures in the historic area, and trying to put wooden shingles on all of them isn't feasible from a financial standpoint, and it's also not the best protection for the buildings either."
In addition to opting for more durable materials, other buildings in the historical area have been modified for the purpose of preservation. Many of the roofs had reinforced roofing support installed to support the heavier, concrete shingles. Efforts are also being made to restore the buildings to their original external appearances as accurately as possible.
"The steps, for example, have been changed several times," senior architectural historian Carl Lounsbury said. "The steps installed in the '30s were made of a blue stone. Due to the depression they couldn't find any red sandstone, what was originally used. In '91 we were able to acquire stone from the original quarry where the old stone came from. The quarry had been open for more than 200 years and still cut the stone by hand, like they did in the colonial period."
Construction crews have restored several other buildings in the historic area, including the Capitol building and the Bruton Parish Church. The construction is not part of an initiative, but rather an ongoing effort to maintain Colonial Williamsburg's buildings. The maintenance division of the Colonial Williamsburg Foundation attempts to service 38 structures a year. Work done can range from painting to carpentry repair.
"It was unfortunate the building was closed for two months, but I think guests understand that it's an old building and roofs need to be replaced," Beau Andrews, an actor-interpreter, said. "It also encourages them to ask about the restoration and learn about the building, which is a plus."