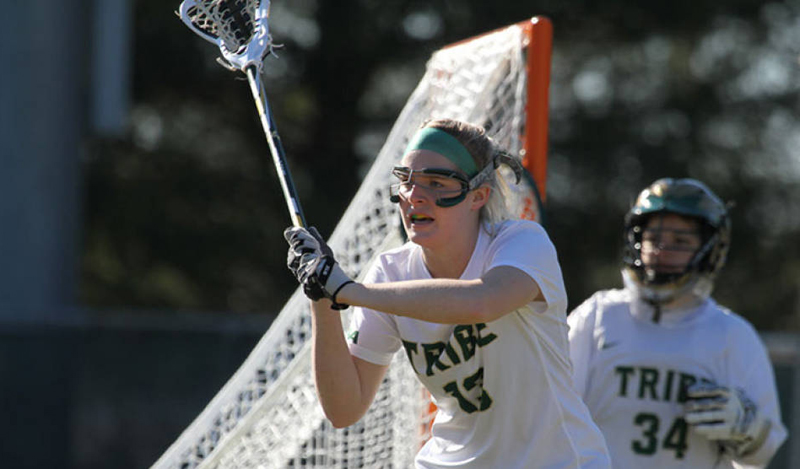 William and Mary lost on the road in a 20-14 match against Jacksonville Friday. The College (2-4), fresh off of its victory over Stetson earlier in the week, fell behind early in the contest and never recovered, getting outpaced in nearly every facet of play.
After winning the opening draw and controlling the ball for most of the first five minutes, the Dolphins struck quickly, notching three goals in three minutes to take an early lead. Senior attacker Kyrstin Mackrides, who led the Tribe with three goals, responded with an assist and a goal, pulling the score to 3-2.  After another Jacksonville goal, Mackrides struck again to narrow the lead to one.
Jacksonville dominated the field in response, scoring four straight goals and five of the next six to take a 9-4 lead.  The Dolphins controlled the face-off on four of the six possessions, building their lead on the Tribe to 21-15 in the match.  The College was rattled, but not defeated, by its opponent's run; Tribe players responded with three goals in the first half's final minutes, closing the half at 11-7.
Notably, the Tribe corralled only four ground balls in the first half, in contrast to the Dolphins' 12 — a critical disadvantage that helped Jacksonville maintain possession.  The Tribe fell behind by five and failed to pull within three goals after the first several minutes as a result.
Jacksonville's dominance continued in the second half.  The Dolphins grabbed the first eight face-offs and notched eight consecutive goals in a 19-7 advantage.  During Jacksonville's 8-0 run spanning the first 11 minutes of the half, the Tribe committed six turnovers and only attempted a single shot.  By the end of Jacksonville's run, it was clear the Tribe had lost the game.
After a scoreless four-minute stretch, freshman attacker Zoe Boger finally struck for the Tribe with a free shot, sparking a Tribe run.  The College scored seven of the last eight goals, closing the gap to 20-14 in a furious final nine minutes.  Sophomore attacker Kaleigh Noon scored two goals to add to her two assists, leading the team with four points.
Jacksonville attacker Taylor McCord notched four goals and three assists, and attacker Amanda Hurley scored a game high of five goals. The Dolphins fired 34 shots and won 21 of 36 face-offs. Additionally, they controlled 22 of the 36 ground balls, fueling their potent offensive performance.
On the other hand, the Tribe turned in a sloppy performance, losing 12 turnovers and committing 11 fouls.  The Tribe's two goalkeepers, senior Katie Geary and junior Colleen Nofi only stopped four Jacksonville shots.
The Tribe hopes to rebound when it returns to the road Wednesday, facing in-state rival Virginia before returning home March 20 to face Maryland at Albert-Daly Field at 4 p.m.