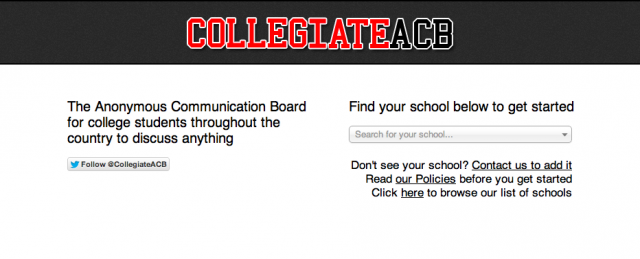 When Benjamin Zavelsky '16 was arrested last week for  allegedly  threatening two female students on CollegiateACB, the site garnered attention from the College of William and Mary community.
CollegiateACB is an online blog on which students can create anonymous communication boards for their universities on any topic of interest. Current threads on the site are mostly focused on Greek life and other school organizations. With a campus of 6,171 undergraduate students, the "William and Mary" CollegiateACB page had 2,573 unique visitors, 78,000 page views and several hundred posts in March. For the past six months, there have been 12,091 unique visitors, 503,000 page views and several thousand posts.
The "William and Mary" CollegiateACB blog was created last April. Kirk Henf, the co-founder, co-owner and administrator of the blog, is now providing insight into the popularity of the blog at the College.
"We receive reports for posts which could be deemed as cyber bullying several times per week," Henf said in an email. "Although that may seem like a lot, you have to understand that on any given week we receive upwards of 30,000 visitors and 1,500 posts."
Henf says that the website does not moderate each post. If the site receives complaints about a post, the post is deleted, and the user is banned from the website. With Zavelsky's case, many users complained, and the post was deleted before the police contacted the website.
"We do receive more emails and reports referencing posts on the William and Mary ACB than normal, but given the size and traffic the William and Mary ACB generates, I'd say its nothing out of the ordinary in comparison to other schools," Henf said.
The College community is proactive in reporting inappropriate posts.
"We have been cooperating with them in their investigation," Henf said.
The appeal of CollegiateACB is that users are able to post comments anonymously. This marks a growing trend at the College, with anonymous Facebook confession pages William & Mary Confessions and William and Mary Crushes garnering 1,475 and 1,634 likes.
The moderator of William and Mary Crushes, who has chosen to remain anonymous, released the page's analytics. The page peaked with almost 6,000 page views per day in mid-February and has averaged around 1,500 to 2,000 page views per day since. Females constitute 65.6 percent of the likes. The moderator of William & Mary Confessions failed to release the page's analytics by press time.
Students like Jak Scrivener '16 check CollegiateACB to hear about rumors or to find out information about breaking news. Scrivener checks the website about once a week. He does not post on the discussion boards, but he says understands the appeal of posting anonymously.
"It makes it easier for people [to use] because they don't have to back themselves up," Scrivener said.