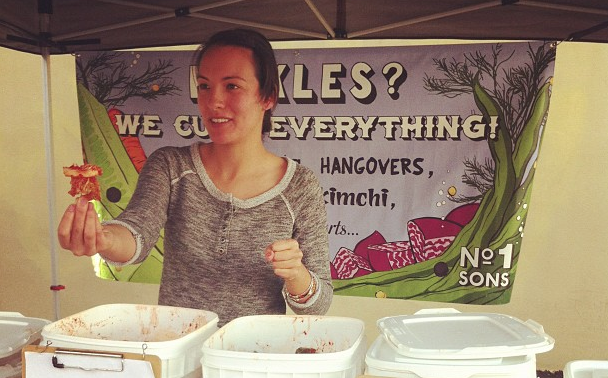 When life hands you pickles, ferment them.
At least, that's the motto of brother-sister team Yi Wah Roberts and Caitlin Roberts '13. They created the business Number 1 Sons through producing barrel-fermented foods such as pickles, kraut and kimchi, which they now sell at farmers' markets and stores in the northern Virginia and Washington, D.C. area.
Caitlin explained the origins of the business.
"We grew up in a household where our mom made everything from scratch," Caitlin said. "We ate food from all over the world because she's traveled a lot and she likes all different types of culture and ethnicities. … Growing up in our household, quality ingredients, home cooked things, simple processes were all big, and she used a lot of different fermented products, especially in Chinese food."
Her brother also commented on the beginnings of the business.
"Number 1 Sons started for practical and philosophical reasons," Yi Wah said in an email. "I've worked in a series of restaurants and found I kept gravitating to the kitchen. There was a chef I worked with — his approach to food was the most honest and nuanced I'd encountered. We experimented with cured meats and fermented pickles. … All of a sudden grocery pickles weren't so good."
As a single parent, Yi Wah enjoys his role in Number 1 Sons because it helps him take care of his daughter. He noted that she enjoys riding her bike around the pickle factory and helping with some of the fermentation tasks.
The Roberts' Chinese-Irish heritage is reflected not only in their cooking, but also in the name of their business. The firstborn son is an important role in Chinese society.
"In Chinese culture, to be the number one son is a big deal," Caitlin said. "My brother's the number one son, and it's this idea that the family reputation is sitting on his shoulders, so they put all this energy into the number one son. Traditionally, he would inherit everything. We've taken this [idea] in approach to our foods. We want to put the best quality ingredients into it to get the most delicious healthy result."
Yi Wah and Caitlin have different roles in their business, and both work hard to make Number 1 Sons successful.
"My brother handles the production, and he comes up with the recipes," Caitlin said. "I coordinate all our markets. This coming season, we will probably be in about 10 farmers' markets a week, so I sent in the applications; I deal with those market managers; I figure out our setup. I'm working with a designer to redo our labels. I manage our website and do all our social media. So I do all our front-of-the-house stuff."
Caitlin works with stores that sell their products to set up deliveries, get orders and also deals with media. The business has grown so much that one of Caitlin's friends, Michelle Yuan '12, worked with them last summer.
Yuan described how she got involved and the part she played within Number 1 Sons.
"I've always had a fond interest in the culinary industry," Yuan said. "I was talking to Caitlin, and I heard about the opportunity, so I jumped on that … I did everything from helping make the products to packaging it, selling it, distributing it, and identifying new market opportunities and identifying areas for market penetration."
Yuan said that her experience with Number 1 Sons has allowed her to have a deeper appreciation for artisan food while leading her to reconsider entrepreneurship. While she is not sure that she'll work with Number 1 Sons this summer, she was glad to have gained first-hand experience with start-ups and to have seen the importance of alternatives to the industrial food process.
Caitlin's job with Number 1 Sons has also been beneficial to her education at College of William and Mary.
"I'm taking a class called Entrepreneurial Ventures," Caitlin said. "As our final project for that class, we write a business plan for a business that we want to launch. I'm very lucky that I already have a business and I'm running the business plan on how I want to grow that business."
Caitlin isn't the only person to come to the College with a love for pickles. Thomas Jefferson was also an avid pickle fan, although the fermentation process dates back much farther than Jefferson's time.
"You find references of fermentation in almost the earliest records of human history," Caitlin said. "Fermentation is a way to naturally preserve foods, and what we're doing is embracing good bacteria … Fermentation has been in the news a lot recently because there are health benefits that people believe are associated with it, believing that it's probiotic — that it's really good for your digestive system."
Fermentation not only has health benefits, but also gives Number 1 Sons' food a unique, tangy flavor that embraces their Chinese-Irish background.
While Number 1 Sons may ferment pickles, Caitlin doesn't believe the future will leave them in a pickle.
"I see [Number 1 Sons] growing into something that has a regional presence," Caitlin said. "I would love to be in the fridges of bigger chain stores in D.C., in Virginia, in Maryland, kind of in that Mid-Atlantic region."