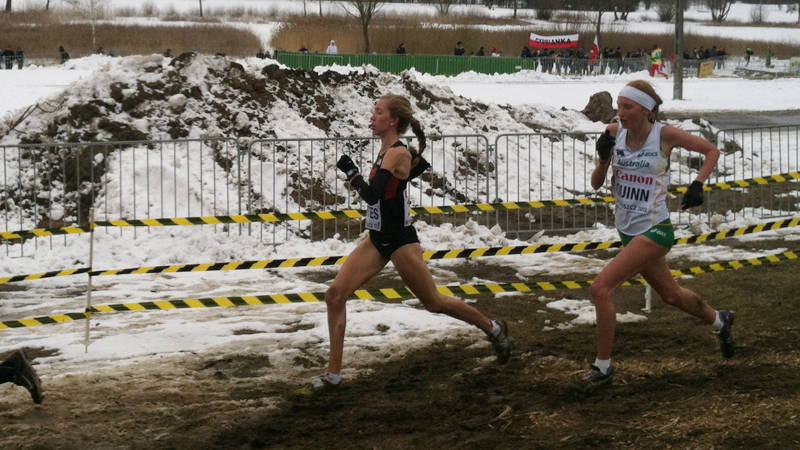 Entering her first season of Division I competition, freshman runner Emily Stites wasn't sure she'd be able to run with William and Mary's top athletes.
"Coming in freshman year, I had literally no expectations. I didn't even know if I'd be on the travel team or not; I had no idea where I'd fit in on the team," Stites said.
Hundreds of miles later, Stites has three College freshman records, a Colonial Athletic Association Rookie of the Year award, a national championship and captaincy of the Team USA junior women squad in the World Cross Country Championships to her name.
"To have all this stuff happen, it's incredible," Sites said. "It's humbling, in a way. I'm so thankful for all the opportunities I've had and moving forward I have no idea what to expect."
Stites battled a snowy, hilly course in Bydgoszcz, Poland to finish as the second American, four seconds behind Carrie Verdon last weekend. Stites finished the 6k race in 19 minutes and 37 seconds, good for No. 23 in the world. Team USA finished No. 6 overall.
"Going into it, my goal was to be top American. I wasn't, but I was really happy for [Verdon], who did get top American," Stites said. "Overall, I was really happy with it. We don't do a lot of hill training around here, so I wasn't really used to that, but I'm not going to make excuses."
The World Cross Country Championships hosts the world's best distance runners, and Stites competed against an international field for the first time.
"Obviously, you're racing against some of the best in the world, especially the Kenyans and Ethiopians — that's kind of intimidating," Stites said. "The course itself was really muddy, snowy, huge hills. Those were definitely obstacles during the race."
Months earlier, Stites won the United States of America Track and Field Cross Country Championships. The win gave Stites the chance for a call-up to the junior Team USA, which was gearing up for the world cross-country championships.
Entering the national championship, Stites again had no expectations.
"I felt really great the whole race. I didn't really know what to expect going into it. You win a race, you can't really do much better than that," Stites said.
Stites rose to the occasion, finishing more than 20 seconds faster than the second place finisher to win her first national championship and solidify her spot on the national team.
Once in Poland for the World Cross Country Championships, the junior Team USA squad elected its captain. Stites received a nomination and won the job.
"It was by surprise. One of the girls was like, 'Well, how about Emily?' I was really honored, I was really happy with that," Stites said.
With a national title and an appearance in the world championships, Stites doesn't know what to expect next. She does, however, deeply appreciate these opportunities.
"Overall, it was just the experience I was grateful for. Just to run with the best in the world was incredible," Stites said. "If you told me I'd be running in the World Cross Country [Championship] race I would've, you know, had no idea I'd be doing that. I'll take things as they come and be thankful for whatever comes my way."