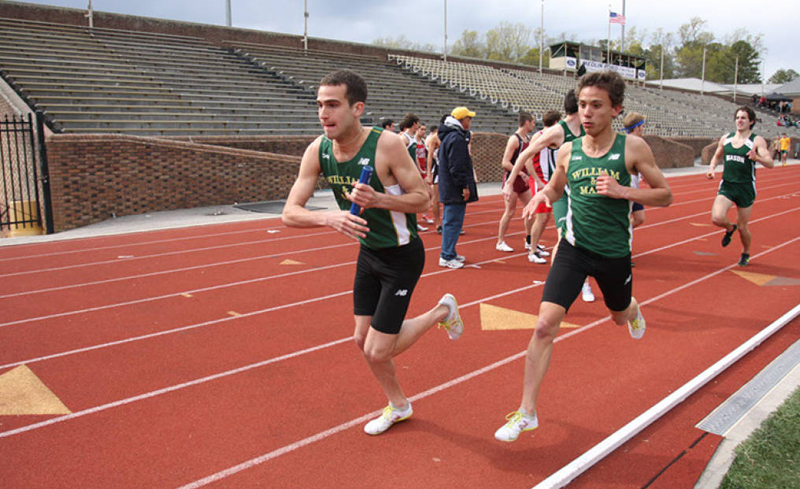 They are all around you.
They're on Duke of Gloucester Street. They're outside the Commons. They're everywhere on campus — huffing and puffing their way through a workout. They are runners, and William and Mary has some of the nation's best.
They might not look it — standing straight up, a tangle of bones and lean muscle — but the College's distance runners are easily the most accomplished athletes on campus.
While rooting for losing teams may seem to be part and parcel of the College experience, there are two sports in particular where that is not the case: cross country and track and field distance events.
With 20 of the last 23 Colonial Athletic Association men's cross country championships and innumerable long-distance medals in track for both the men's and women's teams, the College runners are the New York Yankees of distance running.
The tradition runs deep, and the program's current runners continue the successful trend. Junior Rad Gunzenhauser set the leading national mark for the 10,000 meter run at the Tribe Invitational two weeks ago with a time of 29 minutes, 50 seconds. Senior Katie Buenaga and junior Elaina Balouris took the first two spots in the 1,500 meter run in what was only the tip of the iceberg of the Tribe's distance dominance at that meet.
Tribe runners  compete on a global scale. Recently, freshman Emily Stites captained Team USA at the World Junior Cross Country Championships and finished No. 23 in the world. She now looks to build upon her cross country success in her first outdoor collegiate track season.
If our distance program is good enough to make headlines around the world, why doesn't it receive more support at home in Williamsburg?
After all, we watch these same events with rapt attention every four years in the Olympics. Nothing gets people out of their seats like a good race, whether it is between trained professionals or school kids at recess.
The objective in competitive long-distance running is to expend just enough energy throughout the race so you're practically ready to pass out when you cross the finish line. It's not just speed that decides these races, but guts. The test of wills to see who will get to a line first is nothing if not high drama.
The Colonial Relays are underway all day today and tomorrow as Zable Stadium and the Stimson Throwing Area host teams from 40 different colleges and universities.
The Tribe track and field program is primed to capitalize on its early-season surge with strong showings in the distance track events, as well as field events.
Of course, it wouldn't hurt to have some nice, home-field advantages with wind at their backs and fans in their ears. So if you get tired of whiling away your weekend watching other colleges compete on television, come to Zable Stadium to watch excellence in motion.
You might even feel a little Tribe Pride.