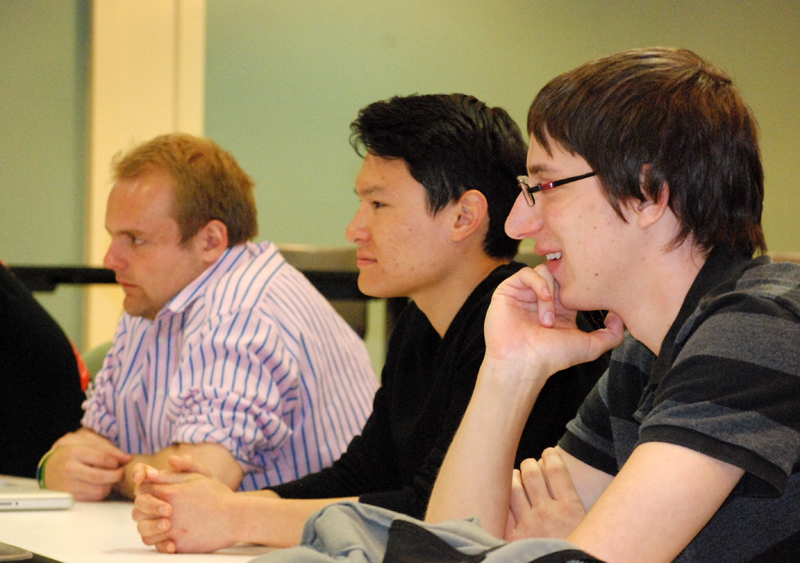 Students, faculty and members of the City of Williamsburg government gathered in a Student Assembly-sponsored panel to discuss ways to encourage student participation in local politics.
The panel featured Mayor and economics professor Clyde Haulman, Williamsburg City Council Member and law student Scott Foster '10 J.D. '14, current undergraduate and Planning Commission Member Chris Connolly '15 and SA Sen. Danielle Waltrip '13 of the Neighborhood Council of Williamsburg.
The members of the panel emphasized the overlapping nature of student and community goals as the main reason why students should be interested in pursuing positions and influence within the local government.
"Both students and citizens want a vital economy; they want more businesses, age diversity," Waltrip said. "Everyone wants a sustainable place to live and work."
Foster emphasized the 2013 Comprehensive Plan, which eliminates the housing density cap, and other restrictions as projects that students should seek to influence. He said they could do this either by pursuing an appointed position or simply speaking to officials.
"Students need to stake a claim in the project to revitalize downtown on Scotland Street," Foster said. "That means talk to local businesses, talk to us about what you want to see in this area."
Informing students through social media and encouraging participation in open meetings were named as ways the city government has tried to reach out to the campus.
James City County Board of Supervisors member and government professor John McGlennon pointed out that students should realize that local government is much more accessible than state and federal government, even though the latter receive more attention.
"Local government is the place where you can have the greatest impact," McGlennon said. "Just simply showing up to a City Council or Board of Supervisors meeting can make a difference. … You're also a lot less likely to meet your state senator at the grocery store or the Greene Leafe than your city councilman."
Waltrip also explained how students can come to monthly meetings where community issues are discussed.
"If you live off campus, you can represent your neighborhood, or you can just come," Waltrip said. "You can get a lot of power behind your ideas at these meetings. There are very engaged citizens that would love to help you."
The issue of student apathy was also addressed at the forum. Foster cited the meal plan requirement for on-campus residents as an issue that students failed to speak-out against.
"That policy passed without a hiccup," Foster said. "I had a conversation with the administration and they told me how they had a student panel but didn't get input. I would have liked to see the student body stand up and say, 'Whoa, hold on.'"
He also criticized the College's administration for grandfathering the plan in with the Class of 2015, saying it discouraged student input because many students were not affected.
Haulman discussed the potential effect the meal plan requirement could have on the city because local grocers and restaurants could lose business due to the change. Haulman argued the College's administration should be more open with local government, in addition to students, when implementing policies such as the required meal plan.
Another example Haulman gave that could show consequences of College policy on the city of Williamsburg is the purchase of the Hospitality House. He discussed how the College's acquisition of the hotel could create logistical problems for the town because the administration didn't inform the city of the deal due to contractual agreements.
"I'm not sure if talking to us was on their radar," Haulman said. "I want them to understand what they do could have unintended consequences. One of the problems with the Hospitality House that we've brought up with them is … that hundreds of people will now be crossing the street at that busy intersection."