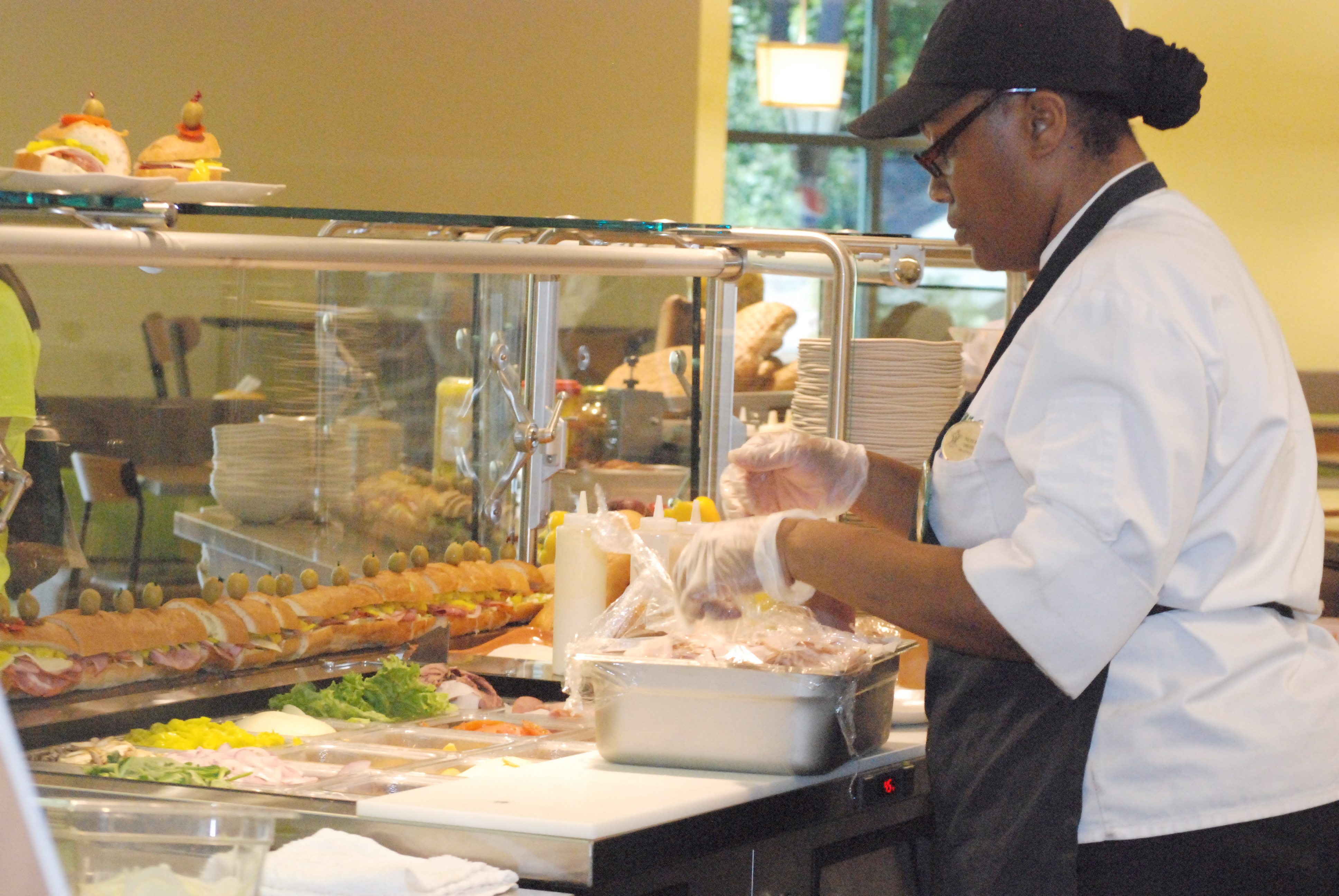 As students return to campus this fall, they will have to adjust to new living situations, new roommates and new food. Over the summer, Campus Dining implemented quite a few changes.
Many will recall the extensive renovations that took place in the Sadler Center's dining venue, Real Food on Campus. The Sadler Center will now offer 300 more seats in addition to a Mongolian grill and a special diet and vegetarian station. Forty percent of the food and beverage items are from local sources within a 250-mile radius.
"It's very swanky. It's nice that there's a lot more seating," Joe Foster '15 said. "[Although,] only two swipe stations causes long lines."
Additionally, both the Sadler Center and the Commons Dining Hall will offer a multi-option grill menu. The Sadler Center will also provide a late night meal option that allows students to use a meal swipe to eat. For the month of September, the menu for the late night meal option will be Mediterranean themed. Late night meals  can be paid for using cash, credit, Dining Dollars or William and Mary Express.
"It turned out fantastic," Resident District Manager Matthew Moss said. "We're really happy with it. The feedback that we've gotten from students, right after they've just walked in over the weekend has just been, 'Wow — oh my gosh.' The feedback we've gotten on the food has been really good."
Students seem pleased that there is now a late night option. Last academic year all dining halls closed at 8 p.m.
"I will definitely take advantage of the late night dining option," Dan Butler '16 said. "It makes sense to do it as a school."
Associate Director of Auxiliary Services John Byxbe said that creating more meal variety was one of the goals of the dining updates.
"Diversity is an integral part of a dining experience to ensure basic nutritional needs are met and to expand students' flavor profiles while at William and Mary," Byxbe said in an email.
Additionally, the Sadler staff was overwhelmed when they saw the new space.
"Personally, when we brought our staff back and they walked into the new space, it really gave them a big rush — 'Wow, look at this place. We've really got to do great work. This is going to be so much fun' — which was a huge plus for us," Moss said.
The Sadler Center is not the only place on campus expanding its menu. The Mason School of Business's Boehly Cafe will now include a pasta bar, a baked potato bar, a Monster Burger and steak and eggs while also serving Greenberry's coffee. The Marketplace has added a vegetarian station and a Pay by Weight salad bar.
"Students asked for more fresh ingredients, locally sourced products and selections beyond pizza and hamburgers," Byxbe said. "Students at [the College] are well traveled and have a diverse palate, and we are working to meet those expectations."
Supplements will also be added to smaller food venues on campus. The Mews Cafe at Earl Gregg Swem Library will now have a parfait bar and the Dodge Room in Phi Beta Kappa Hall will provide additional healthy options.
"Each station seems to be sort of self-sustaining," Andrew Shelton '14, who is on the Food Services Advisory Committee, said. "It's definitely what we envisioned."
The goal of these increased dining options is to appease the ever-expanding student population.
"We believe that students will be elated as we have collected [their] feedback and created new product offerings to enhance the Dining Program and are constantly seeking ways to improve the program at [the College]," Byxbe said.