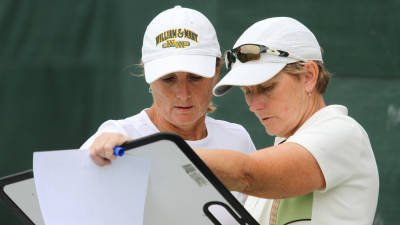 Longtime head coach Peel Hawthorne led William and Mary to a 10 win season and it's first conference tournament berth in three seasons just a year ago. Days before the College opened its 2013 schedule, Hawthorne vacated her post to join the athletic departments ranks as Associate Athletics Director of Student Services and Senior Woman Administrator.
Athletic Director Terry Driscoll named longtime assistant Tess Ellis as the program's interim head coach August 23. Bringing 18 years of coaching experience to the squad, Ellis began the season amidst concerns of losing last season's momentum.
Any doubts were quickly addressed as the College (2-0) dispatched Radford 5-0 before downing Virginia Commonwealth 4-2 over the weekend.
Facing Radford (0-2) in the season opener, the Tribe notched the game's first score in the 16th minute. Sophomore Etsy Byrd scored off a penalty corner, her first collegiate goal.
Scoring just one goal on 13 shots in the first half, the College quickly added to its lead. Junior defender Navneet Singh converted a penalty stroke two minutes into the half before junior forward Pippin Saunders and senior forward Taylor Hodge scored in the 42nd and 64th minutes to make it a 4-0 Tribe lead.
Junior midfielder Kayleigh Ross capped the day's scoring in the 65th minute, as the College outshot Radford 21-2 en route to the 5-0 victory.
While Virginia Commonwealth (0-1) left the Colonial Athletic Association, the non-conference designation did little to help the Tribe forget it's 3-2 loss to the Rams in 2011.
Junior midfielder Brittany Hopkins opened the scoring, converting on a Saunders cross for the 1-0 College lead just eight minutes into the opening half. Not wasting time, the Rams found the equalizer just four minutes later.
Two quick goals sent the Tribe into the half with a 3-1 advantage. Senior defender Giovanna Golen sent a rebound past the Rams goalie Megan Botteri in the 30th minute. Seconds before the halftime whistle blew the College drew a penalty attempt, which resulted in one untimed corner. In the ensuing scuffle, freshman forward Maria Pastor found room for the Tribe's third goal of the contest.
Down two scores, the Rams quickly cut the defecit to one in the 42nd minute, as Kendall Comb's put a shot past the College's redshirt sophomore Cate Johnson.
Leading 3-2, the Tribe put the game out of reach in the 68th minute. Junior Jesse Ebner followed her own rebound to score the game's final goal and push the College to the 4-2 win.
Through two games, Ellis has constructed a powerful offensive attack. All told, the Tribe' nine goals on the season have come from nine different players.
The program travels to Louisville, Ky. to face Louisville and Ohio September 6 and 7.