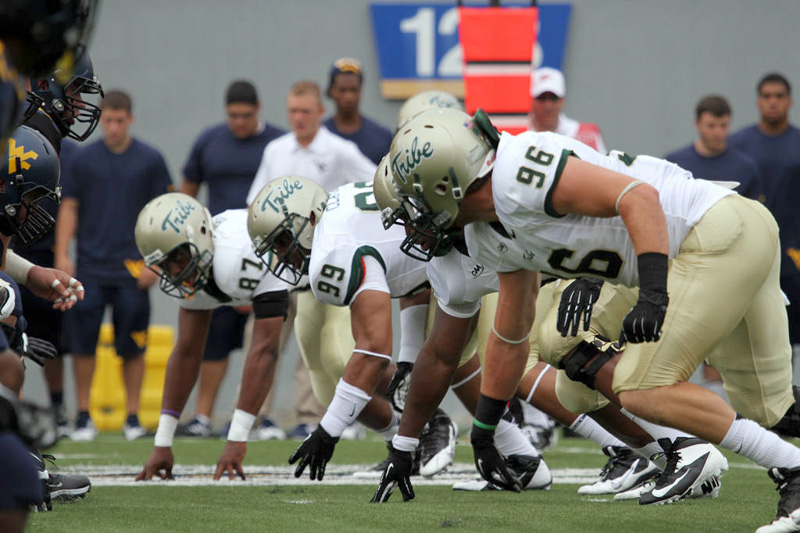 Stone-solid defenses are the core of championship-contending teams. If its exemplary performance in the first half of last week's game against West Virginia is at all representative of what's to come, William and Mary's defense will pose a staunch test for any Colonial Athletic Association offense.
Any discussion of the College's defense must begin with the two senior captains — safety Jerome Couplin III and defensive tackle George Beerhalter. Both were strong against West Virginia — Couplin finished with a game-high 14 tackles, 10 of which were open-field solos.
Up front, Beerhalter, a four-year starter, leads a defensive line that promises to be one of the deepest units on the team. Juniors Jasper Coleman and Stephen Sinnott bring a wealth of experience, both having started the majority of last season's games.
"Up the middle we're pretty solid," head coach Jimmye Laycock said. "I think George Beerhalter is as good, or potentially as good, as anyone in this league. He's been healthy now and doing very well."
The surprise starter of Saturday's game, junior defensive lineman Mike Reilly, made his impact on the game with five tackles, two for a loss, a forced fumble and the Tribe's two sacks of the game. Expect him to have a big season at defensive end.
"We can't get too confident," Reilly said. "We have got to get better, every single day."
Although senior defensive lineman Bryan Stinnie didn't start against West Virginia, he figures to play a large role after starting every game last year.
Besides Couplin, the Tribe's secondary is relatively untested. Two of the College's starters in the secondary earned their first collegiate starts Saturday against West Virginia. Junior safety Ryan Tagoe followed Couplin's lead Saturday, wreaking havoc on the Mountaineer skill-position players to the tune of nine tackles.
Fellow beginner, senior cornerback Ryan Smith, needs to improve from his lackluster first-game start in which he only had one tackle. Sophomore cornerback DeAndre Houston-Carson, who started every game last year opposite current Dallas Cowboy B. W. Webb '13, will guard the other side of the field. Even with last season's experience, Houston-Carson looked shaky at times Saturday, especially when he was burned on a 69-yard West Virginia touchdown reception.
Backup junior cornerback Frank Tamakloe, a highly-touted player, also received a significant amount of playing time Saturday and did not disappoint, notching four tackles. While Houston-Carson is relatively secure in his spot, Tamakloe and Smith will likely compete for the second cornerback spot.
Easily the most questionable unit in coordinator Scott Boone's defense due to its inexperience, the secondary is led by arguably the Tribe's best player: senior Jerome Couplin III. With tremendous athleticism and blistering speed, Couplin's excellent performance against West Virginia won't be an outlier. Couplin is primed to infuriate rival quarterbacks and receivers all season long, just like he has since he was a freshman.
"Jerome, back there at safety, is a great leader and a solid, solid player," Laycock said.
The College will have one of the CAA's most intimidating linebacker corps, returning three linebackers who appeared in all eleven games last year. However, the Tribe will miss Jabrel Mines '13 and Dante Cook '13, who both graduated after distinguished careers. Senior linebacker Quincy September looks to prove himself after playing behind Mines and Cook for three seasons. September had a good start against the Mountaineers, finishing with nine tackles.
The man in the middle, sophomore linebacker Luke Rhodes, should improve on an excellent freshman year in which he garnered a third-team all-conference nod. Rhodes anchors the linebacker corps with the kind of smart, hard-nosed performances he demonstrated Saturday and all last season. Rhodes' speed and strength as the Tribe's middle linebacker should make him the scourge of opposing running backs.
"Luke Rhodes at linebacker is a very consistent performer and a hard-working guy that just loves to play football," Laycock said .
Junior linebacker Airek Green started all but one game last year and finished with an impressive 53 tackles on the year. Together, Green, Rhodes and September make an intimidating trio that should be able to prevent opposing offenses from getting easy yardage.
It's hard not to think of the 17-7 halftime score against West Virginia's high-octane offense and not be confident about the Tribe defense's prospects for the season. With standouts like Beerhalter, Couplin and Rhodes harassing opponents, the defense could be good enough to prop up the offense if needed.