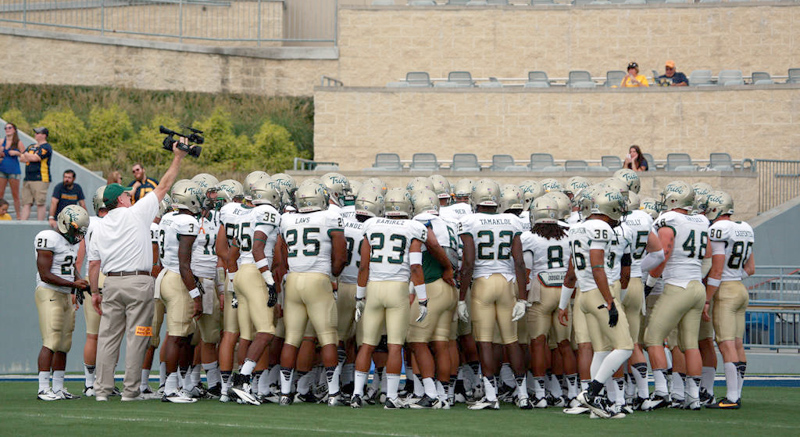 Q: Given the College's recent turnover at the quarterback position, who will be the Tribe's quarterback come season's end?
Jack Powers: As much as I would love to believe that senior quarterback Michael Graham will be just as deadly the rest of the season as he was in the first half against West Virginia, I find that hard to believe. My money is on junior Raphael Ortiz taking over late in the season after the team suffers through its hardest stretch. We still don't know the severity of his injury, but there's no doubt he's the most dynamic contender. Also, if other things don't pan out, expect head coach Jimmye Laycock to start planning for the future with Ortiz.
Chris Weber: Wildcard pick here: I'm going with sophomore Christian Brumbaugh. With Ortiz and senior Brent Caprio out with injury, I don't see either ready for a game this season. Look for Laycock to get fed up with Graham's inconsistency and insert Brumbaugh for a change of pace.
Q: 2-9 a year ago, there's plenty of room for the College to improve. What's the Tribe's record when the season finishes? 
JP: It's difficult because the second question is so contingent on the first. I may have been seduced by the Tribe's sexy first half last week, but I'm relatively optimistic right now. There's a lot of talent on this team, and the attitude they showed against WVU had me convinced they're intent on revenging last year's quagmire. That said, I can't see them doing much better than 6-5, possibly 7-4. It's easy to forget how good the Colonial Athletic Association is, but the Tribe will have no easy matchups past its next three.
CW: After a two-win season, there's no way the College can move backward. At least, that's the hope. I see more close games, but better execution down the stretch. Look for at least five wins ­— best-case scenario, the Tribe is looking at an 8-3 season. My money says closer to five than eight.
Q: With seniors gone, the depth chart has suffered numerous changes. Who's your pick for the team most valuable player?
JP: I have to stay safe and go with senior safety Jerome Couplin III. He was a monster in Morgantown against supposedly bigger and more athletic players.
CW: After a year of getting the majority of the carries, Keith McBride gets my vote for most valuable player. If nothing else, Laycock does have solid running schemes — look for McBride to surpass expectations.
Q: Every year one or two players surprise analysts and fans. Name this season's breakout preformer.  
JP: This is kind of cheating because he already broke out last week, but junior Mike Reilly is going to be a menace at defensive end this year. He recorded two sacks against Mountaineer offensive linemen who were much bigger than most he will see for the rest of the year.
CW: With the team's game planning around junior wide out Tre McBride, I'm looking for junior wide receiver Sean Ballard to benefit from the attention McBride will get from opposing defenses. You'll hear Ballard's name over the Zable Stadium public announcement system.
Q: Of the eight Colonial Athletic Association games on the schedule, which one will be the best to watch? 
JP: James Madison for Homecoming. No doubt in my mind. Last year's game was an instant classic and the Tribe certainly hasn't forgotten the sting of that heartbreaking loss. JMU will probably come in as the favorite, but an upset to ring in Homecoming could be in the works.
CW: Richmond, last week of the year. How can you not love a rivalry that started in 1898?
Q: Taking the offense, defense and special team units, which one will impress the most? 
JP: The best defensive unit is the linebacker corps. They're intent on proving there won't be a drop-off without Jabrel Mines '13 and Dante Cook '13. Rhodes can only get better after a sparkling freshman season, and that's frightening. His mates, senior Quincy September and junior Airek Green, are also imposing and set for a big year.
CW: Secondary. Scott Boone will have his squad sharper than in Morgantown. Watch out for junior DeAndre Houston-Carson — I've watched him play since high school. His potential is limitless. Couplin III will contend for the conference's most valuable player.
Q: Head coach Jimmye Laycock brought lontime coach Kevin Rogers on  board for the 2013 campain. What impact will Rogers have on the offense? 
JP: Irrespective of play calling, which I don't think will change too much from last year, Rogers is invaluable as a mentor to the Tribe's extensive quarterback stable. Graham looked more confident than ever against WVU last week. I don't think that would have happened without Rogers.
CW: Huge fan of Rogers. Laycock made the right call bringing in the longtime coach. It just so happens that Rogers specializes in quarterbacks — the Tribe's weakest position. Funny how that happened.
Follow @FlatHatSports for coverage and analysis as the College (0-1) hosts Hampton (0-1) Saturday, September 7 at 7 p.m. at Zable Stadium.