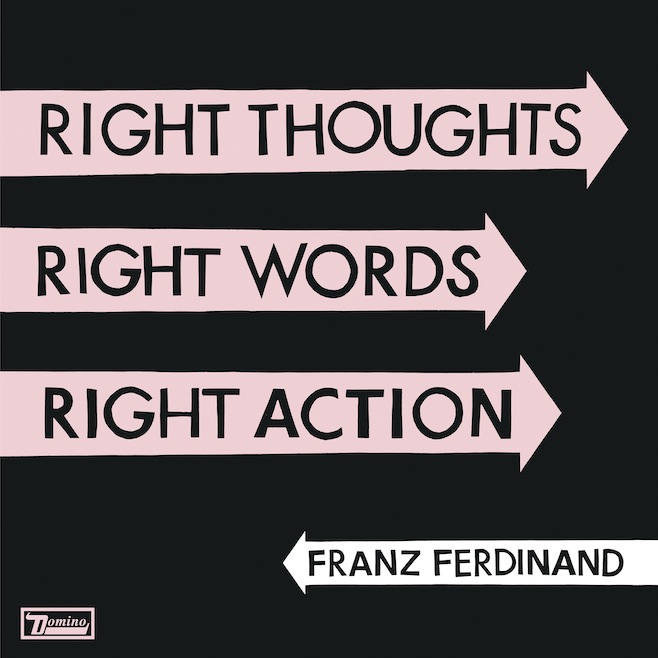 It's been four years since Franz Ferdinand released its third album, the electronica-heavy, nihilistic "Tonight: Franz Ferdinand," to lukewarm reviews. Fans and critics alike worried the quartet's  roots in danceable, groovy post-punk with hints of bad boy glam would be lost in its shift toward a heavy dub sound. Thankfully, the time for worrying is over: The Glasgowian lads are back to their old tricks.
"Right Thoughts, Right Words, Right Action," released on Aug. 27 through Domino Records, is as reminiscent of Franz Ferdinand's eponymous debut album as it is memorable. These 10 songs bring back the band's emphasis on pounding guitar riffs and witty, sardonic lyrics for what seems to be a far too short period — 35 minutes.
The album opens with the band's lead single, the raucous post-punk hit "Right Action." Anyone looking for a "Take Me Out" 2.0, this one's for you. Lead singer and guitarist Alex Kapranos is as lucid and sexual as ever despite recently turning 41, while rhythm guitarist Nick McCarthy churns out consistently catchy riffs. "Sometimes I wish you were here / Weather permitting," Kapranos drawls. "Evil Eye," the funk-punk follow-up, draws inspiration from both religious imagery and sexual innuendo, while "Love Illumination" is as exasperatingly catchy as it is seductive. The accompanying music video is particularly kooky and strange.
In addition to an eclectic mix of club-worthy tracks — "Bullet," in particular, draws major parallels to the addictive "Do You Want To" — the band snuck a few reflective tracks onto the album. In "Stand On The Horizon," a James Joyce-esque poetic treat, Kapranos debonairly harmonizes: "The North Sea sings 'Won't you come to me baby?' / The North Sea singing 'Won't you come to me?'" while synth beats groove in the background. Equally as appealing is "Brief Encounters," which cheekily lampoons suburban swingers' parties and "The Universe Expanded," the longest track on the album, which rewinds a failed relationship to its previous happiness.
The very last line in the album, from the song "Goodbye Lovers and Friends," ends abruptly: "You can laugh as if we are still together / But this really is the end." For our sake, let's hope Kapranos isn't true to his word.