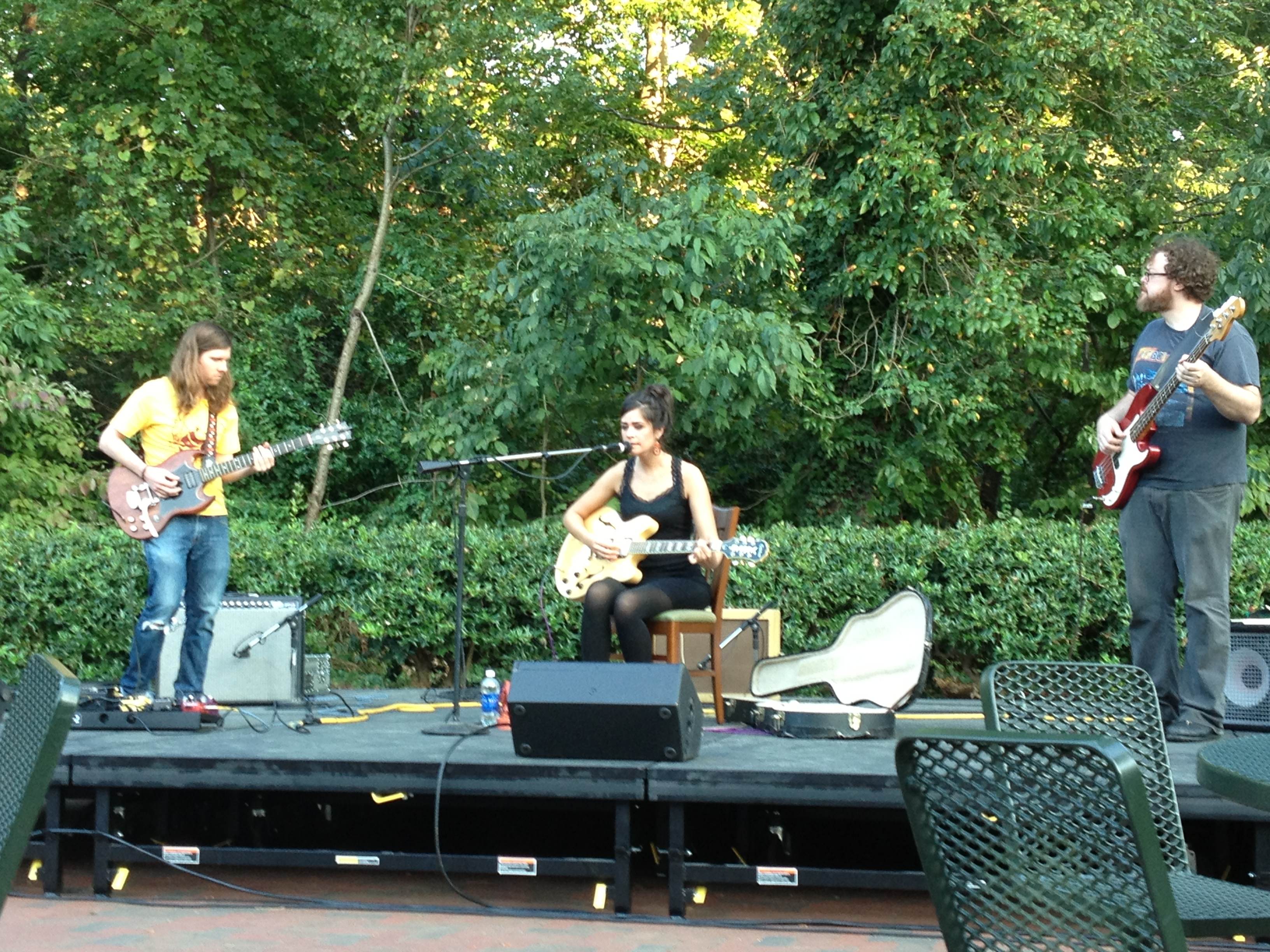 Friday the 13th is regarded as the unluckiest of days, bringing with it a general air of caution and suspicion. It takes a lot to transform the mood from foreboding to relaxing and enjoyable.
The Low Branches managed to pull off just that after taking the stage as part of AMP's Fridays at 5 on the Sadler Center Terrace. The Richmond trio played an impressive 11 original songs, as well as three covers, under a clear, cool sky. Passing and lingering students were able to enjoy their entrancing, mellow sound.
As far as stage presence goes, The Low Branches provide an interesting aura. Front woman Christina Gleixner sings and plays electric guitar sitting down, while her counterparts, Matt Klimas (guitar) and Josh Quarles (bass) stand. While many groups need the antics of active front men or women in order to engage the audience, this group relies on its musical essence alone.
Their sound itself, however, is hard to describe. The Low Branches are not a very dance-able indie band — rather, they are a contemplative one. Their songs don't make you want to jump around, but instead provide the soundtrack for quieter pursuits like late night meanderings, or holding a significant other close.
Live, they incite tapping feet, daydreaming, and even an odd sense of nostalgia worthy of movie-style montages, a feeling that mostly stems from Gleixner's superb vocal skills.
Gleixner's voice tends to drift to lower tones, creating a low, warm sound that fosters a clear and calming sense in the music. She has an uncanny ability to not only hold hums and "oohs" for long periods of time, but also contain them into solitary notes without wavering.
Again, she has no need for fancy musical shenanigans. Her vocal style is simple and direct with an impressive range that's used wisely and not excessively.
This simplicity is present in the rest of the sound of The Low Branches as well.
While their recordings feature drums, backing vocals and some minor electronic accompaniment, their live set Friday night did not. The four elements —two guitars, one bass and one vocal—combined in a full manner that didn't need any other sound anyway.
For the most part, Gleixner finger picked accented notes, while Klimas filled out the songs with simple, low strumming, and Quarles held the songs down with pure and whole bass lines.
All of these elements combined in a completely seamless way. Gleixner croons of various human interactions, all the while any musical "emptiness" is eliminated through the weaving of the three instruments. No single element dominates — but rather everything works together in a controlled fashion.
To me, this simplicity reflects a musical philosophy of "less is more," which translates into the group's tightness.
All the members are on the same page. Even when a cover of Dolly Parton's "Jolene" started in the wrong key, unbeknownst to listeners until an explanation afterwards, Gleixner adjusted and kept singing, creating an absolutely fantastic cover.
The other two covers included "Stand by Me" and an older Turkish song. I can only vouch for "Jolene" and "Stand by Me," but both were incredibly well done in regards to the originals. The Low Branches combined the original chords and lyrics with their own unique, mellow sound, to create completely new tributes to these songs.
While the band's strength is its unique sound, there were times in which the silence between the "thank you" after one song and the beginning of the next felt too drawn out and even awkward as the band determined the next song to play.
Furthermore, while the band has their own style, it sometimes felt borderline repetitive. Each of their songs do have their own well-crafted swells and changes, but often lack variety in tempo and structure, causing them to blend together.
Trust me when I say, however, that these critiques are minor and don't significantly detract from The Low Branches as a solid live act or as a band as a whole.
They provide a great soundtrack for zoning out, walking around campus, or simply enjoying any season. Their songs give a sense of optimism in a mellow and maybe even haunting way.
The Low Branches belong in a league of their own, creating the perfect sound for a perfect introduction to fall on the Terrace (even if the day is rather "unlucky.")
You can find them at www.facebook.com/thelowbranches as well as at www.thelowbranches.bandcamp.com where their newest album, One Hundred Years Old, is available for purchase and streaming.