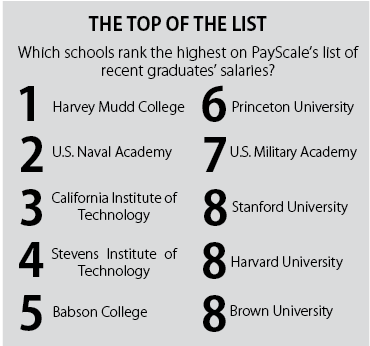 Last week, the College of William and Mary moved up in the U.S. News and World Report's top universities list to tie for 32nd place. However, PayScale recently released a ranking of its own. The report lists colleges with the highest mid-career salaries for graduates, with the College rated 97th.
PayScale's rankings could be greatly affected by the fields that students enter upon graduation. Certain high paying concentrations, such as engineering, are not offered at the College. Universities like the Polytechnic Institute of New York University stand in 14th place, with salaries starting at $60,700 and mid-career salaries around $116,000. In comparison, PayScale reported that the College's mid-career salaries average around $93,300 and starting salaries were $44,500.
"William and Mary [graduates have] higher salaries longitudinally," David Lapinski, a senior associate director at the Sherman and Gloria H. Cohen Career Center, said. "Over time, there is more growth within their careers."
Lapinski explained that the survey also does not take into account the fact that 30 to 35 percent of the graduates of the College enter graduate schools upon graduation, which often leads to an increase in starting salaries.
"Our students are going out there and are more focused on making a difference in the world," Wendy Webb-Robers, senior associate director at the Cohen Career Center, said.
She says students are not as concerned about going into industries with high salaries. Instead, they care more about finding jobs in their specific field of interest.
Kelly Buckley '05, assistant director of Freshman and Sophomore Career Experience, chose the College for its quality of education. She wanted to attend a school where she would be prepared not only for a career following her study of English literature but also for graduate school and her personal life.
"And all of that happened for me," Buckley said.
Many people might wonder how PayScale calculates its rankings.
"There are gaps within PayScale's data so it's important that people understand those limitations when looking at the rankings. For example, PayScale does not reveal information regarding individual school's data," Brian Whitson, associate vice president of Communications and University Relations, said in an email.
In addition to its policy not to release information about sample size, PayScale chooses only to include information gathered from graduates that are full-time, civilian employees in the United States and who have received only a bachelor's degree. This means the substantial amount of graduates from the College who enroll in graduate school are not included in this ranking.
"With its limitations in mind, PayScale can provide useful snapshots," Whitson said in an email. "Rankings can be extremely useful, as long as the viewer understands the context behind the list and the research that was done."
Mary Schilling, assistant vice president of Student Affairs and executive director of Career Development, said she believes students choose to attend the College for its academic opportunities.
"The issue is, does the school provide an array of opportunities for students interested in a broad range of areas, no matter what the pay is?" Schilling said.