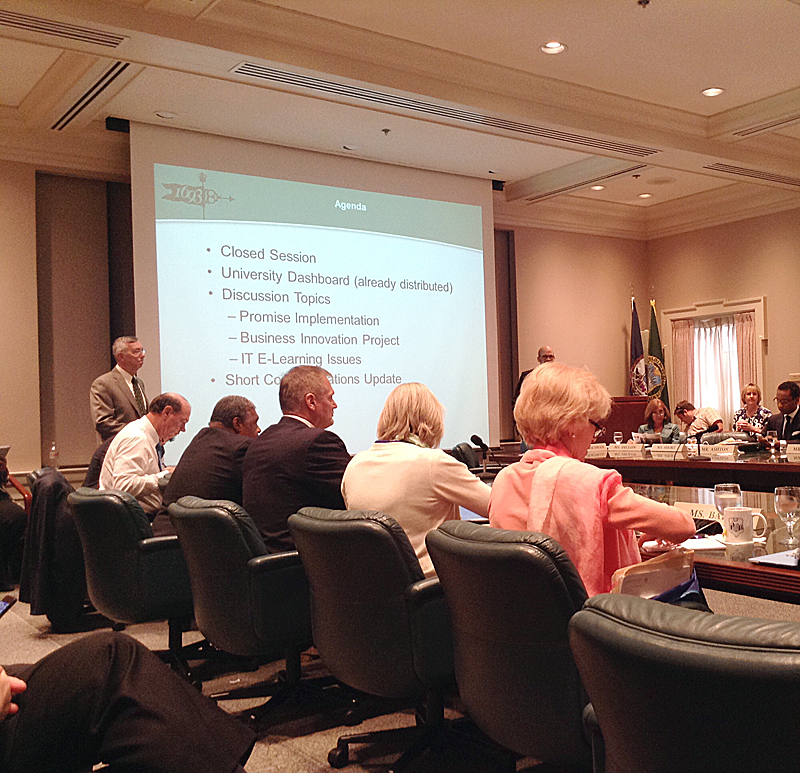 In its first meeting as a standing committee, the College of William and Mary's Alumni Association briefed the Board of Visitors' Committee on Alumni Relations on its structure and plans.
In past years, the Committee on Alumni Relations was a committee of the whole, so all Board members sat on it. Executive Vice President of the Alumni Association Karen Cottrell '66, M.Ed. '69, Ed.D. '84 said the standing committee allows for more dialogue between the five members of the Committee on Alumni Relations and the alumni association.
"I think this is an important and critical time for all of us to work together and be at one table," Committee Chair Lynn Dillon '75 said.
President of the Alumni Association Barbara Joynes '82 announced Jim Comey '82, Gary LeClair '77 and Joy Shields '64 as the 2014 winners of the Alumni Medallion Award. The recipients will be honored on Charter Day.
Alumni received an email Tuesday night allowing them to elect the Alumni Association's Board of Directors. The email also included a bylaw that moves to elect the board by a slate.
Joynes said a slate election would allow the Alumni Association to fill positions with people who have a background in what the roles require, promote geographic, ethnic and age diversity and allow the association to ask the best people possible to join the board.
"We really want to ask some pretty terrific people to stand for this board, and when you do that, you're basically asking them to be in what is essentially a high school election and run for office and perhaps not win," Joynes said. "That's a pretty difficult thing. In the process, we've alienated some people who have stood and not won."
Cottrell spoke of efforts at the College to increase student involvement with the Alumni House and to move more Homecoming events back to the College. Previously, Homecoming reunions have been held in various hotels, but events this year will be centered around the Sunken Garden.
Director of Alumni Engagement Kelly Holdcraft works with 23 active regional chapters to plan events and promote giving to the College. She is creating new active regional chapters in Dallas, San Francisco, Los Angeles and Seattle.
Director of Alumni Communications Mitch Vandervorst Ph.D. '15 outlined the various mediums through which the alumni association communicates with alumni, including the Alumni Magazine, chapter Facebook pages, reunion class year Facebook pages, Twitter and its email newsletter "The Hark." In the next week, Vandervorst will release a tablet version of the Alumni Magazine.
In terms of funding, the Alumni Association raises half of its $3 million budget and receives the other half through private funding at the College. Director of Business Development Cindy Gillman also rents out the Alumni House for wedding receptions, rehearsal dinners and other events to raise money. Affinity partnerships, where organizations with large databases of people's biographical information share that data with businesses for a fee, also support the Alumni Association. Collegiate Insurance Resources, Geico and Bank of America partner with the College's Alumni Association.
"We're very thoughtful and careful when we choose a partner because needless to say they want the list," Gillman said. "We really are protective of our list and try to choose partners that make sense for alumni."
Gillman is considering partnering with Nationwide Insurance and Bank One in the future.
The Alumni Association also partners with local businesses for services like catering and providing wine and gifts.
Gillman also discussed about the memorial garden, a burial ground located by Lake Matoaka and Alan B. Miller Hall. So far, 13 people have been buried in the memorial garden and 16 people have pre-planned their burial there.
"The people that call — you really know how much the place means to them," Gillman said.