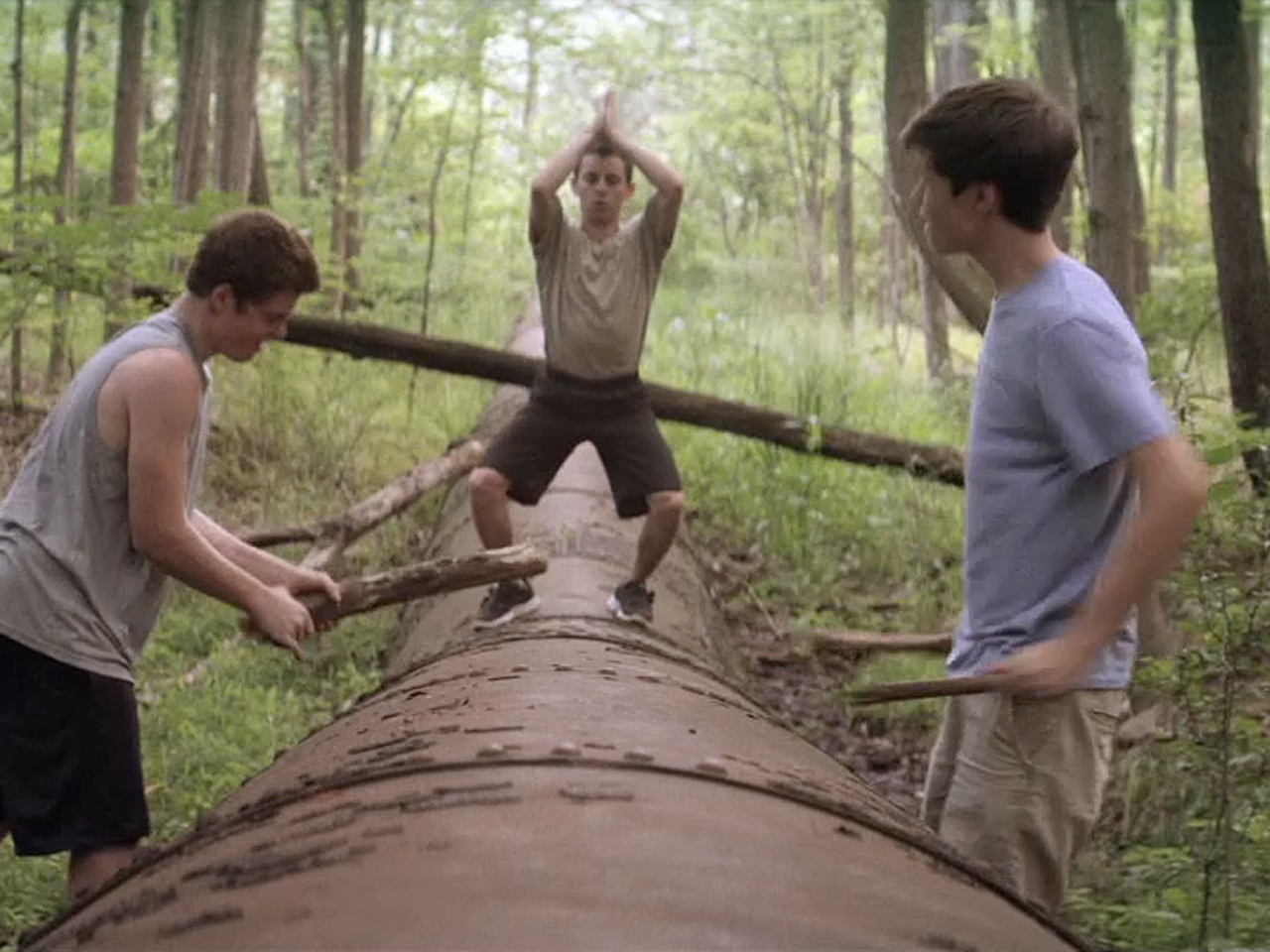 Within the colonial confines of the Kimball Theatre last Thursday night, up-and-coming film director Jordan-Vogt Roberts spoke to an audience of students and film buffs about his new film, "Kings of Summer," which premiered at Sundance in January.
Roberts fielded questions from audience members about his quirky coming-of-age comedy that follows the story of three teenage boys who decide to build a house in the woods and fend for themselves. The film features some notable names in comedy, including Parks and Recreation star Nick Offerman.
In his question-and-answer session, Roberts emphasized his belief that filmmaking has entered a "mashup" era, in which splicing together scenes influenced from past films is the new norm. Roberts drew inspiration for "Kings of Summer" from the films "Stand by Me," "Ferris Bueller's Day Off," and many other notable works, and used these to craft a meaningful comedic film.
The interview session with Roberts was made possible by the College of William and Mary Arts and Entertainment and the Global Film Festival. Guests last Thursday night were able to view a screening of Roberts' film and enjoy free beer on tap, all for a five-dollar cover charge. The film screening was the kickoff event for this year's Arts and Entertainment Conference, which was themed "The Business of Show: The Arts and Entertainment in Dollars and Cents." The weekend-long conference featured a press conference with College alumnus and famous actress, Glenn Close '74.
Although the Global Film Festival is not until next semester, members involved in the annual festival played a large role in sponsoring Roberts' visit.
"It was our job to promote the event," the event's head of publicity Elyse Endick '14 said. "GFF is President's Day weekend every year, and we try to run some events beforehand."
Both Endick and other members of the Global Film Festival team were more than impressed with the screening and Roberts' visit. Global Film Festival webmaster Ian Kirkwood '16 praised the overall success of the night, crediting Roberts' laidback demeanor to much of the success.
Endick agreed that Roberts's personality worked well with the event.
"Jordan Vogt-Roberts, the director, was an awesome guy," Endick said. "He answered the questions with poignancy that was down-to-earth and very genuine. I got to hang out with him for a bit afterwards and he was very chill, very down to earth. He was the type of guy you'd expect to be directing coming-of-age quirky comedies, so he really lived up to his reputation."
Kirkwood's opinion was certainly not in the minority. Not only did Roberts field questions from the audience, but he also posed for pictures with fans in front of the theatre after the show. Without giving a short response to any question, Roberts spoke of his experience shooting the film in rural Ohio, his background in stand-up comedy, and his affinity for beer, amongst other things.
Roberts answered numerous fan questions, such as the reason for his film's incorporation of hip-hop to reflect the perspective of its high school-age characters. More than any other member of the cast, Roberts stressed the importance of the role of Biaggio, played by former Disney Channel star Moises Arias. Roberts described Arias' role as the most hit or miss part of the film, due to the sheer amount of time he spent on camera and the role's inherent quirky sense of humor. Roberts lauded Arias for being the essential character that made this coming-of-age comedy, well, a comedy.
While there were tons of film buffs in the audience, many of the people who came to see "Kings of Summer" were there to receive credit for film classes they are taking at the College. One such student, KC Malone '15, attended the film for his class American pop culture and film with Kevin Kosonovich. He did not regret his decision to see the film.
"That movie was really dope," Malone said. "I'm not usually a big independent film guy, but I was laughing the whole time. I liked the visuals effects, too."
Just as Roberts's vision had emphasized, "Kings of Summer" is a film that can be appreciated by any member of our generation.