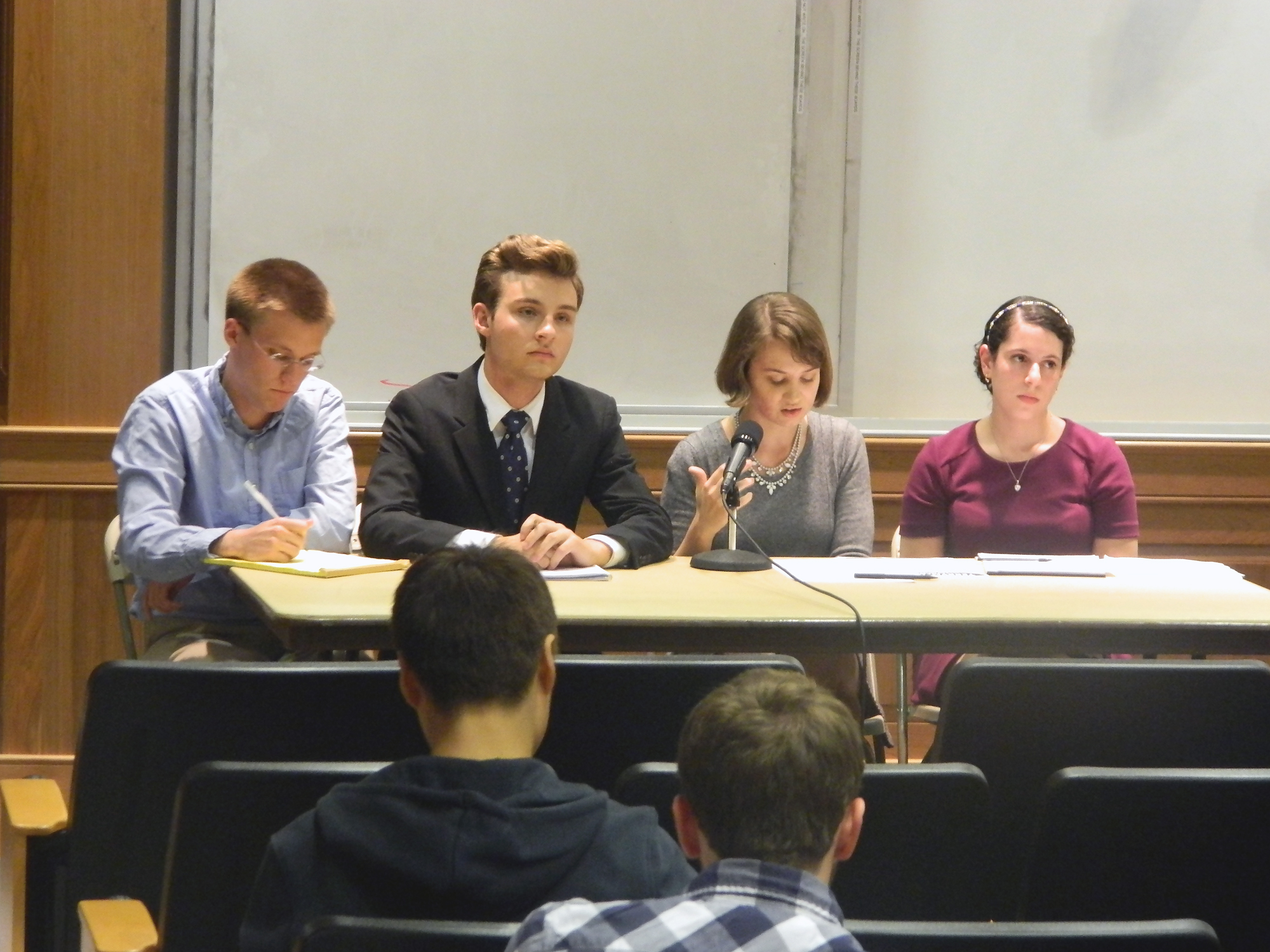 The College Republicans and Young Democrats rolled up their sleeves to debate the upcoming gubernatorial election.
Wednesday night saw the two organizations discuss the  policy differences of Ken Cuccinelli and Terry McAuliffe and vie for voter support for each.
Chancellor Professor of government Clay Clemens moderated the debate, which took place in the Tucker Hall auditorium.
Each party made speeches and exchanged rebuttals before taking questions from the audience. The party representatives discussed economic issues in the first half of the debate and social issues in the second half.
The College Republicans opened the debate by citing the record of economic growth under the leadership of Gov. Bob McDonnell.
"Improving the economy is an issue that Republicans have successfully dealt with and continue to want to improve," Chandler Crenshaw '14, chairman of the College Republicans, said. "By keeping Republicans in control of the executive branch, we'll continue to see economic growth in the Commonwealth."
Michaela Pickus '14 of the Young Democrats responded by criticizing the economic approach of the Republican platform.
"If you want a state that is open for business, you are also going to need a state that is open and tolerant to all people," Pickus said.
Pickus also challenged the efficacy of the governor's past policies in areas such as taxation, transportation and education, pointing out the importance of social equality.
In the second round of the debate, the Democrats reinforced this point as they discussed the social policies of their side.
"We need a highly educated workforce in order to be competitive and to have further economic growth," Elise Orlick '14 said.
Orlick also emphasized the need to improve services for women's health and gender equality.
Each side summarized its main points to end the debate.
"Republicanism and pragmatic conservatism in Virginia is working," Crenshaw said. "Vote based on utility and who you think will lead Virginia to a better place."
Young Democrats President Zachary Woodward '14 made his side's closing remarks.
"I ask that you choose the more pragmatic and responsible candidate," Woodward said. "Our side is putting forward real solutions in terms of creating jobs … and expanding educational opportunities in Virginia."
Gubernatorial elections will be held Nov. 5.