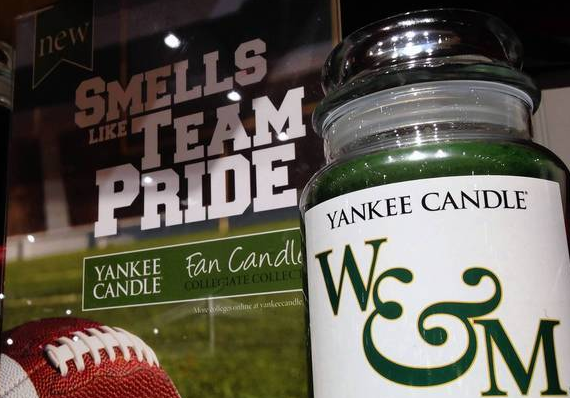 Yankee Candle unveiled a new candle based on the College of William and Mary. The William and Mary inspired "Balsam & Cedar" candle is available to order. The fresh forest scent is made by combining the scent of Balsam, aromatic cedar wood and a juniper berry blend.
The candle is a dark green with the College logo on the outside, available for a limited time as part of Yankee Candle's collegiate collection. The 22-ounce large jar candle costs $27.99 and provides 110 to 150 hours of fragrance.
The Virginia Gazette reports that, while the candle is currently only available at the Yankee Candle store and online, it will soon be sold at the William and Mary Bookstore. According to Yankee Candle spokeswoman Karen Woods, scents for the collegiate collection are based more on school color than the surrounding environment.
Additionally, the Virginia Gazette reports the candle is being marketed to alumni since candles are banned from residence halls. Because of this, Yankee Candle will soon release a matching car air freshener.
Some students are excited to buy the candle.
"I would buy the candle because it would make a nice gift for my family," Shannon Quinn '17 said.
Others do not plan on purchasing the new scent.
"I wouldn't buy it for myself," Claire Timberland '15 said. "I have a lot of William and Mary apparel and I don't feel as though I need more."
Flat Hat News editor Annie Curran contributed to this report.