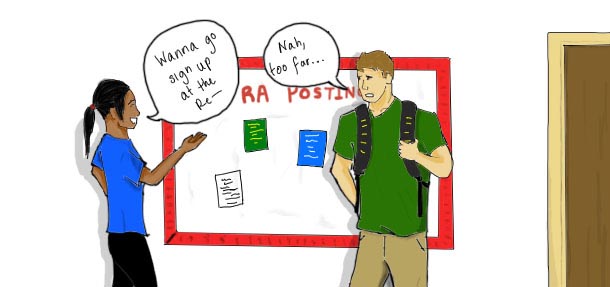 The College of William and Mary's campus recreation department has announced that students are now able to sign up online for all of the department's services and programs, which includes all classes taught at the Student Recreation Center. Apart from the inherent irony (now it's easier than ever not to walk to the Rec), this is a very good thing. Students use the Internet for practically everything. If every College student is afforded the opportunity to sign up for fitness classes just by virtue of the fact that they have an Internet connection, it's possible that more students will sign up. Walking all the way across campus after a grueling day of classes in typical Williamsburg weather to sign up for a fitness class is, admittedly, a less attractive prospect than signing up in the (relative) comfort of your dorm. Campus Recreation is reducing the disincentive of signing up to virtually nothing, and, for this reason, it should serve as a model for other on-campus services.
Although many of the College's services allow students to sign up or register online, there are a few conspicuous absences. The Dean of Students' office does not have a system in place for students to set up meetings online. While certain student concerns can be reported online (such as possible honor code violations and concerns for the welfare of a student), signing up for a meeting with a dean or someone from the Dean's Office cannot be conducted over the Internet. In this vein, students cannot apply for an appointment with an academic advisor over the Internet, either. While this is unlikely to compromise any student's academic success, contact with an advisor should be as efficient and streamlined as possible.
More serious than the lack of online registration provided by the Dean of Students' office or academic advising is the fact that students are unable to electronically sign up for an appointment at either the Counseling Center or the Student Health Center.  Seeking help can be — and often is — very frightening. The fact that these services make the process more difficult by not allowing the anesthetic of online anonymity is a hindrance to student wellness and ought to be rectified.
Although it's already an online process, Facilities Management is reportedly redoing how it receives work orders from students, which will hopefully make the process more efficient. This past August, Facilities Management slowed after receiving over 3,000 work-order requests, which was an increase from previous years. Hopefully the newly redesigned work order system can streamline the process so that Facilities Management can better handle difficulties in the future.
For a school that prides itself on the amount of face-to-face interaction students have with their professors, there are areas where a computer can prove beneficial. Campus Recreation's policy bodes well, but to best serve students, the College's services need to become more Internet accessible.