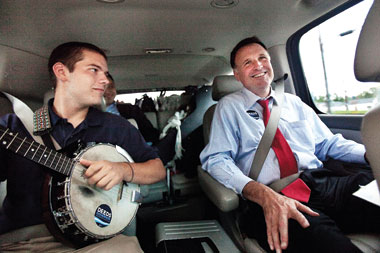 Former College of William and Mary student Austin Creigh Deeds, age 24, was found dead Tuesday morning after suffering a gunshot wound, the Virginia State Police confirmed.
Officials found his father, state Sen. Creigh Deeds, D-Bath, near the family's residence in Millboro, Va. suffering from multiple stab wounds. The senator was transported to U.Va. Hospital in Charlottesville in critical condition, but medical officials said he was in good condition Wednesday and was able to give statements to the police.
According to the Virginia State Police, officials have not yet determined the cause of the assault at Deeds' Bath County home. Virginia State Police Spokesperson Corinne Geller said police were called to the senator's residence at 7:25 a.m. They found the senator alive but with multiple stab wounds, and Gus was alive inside the residence with a gun wound. Despite attempts to save Gus's life, he died at the scene.
Gus and Creigh Deeds were the only people at the residence when police arrived, according to reports.
At a press conference Tuesday afternoon, Geller stated that police are investigating the event as a possible murder-suicide attempt and are not looking for any other suspects at this time. An autopsy report released Wednesday confirmed that Gus died of a self-inflicted gunshot wound from a rifle.
Sen. Creigh Deeds — a state senator, 2005 attorney general candidate and 2009 democratic gubernatorial candidate — was flown to Charlottesville, where he remains, receiving treatment.
Austin Creigh Deeds, known as Gus, attended the College of William and Mary off and on since 2007. He took a break from school during his junior year in 2009 to work for his father's gubernatorial campaign, the Richmond Times-Dispatch reported. Gus withdrew from the College last month and was not enrolled at the time of his death, according to university officials.
In a campus-wide email, Vice President of Student Affairs Ginger Ambler '88 Ph.D. '06 noted that Gus was a music major with a "strong academic record" while at the College.
"This is a heartbreaking time for the Deeds family and for all of us who are part of the extended William & Mary community," Ambler wrote in the email.
Ambler stated that counselors, Residence Life staff members and campus ministers are available to offer assistance to students following the news of Gus's death.
"William & Mary is very saddened to hear this tragic news. … Our hearts go out to the entire Deeds family," Director of University Relations Brian Whitson said in a statement.
Gus was recently evaluated under an emergency custody order at Bath Community Hospital, but was released Monday due to a lack of psychiatric beds in the area, the Richmond Times-Dispatch reported.
Executive Director of Colonial Behavioral Health David Coe explained that emergency custody orders allow mental health professionals to evaluate people deemed to be at risk. The orders only allow officials to generally detain the individual for four hours, with an exception allowed by a magistrate.
If the evaluations show that the patient needs more in-patient care, then officials can work to find a psychiatric bed and detain the individual for up to 72 hours.
"At that point, your legal authority to hold them is over," Coe said. "They can choose to leave."
Officials have yet to comment on possible motives of the incident Tuesday.
Students at the College remembered Gus as a talented musician and kind individual. Shane Frondelli '14 was a former hallmate of Gus and expressed his sympathy for the Deeds' family.
"I am so sorry for his family's loss, Gus seemed like a genuinely nice guy," Frondelli said in an email.
Gus could often be found in the lounge of Unit L last year, playing the guitar, trumpet or trombone and chatting with fellow hallmates. Morgan Ferguson '15 said she was impressed by Gus's musical talent and by his overall friendly demeanor.
"He was really just a compassionate person," she said. "He always wanted to listen to what you were up to and what was going on in your life."
Mallory Johnson '10 worked on the Deeds' campaign in 2009 and had classes with Gus while at the College.
"It was definitely a shock to see the news this morning," Johnson said in an email. "I'm glad to see Creigh's condition has improved this afternoon and hope he has a speedy recovery. … [Gus] was always very nice, had a great work ethic on the campaign trail, and was thoughtful and passionate about the causes close to his heart. I can't imagine the heartache the Deeds family must be feeling right now. … It's such a sad day for Virginia."
Members of the music department at the College expressed their sympathies for the loss, noting both the talent and friendly personality of Gus.
"I remember Gus emanating positivity in class and lessons and making everyone around him feel comfortable," former visiting instructor of theory and composition Tim Mauthe said in a statement. "More than that, he made everyone enjoy themselves. … He shared aspirations of wanting to share the Appalachian music that he lived and breathed with a broad audience through his own compositions — and was well on his way to doing so."