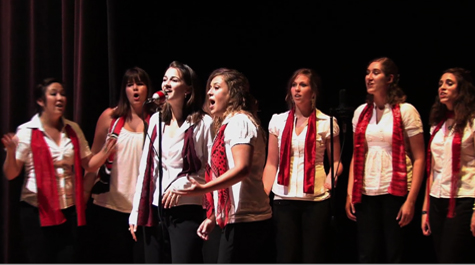 The Accidentals graced the steps of the Wren Portico last night for their Wren 10, donning red baseball caps instead of their signature scarves. The founding members of the group wore baseball caps when they first came together in 1992.
The mood for the night was mellow but picked up slightly as the night went on.
Overall, The Accidentals gave a good performance. They were consistent throughout the night and their melodies, tone and overall harmony was calm and serene.
The soloists were each strong in their own right. However, the chorus tended to drown the soloists out, resulting in each soloist having to fight to be heard.
The ladies began the night on a mellow note with a rendition of Sweet Disposition by Temper Trap. They moved onto Breakeven by the Script, a song they will be retiring this year. The Accidentals fed off the audience's empathy and made their performance truly heartfelt. The two soloists did a great job on the song overall—though at times they couldn't handle the high notes.
During their performance, the ladies were eager to debut their newest members. "Babies," Nairuti Hastry '17, Sana Amado '17 and Dale Golden '15. By way of introduction, they also included a fun fact about each new member adding a more personal feel to the night.
The ladies began demonstrated their personality and sassiness when singing a mash up of Fever by Peggy Lee and Hit the Road Jack by Ray Charles.
By beginning the night with mellow songs and ending it on a high note, the ladies of the Accidentals demonstrated not only their harmony and cohesiveness as a group, but their vocal range as well.
This range was not only demonstrated though their singing however the women demonstrated their skills in beep boxing in their Rendition of Justin Timberlake's Cry Me a River mixed with Kanye West's Heartless.
Overall, the Accidental's performance demonstrated that harmony mixed with style and class allows for the perfect blending of melodies. Although it would have been nice to have been able to hear Karen Smith '16 who sang Sweet Disposition and Elisa Davey '14 who sang Breakeven at the beginning of the set. The ladies did a good job throughout highlighting their talent and the ended the night well.