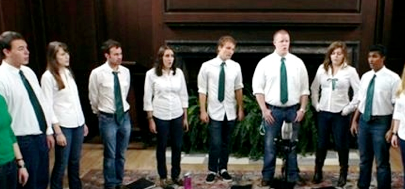 Traditions are integral to the College of William and Mary. During Wednesday's Wren 10 concert, the Christopher Wren Singers upheld their tradition of musical excellence.
As the oldest student-run group on campus, and arguably the most classic, the Christopher Wren Singers maintained a high level of professionalism and enthusiasm from start to finish. This year's three new Wrens have been seamlessly incorporated into the already solid group.
The group's musical selection featured traditional pieces sung in Latin, as well as several popular Christmas favorites. The Christopher Wren Singers' masterful musicality produced strong and harmonious tones and melodies while impressive volume left a poignant, warm tone resonating throughout the Wren courtyard. The few vocal waverings were hardly noticeable as the group presented its very wordy songs with incredible diction and pronunciation.
The Christopher Wren Singers effectively demonstrated the benefits of a co-ed a capella group with the gentlemen adding tender undertones to the ladies' soaring voices. Engaging costumes added a great deal of humor to a rousing rendition of "The Twelve Days of Christmas" without feeling too gimmicky or distracting. Consistent witticisms and interactions within the group, combined with impressive attention to detail, to make the performance fluid and enjoyable.
Standout performances came from Adithya Simha '15, who displayed power, volume and consistency throughout, as well as Rachel Haynes '16 and Laura Follansbee '16 who shared the lead on a dynamic rendition of "The Holly and the Ivy." An energetic encore of an arrangement of "Good King Wencelas" by Emerson Sierverts '16 rounded out the performance.
The Christopher Wren Singers showcased all the beauty and finesse of a professional choir, with all the fun and spontaneity that has come to be associated with the College's a capella scene. Their display of passion and unity stood as a testament to all that there is to love about the holiday season.