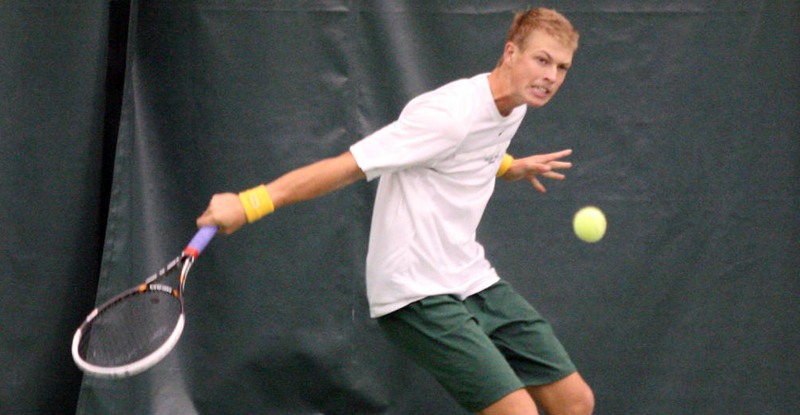 After a season-opening dual-meet sweep over visiting Norfolk State and Campbell, William and Mary hit the road for a pair of matches against nationally ranked programs.
Unlike the prior week, the College faced more stiff resistance in No. 29 Notre Dame and No. 32 Northwestern. The Tribe (2-2, 0-0 CAA) fell 7-0 and 4-0, respectively.
Juniors Aaron Chaffee and Will Juggins dropped the No. 1 doubles match 6-3, finishing after senior Ben Guthrie and freshman Addison Appleby found limited success in a 6-4 loss at the No. 2 spot to open play against No. 29 Notre Dame Friday night, losing the first point.
Senior tandem John Banks and Ben Hoogland were leading at the No. 3 spot, 5-4, before the play was suspended. With the doubles win, Notre Dame (3-0, 0-0 Big East) wasted little time in singles play.
The Fighting Irish won each match in straight sets en route to the 7-0 victory. No. 22 Greg Andrews, last season's Big East Player of the Year, snapped Hoogland's four-match win streak with a 6-4, 6-2 win.
Wyatt McCoy's 6-3, 6-1 decision over Chaffee at the No. 4 spot clinched Notre Dame's win, dropping the College to 2-1 on the season.
The College traveled north, playing No. 32 Northwestern (3-0, 0-0 Big Ten) Sunday afternoon. Chaffee and Juggins rebounded from Friday's loss to claim the No. 1 doubles spot 6-3. Banks and Hoogland fell 6-4 at No. 3, forcing the doubles point to be decided in the No. 2 match.
Guthrie and Appleby forced a tiebreak against Northwestern's duo of Strong Kirchheimer and Raleigh Smith. Up 3-1, Guthrie and Appleby dropped the tiebreak as Northwestern won the next five points.
Wins at the No. 3, No. 4 and No. 6 spots guaranteed Northwestern the 4-0 team victory. The No. 1, No. 2 and No. 5 matches did not finish as a result.
Northwestern's Fedor Baev downed Banks 6-1, 5-6, 6-2 at the No. 6 spot, while Chaffee fell to Kirchheimer 6-1, 6-1. Juggins couldn't keep pace with the Wildcat's Mihir Kumar, as Kumar claimed the No. 3 spot 6-4, 6-1.
The Tribe was on its way to three victories before the match play ended. Freshman Damon Niquet led Northwestern's Alex Pasareanu 6-5, 5-2 at No. 6 while Guthrie led No. 114 Sam Shropshire 4-6, 6-3, 5-2.
Hoogland bounced back from a 6-5 setback in the first set of the No. 1 match against Raleigh Smith with a 6-0 second set win. Hoogland was ahead 2-1 in the third set when the matches ended.
The College continues its road trip, facing Penn State Friday and St. John's Saturday.